Ships. In entertainment, and especially, in fandom, we live and die by them. Which is why every Friday, we'll be focusing on a couple, analyzing why we ship them, and overall, just proclaiming our eternal love for those couples that make us say:
I will go down with this ship, particularly Waverly Earp and Nicole Haught from Wynonna Earp.
Nicole Helped Waverly Accept Who She Was
When Nicole stepped into Waverly's life everything changed. All of a sudden there was this person, this woman, who believed in Waverly wholeheartedly and only wanted to get to know her for who she really was and not what others believed her to be. And I think that helped liberate Waverly from her past, especially that garbage boyfriend, and into something new. That trust, that bond, is what helped Waverly accept who she really was and who she really wanted to build a future relationship with.
Waverly Taught Nicole How to Have Fun
Nicole is as straight laced as they come. And if it wasn't for Waverly, I don't think she would've taken the risks she did when it came to their relationship, who she is as a woman, and just in life in general. You think Nicole Haught from back in the day would dress up as an elf or find so much joy from Waverly doing a routine in a cheerleader outfit? I have to give a resounding "no" on all fronts. Waverly gave her the strength to be a goof, step out of her comfort zone, and let her hair down. Literally on the last one there.
Nicole Showed Waverly How Important She Was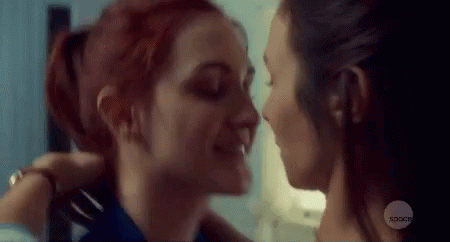 Everyone doubts. No matter who you are, where you're from, you doubt. You doubt your abilities, sometimes the love of those around you, and whether you're on the right path. Most tragically we sometimes doubt how important we are. And that's where Nicole comes in. She showed Waverly how important she was to her and to the people of Purgatory in general. Yes, Wavelry also got that from her sister. But there's something different about getting that feeling from someone who isn't related to you and picks you because it's their choice.
Waverly Supported Nicole No Matter What
Did things get hard sometimes? Absolutely. It's Purgatory after all and this is a show. But Waverly, sweet and kind spitfire that she is, she always supported Nicole. Whether it was her job or in their personal life, she thought that Nicole could do anything she set her mind to. And that kind of support is rare. It's the reason why I think these two are each other's persons; each other's lobster, and why everyone else should watch out when it comes to fighting this dynamic duo.
Wynonna Earp is set to return for season 4 on Sunday, July 26th at 10/9c only on SYFY.