The Walking Dead and Black Panther star will be exiting the hit AMC series that sky rocketed her to stardom in season 10 according to The Hollywood Reporter. Under her new deal she will be in a handful of episodes in season 10 and will hopefully/possibly/maybe appear in the 3 The Walking Dead movies set for Andrew Lincoln aka Rick Grimes.
We love Danai Gurira and we love the time that we've had with her on The Walking Dead these past 10 years. Because of her we've had the pleasure of watching Michonne blossom, fall in love, grow, and change as a person surrounded by her found family. And her relationship with Rick Grimes was a dream come true that turned them into a powerhouse OTP that we watched fall in love before our very eyes. But…WE'RE DEVASTATED!
We thought that we couldn't survive the loss of Rick Grimes and Lauren Cohan. But we have and we were holding strong that Danai would be the rock that this show deserved in the midst of all this apocalypse crazy with the survivors and villains like Negan. But no, Michonne is going to leave, presumably to find Rick if her movie deals are any sign, and will be leaving her found family and us behind.
To help with the pain of Danai's departure and that of her character Michonne, we've gone through the five stages of grief for the talented, courageous, ambitious, and Danai Gurira. So, take our hand, and we'll get through this together. Maybe. Probable. Oh, let's just do this thing!
1. Denial
No, no, no, no. You can't do this to us. To me. To fans. We love you Danai and Michonne. This isn't happening. Nope, nope, nope. Someone call the fanbulance, the police, the fucking fire brigade; anything with flashing lights! It's a dire emergency and justice will be found for the brilliant, passionate, and humble woman Danai is and the one that she plays on The Walking Dead! Also, wha't going to happen to #Richonne baby/toddler?!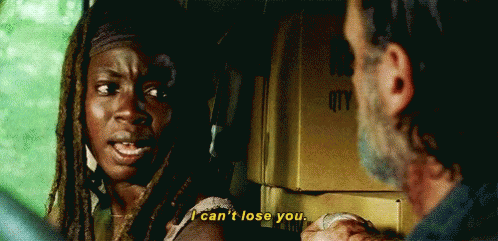 2. Anger
FUCK THIS SHIT. SEASON 10. A HANDFUL OF EPISODES? IT'S NOT FAIR. DISHONOR ON YOU, DISHONOR ON YOUR NETWORK, DISHONOR ON YOUR ZOMBIE HORDES. DISHONOR ON ALL OF YOU BASTARDS! *wildly flails about while yelling about the love of our lives, Michonne aka Danai Gurira*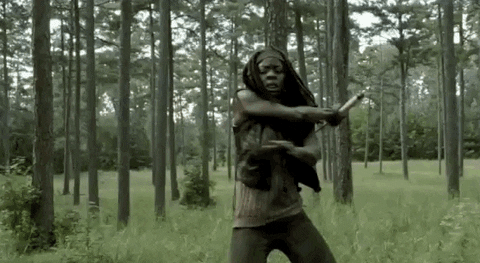 3. Bargaining
Ok, deep breath. Season 10 and a handful of episodes is better than no episodes, right? And the movies. If Danai comes back for that then maybe we can get some Richonne scenes? Rick could be out there and the beautiful reunion that we've been longing for since the mid-season finale COULD ACTUALLY HAPPEN! But who will take care of the Richonne baby/toddler? There's found family to help but it hurts to think of another loss for us, Richonne baby, and Judith. The story will still continue and we've had so many fantastic years with Michonne. But…damn it all, it hurts…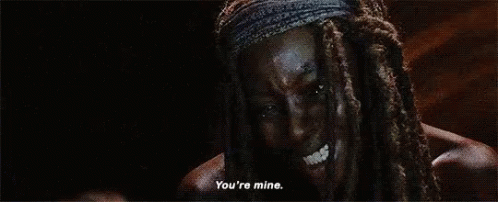 4. Depression
Look at the gif. Now look at this. I sad. Look at the gif. Michonne is a single mother of two kids who is barely holding it together but she's doing it. Look at this. That's a #Richonne baby and we didn't even see pregnant Michonne or the birth or her how she strived forward after the loss of Rick. Look at the gif. This family, this home, this woman, we're not sure if we're ready to let go.
5. Acceptance
The fact of the matter is…no matter where Michonne's journey takes her next or what projects Danai Gurira takes on…she's still our family. She's part of The Walking Dead and will always be. The seasons worth of development, loss, strength, and victory against the apocalypse and the cruelty of a fallen world, will be here, ready for us to rewatch. And this talent, well, Danai's going to take the world by storm and show everyone that's never watched The Walking Dead, what she's made of: talent, poise, and the acting chops to conquer any project set in front of her!
Special Note to My Richonne Family That is Totally Relevant:
We got to see a warrior fall in love, two warriors actually, with each other in the form of #Richonne. It hasn't been easy and a lot of people said it would never happen. (I'm looking at you racist turds who were aghast at a white man falling in love with a black woman in one of the MOST POPULAR SHOWS EVER ON TV!) But, it did happen. And Michonne and Rick were one of the most dedicated, effortless, fun, and cherished ships on The Walking Dead. Maybe even on TV as a whole. For that, we'll miss them and can't wait to see what fans, fic writers, artists, and the people at AMC have in store for this astounding couple.
The Walking Dead returns tomorrow at 9/8c on AMC.