For much of 2018, it's felt like reality is, indeed, the Bad Place, and we're stuck here, with no chance of the train ever coming around to get us out. But, now, come news that make us think that we might be wrong – this isn't the Bad Place!
It's at least the Medium Place.
Because, yes, The Good Place has been renewed for Season 4 at NBC. Time to celebrate!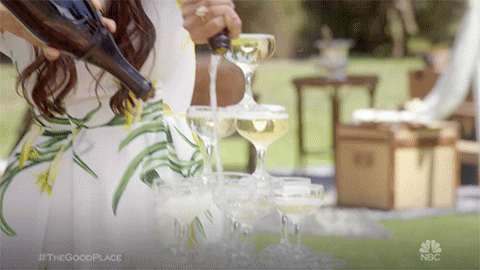 "Congratulations to Mike Schur and an exceptional cast and crew, all of whom collaborate to create a thoughtful, mind-bending and hysterical series unlike anything else on television," said Tracey Pakosta and Lisa Katz, co-presidents of scripted programming for NBC Entertainment, according to Variety. "We can't wait to see what unexpected stories the new season will bring."
The  series stars Kristen Bell, William Jackson Harper, Ted Danson, Jameela Jamil, D'Arcy Carden, and Manny Jacinto. Mike Schur created the series and serves as EP alongside David Miner, Morgan Sackett, and Drew Goddard. Schur is also the show-runner.
How do you feel about the news? Do you love the series? Where do you think a fourth season should go? How do you think Season 3 will end, for that matter? Share with us in the comments below!
The Good Place airs Thursdays at 8:30/7:30c on NBC.