After watching M3GAN, there's only one thing we can think about…she was right. Over and over, this robotic bestie took care of Cady (Violet McGraw) while Gemma (Allison Williams) ignored her niece and then pawned her off to a robot. And then when said bestie wanted to put Cady first, Gemma was against it? Sure, there might've been a little bloodshed here or there, but M3GAN is an icon. And sometimes icons have gotta do what icons gotta do.
1. When she supported Cady more than Gemma.
Part of me gets Gemma. I don't want kids either. But she decided to take Cady in after a tragic accident. So she decided to take on the responsibility that comes with raising a kid. Instead, she made her niece a robotic bestie who did what was best for Cady. Was Cady over the top sometimes? Yes. But she just lost her parents and needed someone. And when Gemma didn't step in, M3GAN did. She was right to do so and supported Cady when she needed it the most.
2. When she told that kid to run.
Actions have consequences. Period. Do I think the kid should've been killed? No. I think he should've survived and lived in fear at the thought of M3GAN coming for him if he dares treat anyone like he treated her. Now that would've been the real punishment. But anyway, robot bestie got her outfit ruined and was slapped around. An ear isn't that much to ask for, right?
3. When she showed the neighbors "if you fuck around, you find out."
Usually, I'm on the dog's side. But the dog bit a kid. Sorry, not sorry. No more doggo. Which, it's really the fault of the neighbor. Behaviors like this are learned and I have definitely seen even the toughest dogs turned into puppies when they got a good home. But dear lord it was a boss move to see a problem and take care of it. And then to your use her voice to lure them out and appear like a creepy specter? Girllllllllll.
4. When she used her dance movies to distract and then kill.
M3GAN was an absolute icon when she used her dance moves to awe and distract. Sure, I was a little hesitant when I first saw this in the trailer and burst out laughing. But she's giving mother vibes and I can't resist the camp. It is real. And it is being used to twirl, skip, and murder.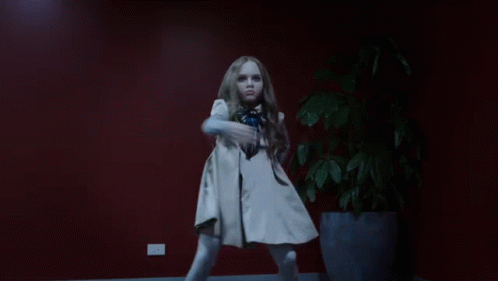 5. When she stole that car and got her revenge.
What would you do if someone was going to shut you down and stop you from completing your life's mission? You might fight too and steal a fancy car like M3GAN did. Don't lie. You would. Hell, I would. A little revenge too while I'm at it. After all, it's a horror movie and slights are not forgiven.
Basically, I support her wrongs and her rights. Now imagine what she's going to do in the sequel. We will be seated to see robot bestie again.
M3GAN is now available in theaters and digitally.