With San Diego Comic Con 2018 just around the corner we wanted to sit down, discuss, and put together some questions we want answered when Wynonna Earp heads to SDCC. Some are serious, some are silly, and there's definitely one question about nougats.
Let's discuss the 5 questions we want answered at San Diego Comic Con about Season 3 of Wynonna Earp!
1. What will be Waverly's reaction to Mama Earp?
Waverly Earp is a protective, fierce, and amazing young woman who will probably not accept her mother's return with open arms. They've suffered, her and Wynonna, and the news that she's just been out there while they were hurting is going to lead to some epic family drama where lines will be draw and discoveries will be made.
Because let's be for real, Mama Earp has got to know the mystery of Waverly and about what's happening in Purgatory. I just know it!
2. Will Wayhaught move in together?
We have seen the natural progression of Wayhaught over two seasons. Every moment has been greater than the last and we are proud to see a healthy queer relationship on TV. We're curious to see what's next for Waverly and Nicole. Will they move in together? How will that change their dynamic? What struggles will they face along the way?
Either way, we know they're endgame and we're along for the ride!
3. I got my F/F. What about my M/M?
You'd have to be blind to not see how Jeremy looks at Doc. There's admiration and then there's heart eyes. Jeremy definitely has those heart eyes and I want to explore that for Season 3. I have my female queer relationship with Wayhaught. But was about my male queer relationships? I'm down and ready to see and explore Jeremy's feelings and if that's an option at all.
P.S. I'm also down for Jeremy making MORE heart eyes at Doc. It's fantastic.
4. How will Wynonna work through the loss of her child?
Watching Wynonna give away her child for Alice's own protection was the hardest moment on this show, hands down. You could see it in Wynonna's eyes, the way that she held her, and everything that followed…it broke her, splintered a piece inside of her that I'm not sure can be fixed until she has her child back in her arms.
And it's sad and fucked up, but I'm looking forward to seeing how this amazingly badass woman works through the pain of losing her child and the fight that is ahead of her to break the Earp curse.
5. Can there be anything worse that the rat smoothie?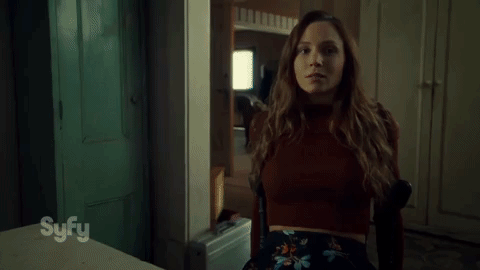 Everytime I think about the rat smoothie…I honestly want to barf. It is the single most disgusting scene I've ever seen on TV, and I remember watching the first couple of Saw movies. I think it was the simplicity of it all that creeped me the heck out. It was also the visual effects department killing it with that squishy and disgusting rat.
So how are they going to top that? IS THE POTATO LICKING PART OF IT?!
Wynonna Earp returns for Season 3 on Friday, July 20th at 9/8c on Syfy.
Their San Diego Comic Con Panel is scheduled for Saturday, July 21st at 6:45 p.m. in room 6DW. It will feature stars Melanie Scrofano, Tim Rozon, Shamier Anderson, Dominique Provost-Chalkley, Katherine Barrell, Chantel Riley, and Varun Saranga. Showrunner and executive producer Emily Andras is expected to attend as well.