The Originals "There in the Disappearing Light" saw the death of two beloved characters, the unleashing of Hope's werewolf curse, and the destruction of the ancestral power that the New Orleans witches depended on. It's a brand new day for New Orleans and things are changing by leaps and bounds. Here's hoping that the ones that are left make it out alive! Especially Freya/Keelin. I need my queers to have a happy ending. N-E-E-D!
Let's dive into The Originals "There in the Disappearing Light"!
Hope's Power
I'm scared, excited, and looking forward to what mayhem comes next for Hope Mikaelson, especially because her spin-off series Legacies is right around the corner. She is most likely the most powerful person/witch/hybrid in the entire world and she is going to cause a whole lot of trouble and mayhem for herself, those around her, and the rest of the Mikaelsons.
The only thing that makes her different, that gives her a fighting chance in comparison to the rest of the Mikaelsons who have only known death and despair, is the kindness in her heart that was nurtured by her mother. Hope is a kind soul who is fighting against the evil inside of her and the expectations of those around her because of her blood. But that kindness, that hope (yes, I know what I just said), is going to lead her down unexpected and new paths.
On another Mikaelson note, I'd like to talk about Klaus and what he was willing to do for Hope. He wasn't giving her direction and people to kill because he wanted to prove to himself, Hope, or the rest of the world that she was just like him. No. His daughter was suffering and he's grown past a lot of the mayhem and death that he caused before. What he did for Hope was a parent providing, a parent soothing, a parent caring.
And if Hayley were still around I've got no doubt that she would do the same thing that Klaus did.
The Death of Josh Rosza
I need a moment. Or seven. I've always loved Josh. From the moment he turned I knew that he was going to be different, special in comparison to all the other vampires. Years later and I know that I was right from the start. Josh was one of the bravest, most loyal vampires New Orleans has ever seen.
He does deserve better. With how prevalent queer deaths are on TV I'd love to see the gays live long and queer lives. Alas…I'm satisfied and kind of happy that this is where Josh's journey led him. In New Orleans he found a best friend, family, and a great love. Maybe it wasn't the way that he or we expected it to go down, but it did and I'm happy with it.
And dear lord, let's talk about that ending. I was ok when Aiden appeared in that car. My heart was beating a mile a minute and I had the biggest grin on my face. Then Aiden said, "God, I missed you." That's when I lost it. Aiden was that happy ending after all the fighting that Josh had done in our world and I'm so happy to have been part of this journey.
I gotta go and watch this scene again. Tears will definitely be happening.
Freeing the Ancestors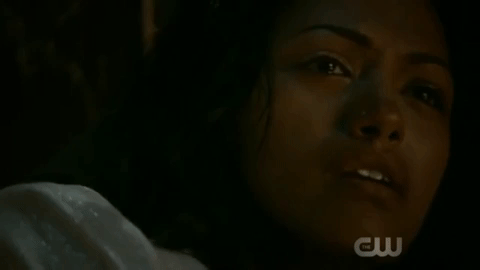 Another moment that brought out the ugly tears was Ivy's death. Her heartbreak at the afterlife not being what she'd always envisioned was the driving force behind Vincent listening to her. Her visions spot of something that had not happened yet so for her, and for every other witch that died on this land, he would free the ancestors of the land that fueled their magic.
Initially I was mad at her death. Her and Vincent have been at the beginning of a great romance and it seems like she was cut down in her prime. But the more I thought about the less angry I became. Ivy had missed her father and she was so damn happy *here comes the ugly crying* to finally see him again. Vincent made that possible by freeing the ancestors of New Orleans.
This is a time of unprecedented change for all of the witches of New Orleans. No other witch will be tied to this land, forever lost and being used by the witch that came after her. It's going to be a hardship for the current witches because they'll have to learn a new way of connecting to their magic. But it's in these moments of hardship that wonderful things are discovered. I have no doubt that these witches will continue to do that.
Favorite Moment from "There in the Disappearing Light":
Check out the trailer for next week's episode titled "Til the Day I Die":
The Originals airs Wednesdays at 9/8c on The CW.