We love Natalie Portman to the moon and back.  She is just such a phenomenal actress and an all around delightful woman.  We are beyond excited that she's playing Lady Thor in Thor: Love and Thunder, because we cannot wait to see her wield that hammer like a boss.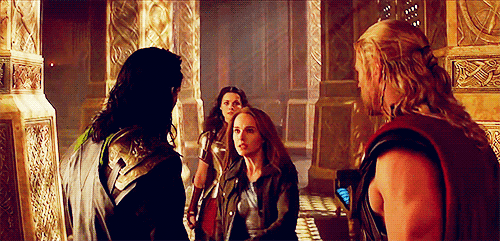 Although the film does not release until next year, we felt now was a good time to put together a list of some of our favorite Natalie Portman roles.  I mean, at least this way if you haven't checked out her performances, this will give you something to do before the new Thor movie comes.
---
Anywhere But Here
This one is an all time favorite of mine, because growing up I could totally identify with Ann and her relationship with her mom.  Growing up in a single parent home, I understood everything Ann went through. I think Natalie did a great job in this film, especially when transitioning from a young teen to a young adult heading off to college.  This film makes me cry every single time I watch it and I just love Natalie and Susan Sarandon's chemistry as mother and daughter. 
Anywhere But Here is available to stream on Amazon Prime.
---
Where The Heart Is
Based on the novel by Billie Letts, Where The Heart Is stars Natalie Portman as Novalee Nation.  This is another film that definitely brings on the tears. Novalee is a 17 year old pregnant girl who was abandoned at a Wal-Mart by her no good baby daddy.  She secretly moves into the Wal-Mart, and ends up giving birth to her baby in a scene that still breaks my heart to this day. Eventually she is taken in by a lovely couple who treats her like family.  There are so many heartwarming and sad moments in this film, and Natalie truly makes you feel each and every single one of them.
Where The Heart Is, is available to stream on Amazon Prime.
---
Closer
This film, based on Patrick Marber's award winning play, is an emotional rollercoaster.  The movie centers on 2 couples, Dan (Jude Law), and Alice (Portman), and Anna (Julia Roberts), and Larry (Clive Owen).  No matter how many times I have seen it, I watch it whenever it airs. I even own a copy on DVD. Natalie's performance as Alice demands your attention.  One minute she is this vulnerable young woman, and the next she is a powerful confident free spirit. She has some great scenes with Jude Law, but my absolute favorite scene is with Larry (Owen) when he shows up at the strip club she's working at.  Their back and forth banter is so quick and entertaining to watch. 
Closer is available to stream on Amazon Prime and Hulu.
---
Black Swan
I know there are mixed feelings about this film but I love it.  I admit it's a bit weird, but what psychological thriller isn't weird? Natalie plays Nina Sayers a talented ballerina who is a bonafide perfectionist to the point of obsession. She is chosen by her dance company to dance the role of the swan queen in a production of Swan lake. Nina is tasked with playing not only the white swan which is the more innocent one, but also the black swan who is the more seductive one. Her innocence makes her the perfect white swan, but her timidity keeps her from embodying the black swan. 
Ultimately her need to prove that she can pull off both, becomes overwhelming and she slowly starts to lose her mind because of the pressure.  Watching that shift throughout the film is captivating, and it's obvious that Natalie put in a lot of time and work to portray this character.  There's no question why she won Best actress at the Oscars in 2011. 
Black Swan is available to stream on Amazon Prime and Hulu.
---
No Strings Attached
No Strings Attached was the first time I realized that Natalie could be more than a dramatic actress.  This romantic comedy stars Natalie and Ashton Kutcher as Emma and Adam, two people who met as teenagers at summer camp.  Over the years they have a few interactions until one day he ends up on her couch and they decide to begin a "no strings attached" type of relationship. As we all know, in movies like these, that never works out.  Ashton is funny, but I loved Natalie the most because I hadn't seen her in a romantic comedy before and this movie just proved to me that she has more range than just drama.
No Strings Attached is available to stream on Amazon Prime and Hulu.
---
Jackie
Natalie taking on one of the most iconic roles; Jackie Kennedy had to be a daunting process but she nailed it.  Her portrayal as the first lady was outstanding and so painful to watch. She played Jackie with such grace and strength, she was so deserving of her best actress nomination at the Oscars in 2017.
Jackie is available to stream on Amazon Prime video.
Which of these Natalie Portman films is your favorite? Which one do you think should have made this list? Tell us in the comments below!