It's clear from the start that Vagrant Queen is going to be a journey on many fronts. An actual journey through space for sure. But it'll also be a journey grounded in friendship, trust, and a shit load of action that will keep us entertained and fed for weeks to come.
Elida, our leading lady and queen played by Adriyan Rae, is an untrusting sort. She's been taught by her mother to not trust those around her and to lead a solitary life where she is her own ally. Vagrant Queen tests that and starts her on a journey like none she's ever had by having her join forces with Amae and Isaac.
Both these people are vastly different to Elida. Amae is bubbly, sweet, with a badass streak to her. And Isaac has some sour history with Elida. But both will become part of her family and teach her that friendship isn't a weakness. It's a strength and something they all need in the time of the ruthless Republic.
And that right there is what grounds this show: the possibility of what is to come and the fact that everyone and their mother is going to get character development that will change them into completely different versions of themselves. And we are here for it.
We're also here for the queer. No spoilers here and I haven't watched the next couple episodes yet, but there was definitely a queer vibe when Elida met Amae. The music sealed the deal when they first locked eyes on each other and the promised drink at her brothers bar had queer undertones seen from space!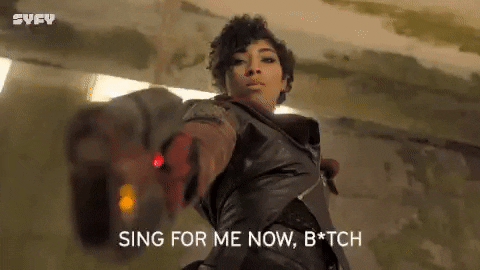 Talking about space, I love the vibe, design, and tone of this show. It has the workings of great 90's scifi with a dash of crazy, fun, and outlandish that we need in this day and age. And like everything else in this show, it leaves me wanting more. And not just more about the story, I want to know about the behind the scenes, who created what, and where they got their ideas from.
Vagrant Queen has the potential, the heart, to become Syfy's next big hit. And I say this as a loyal Syfy watcher who has journeyed through Wynonna Earp and the Killjoys. They all have what Vagrant Queen has and then some. That's why I know it'll gain a cult following.
On a final note, and another reason why you should invest your time and your heart in Vagrant Queen, is that it made me cry. Yes, I cried during the first episode of a crazy scifi adventure and I don't regret it at all. I became invested in Nim after only knowing him for a little while and seeing his loyalty to Elida made me want to be loyal to her as well.
So, thank you Vagrant Queen. Thank you to Jem Garrard, the creator of this tv show for giving us a scifi show with a woman of color as the lead. Thank you Adriyan Rae (Elida), Alex McGregor (Amae), and Tim Rozon (Isaac) for bringing these characters to life. And thank you to every person that worked behind the scenes and in front of the camera on this show.
You've got a fan in me and that's no easy feat after one episode!
Vagrant Queen airs Fridays at 10/9c on Syfy.