2020 hasn't been the best year, and it's impacted just about everything. Including our favorite movies and television shows. If you're looking for the bright spots of the year, we at Fangirlish have you covered with our end-of-year lists. It's time to break down our favorite kick-ass male characters of the year, but given the sparse offerings we were presented with in 2020, we may have to define "kick ass" pretty loosely.
Simon Basset (Bridgerton)
We aren't overstating when we say Bridgerton is one of the best new shows of the year. The series stars Regé Jean Page as Simon Bassett. As hard as it is to believe, Page does the impossible and makes Simon even more compelling (and endearing) than he was on the page. No matter what you want in a kick-ass man, whether it's shirtless boxing or emotional vulnerability and growth, Simon has it in spades. The series just came out, so if you haven't seen it, take our word for it and check it out now!
Chidi Anagonye (The Good Place)
The Good Place, which ended this year, was a truly remarkable show. While admittedly a comedy, it had surprising emotional depth that made us all look at the world around us in a different way. Over the course of four seasons, the characters all went through tremendous growth. However, we have to give a shoutout to William Jackson Harper's Chidi Anagonye. In overcoming his own neuroses, he didn't just save himself. He helped to save…literally all of humanity. We can only aspire to be so brave in confronting our own fears.
Luke, Alex, and Reggie (Julie and the Phantoms)
Julie and the Phantoms is exactly the show we needed to help us get through 2020. It's sweet and funny, with the precise level of drama we could handle in this dumpster fire of a year. If we're being honest, it's the four of these characters together – Luke, Alex, Reggie, and Julie that are kick ass. They prove that there's nothing more kick ass than real friendship. Friends may not bring you back from the dead, but it shouldn't come as a surprise that they can do the second-best thing.
God (Lucifer)
For five years, Lucifer has explored the titular character's daddy issues. Not to mention his tumultuous relationship with other members of his angelic family. In the first half of the fifth season, made available earlier this year on Netflix, Lucifer, Amenadiel, Michael, and Mazikeen are fighting the only way three angels and a demon can when Dennis Haysbert's God intervenes. And with only a few words, not only does he put a stop to the fight, but he leaves the viewers on a cliffhanger we can't wait to see resolved.
Din Djarin (The Mandalorian)
Our Mando didn't only kick ass in the regular ways this season of The Mandalorian, he went full Taken on Mof Gideon after Baby Yoda (yeah, we're not calling him Grogu) was abducted. And he even went was far as removing his helmet, willingly – not once, but twice, because, in the end, Baby Yoda meant more to him than an ancient code. This level of vulnerability by a seasoned mercenary is enough to land him on our list. Besides, we won't deny it helped finally getting to see Pascal's face more than once a season!
Joe and Nicky (The Old Guard)
The reason we think Joe and Nicky of The Old Guard belong on this list is because not only are they both awesome mercenaries saving the world, they have a love that is literally timeless. Both of these men would do anything for the other and their love is the driving force that keeps them alive even in the darkest situations. Watching Joe unashamedly profess his love to Nicky while they were surrounded by other men who felt the need to mock their relationship, was so beautiful and that's why these two are so kickass.
John Krasinski (Some Good News)
I know what you're thinking: this one is cheating. John is supposedly not putting on a character so much as being himself (a human ray of sunshine). But it's 2020, so roll with it. When it became clear the way this year was going to go, Krasinski launched his Some Good News web series, bringing cheer into our homes just when we needed it most. Earlier this year, ViacomCBS acquired the show, which will continue with a different host. Still, we have to extend our sincere thanks to Krasinski for helping kick 2020s ass by reminding us of the good left in the world, even in a year as bad as this one.
Cleveland Booker (Star Trek: Discovery)
Cleveland "Book" Booker on Star Trek: Discovery is the man to watch on this show. Kind, courageous, loyal, and a man of his word, Book is the man we want on our team any day. Not to mention his love for animals, especially his gorgeous gigantic cat, Grudge, and his devastating good looks, Book is the full package. He's got your back and is willing to put himself in danger to protect the ones he loves. What more could you ask for in a kickass man?
Will Parry (His Dark Materials)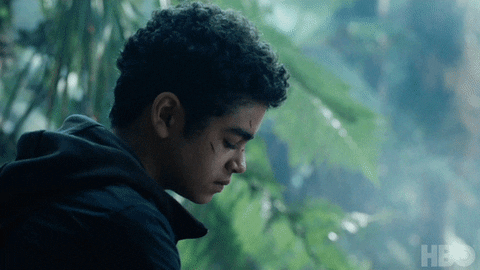 Will Parry went from secondary character to perhaps the main reason to watch His Dark Materials, and the main reason Lyra, the character we'd watched for an entire season, went from prickly protagonist to actually loving, supportive friend. Will is kind, Will is patient, Will is actually the bearer of the Subtle Knife so he's more than just the support in Lyra's own story, and oh yes, Will is also the kind of character you both want to hug and help out – forever.
Marty Deeks (NCIS: Los Angeles)
We love the NCIS: Los Angeles team, and we love Densi, but we also really, really love Marty Deeks, one of the kindest, funniest, smartest characters around, one we've had the pleasure of knowing for over a decade! It's hard to keep characters consistent, but more than that, growing, while still continuing to make them interesting, not just as part of an unit, but as themselves. Here's to many more years of Deeks!