It's hard to pick out our favorite from the Bridgerton men, because most of them are positively swoonworthy. But if you were forced to pick – who would you want to be in a relationship with from among them?
Alas, we are not living in the fictional world within the books and show, but there are still some good partners to be found in reality. What does your favorite Bridgertonman say about your romantic taste? We did a rundown of each character so you can compare their qualities to your ideal mate.
Simon
You like them hot, and by hot we mean absolutely breathtaking. A strategically raised eyebrow or even seductive ice cream eating can send you over the edge. But beyond the pretty face, you enjoy a man with a keen mind and a witty sense of humor.
This man has many layers, and keeps his secrets close to his chest. You will have to proceed with caution before taking walks with him that may have lifelong consequences.
But when this guy falls in love, be prepared to be loved deeply. Falling in love with someone like Simon guarantees you will be with your lover and your best friend. Please make sure to hydrate and stretch before you go on a date – because your lovemaking may become a marathon and take place in unconventional places.
Anthony
He may have a reputation as a wild boy, but this kind of guy is going to be a loyal lover. You like a bit of a wild boy in the bedroom, but a man who has a deep sense of loyalty and responsibility when it comes down to it. When he has feelings for someone, he is all in and his passion burns bright.
He may come off as arrogant and annoying at first, but he needs a lady who will challenge him at every turn. Warning, a guy like this will think he knows the right way to do everything, and you will need to push him to listen to the opinions of other.
Still, it is worth it to crack open the layers of arrogance and stubbornness to get to the gooey cinnamon roll of a man inside.
Benedict
You don't want a guy who is going to settle into a normal life and just do what's expected of him. You're into someone who is willing to rebel and push boundaries with you. He is also a supportive ally to everyone in his life – so you can feel free to pursue your dreams and know that he always has your back. He's a good listener, lending an ear and offering sympathy without always trying to fix your problems.
Your ideal man is also into the arts, and will feel at home in a gallery or spending a day in the park painting landscapes. He's not one to stay in on a Friday night – always willing to go to a party when invited.
Beware – he may not have sown his wild oats or be keen to settle down. You have to consider if you are willing to wait, or be the one who drives him toward a more serious relationship. But when he falls hard – he is willing to risk everything just to be with you.
Colin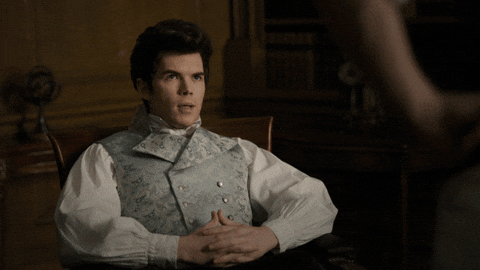 You have no time for bad boys are only willing to a good and kind man who will love and respect you fully. But that doesn't mean your life will be without adventure. Your ideal man likes to travel and see the world, and you would be happy to see it with him. He also has a great sense of humor, and will throw shade at boring events with you to make them more interesting.
Not only will your dream partner be supportive of you and all your endeavors, he will be freaking proud of you and want to shout from the rooftops how amazing you are.
However, because this type of guy is so sweet, he's bound to go through a few heartbreaks through the years and might become slightly wary of romance. He may not see that you, his perfect match, are standing right in front of him. Consider investing in sky writing or singing telegrams to help him realize his feelings.
Nigel Berbrooke
He is no one's ideal man, so if you are considering him as an option, please take some time to rethink your priorities here. Nigel is the kind of guy that will go out looking for lonely women on Valentine's Day. Hopefully, you have a friend like Eloise Bridgerton in your life who will point out that it is much better to be a single and independent woman than to be in a relationship just for the sake of not being alone.
If you are feeling the urge to date someone unworthy, or if someone like Nigel is flirting with you, by all means go out and promenade for more suitors.
Bridgerton is now available to stream on Netflix.