It's almost time to start the countdown for the Blindspot premiere! We can't believe season 3 is almost here! Is anyone else jumping from excitment like us? As always, in the final days of this hellatus hiatus, we bring you another article about our favorite show, this time about our wonderful unicorn Patterson.
What do we want for Patterson in Season 3? We've got a list and we're ready to share it with you!
Here we go!.
For her to overcome her problems in a real way
Our unicorn – AKA Patterson – has gone through a lot, especially last season.
After the death of her boyfriend and the feeling of guilt that followed, there came the betrayal of someone very close and dear – her new love – his later death, her torture, Sandstorm infiltrating everywhere (including her body), frustration and anger at being unable to catch them, knowing that they were one step ahead of her. These are some of the things that Patterson lived through and, as is normal, in the end, they were too much for her.
Throughout season 2 Patterson tried to convince the rest of the team, and herself, that she was fine, that she was over everything, that she was strong and she could deal… until the mask that she wore was torn down.
Patterson is very strong, but she is also human, anyone would have needed time to assimilate everything, to close wounds, but Patterson closed in on herself, put on a shell and went ahead, without wanting to talk about it, and although that worked for a while, it wasn't a cure, just a band-aid.
In the end, her armor fell and Patterson realized that fleeing from her problems and not talking about them doesn't make them disappear.
She wasn't well and she needed some sort of closure for the betrayal she lived, a closure with Borden and Sandstorm- the organization that destroyed her life- and that until she got that closure, she couldn't overcome everything that had happened.
Once Sandstorm is taken down, Patterson has to rebuild a ruined life, but she still feels torn apart- Sandstorm took away everything she loved: David, the illusion of a new love and her job. She loved her job, as Patterson herself acknowledges, but thanks to them, it's a simple reminder of all that she has lost.
Patterson still has wounds that need closing, problems and demons to overcome and I hope that in Season 3, she can overcome everything that has happened in a real way, not pretend like she did in season 2. She needs it.
A friendship with Zapata and Jane
I would like Blindspot to show us more of the friendship between the women of the team. They usually have them working separately, very rarely together. I think that must change and I hope that in season 3 we see Patterson's friendship with Zapata and Jane, that we see them go out together, talk, have a drink, be there for each other, support, joke … in short, show us the bonds that unite these three wonderful women.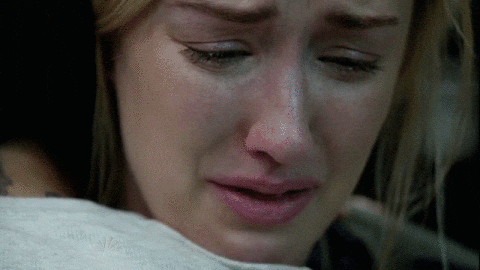 We're always on board for a girls' team-up! It even occurs to me that they could go on a mission together only the three of them, or that on a night out they could "get in trouble". Girls team up!
A chat between Patterson and Reade
Towards the end of season 2 we saw a great tension in the friendship between Reade and Patterson; she tried to help him, make him see reason and return to his senses, but he, in the midst of his addiction to drugs, rejected her help in a rather unpleasant way.
Once Reade overcame his problems, Patterson had no grudge against him and everything seemed forgotten, and there were other priorities like taking down Sandstorm and averting their evil plans.
But I feel there should have been a conversation between them about this. Reade should apologize for how he treated her and take responsibility for rejecting the help he so desperately needed, and I think Patterson needs closure, to know that everything is as before between them and she shouldn't be toeing around her friend. I hope that season 3 will give us this talk.
A new love interest
Patterson hasn't had much luck in love. She had found the perfect guy, David, but he died because he got involved in the war between the FBI and Sandstorm. It seemed that she couldn't recover from that, but then a new love came – Borden – who was a friend and stood by her side supporting her. Patterson trusted him, jumped and put her heart at risk… just so that the truth about her new love would break it: he was a traitor, a man of Sandstorm.
This situation was too much for Patterson, and she needs time to heal these wounds that are still open and bleeding, but when she does, she deserves a new love; a perfect guy for her, to support her, to be by her side and never to betray her or deceive her. If someone deserves to be happy, it's her.
More Patterson in the field
Patterson is amazing with her computers, she's a badass who kicks ass in a different way than her teammates do – and we love that – but it's also absolutely great to see her in the field.
We have been able to see her in the field on some occasions, when the mission was more technological and less physical, and we NEED to see her there more in season 3, not just because it's always a pleasure to see it, but also because it makes the missions a little different and provides that perfect comedic touch.
Moreover, I vote for an episode where Patterson goes on a mission with Rich Dotcom. Can you imagine these two together? It would be fantastic! And surely we couldn't stop laughing and fangirling – while we look in the dictionary for the meaning of whatever it is they're talking about computers and various technologies. I can't think of a better plan!.
Do you agree or do you want to see something more from Patterson next season? Share your opinion in the comments below!.
Blindspot returns on Friday, Oct. 27 at 8/7c (NBC).