Fandoms are important to us and we can't get enough of them. Breaking down our favorite fandoms is next to impossible.
It could be like 400 things long. But we don't have that time and we know that people are used to us being completely cut throat when it comes to narrowing things down. BUT – that doesn't make it easy.
If anything it makes it harder. So we did our best and here are the 24 fandoms that were our top fandoms of the year.
---

Once Upon A Time
This show was dead in the water – or at least, everyone thought it was. Some people even hoped it was. But like a phoenix that rose from the ashes, the Once Upon A Time fandom that seemed to dissipate when the show's star, Jennifer Morrison, left, reawakened to support the rebooted Season 7, to continue supporting Lana Parilla, Colin O'Donoghue and Robert Carlyle, and to go on new adventures.
---

Supergirl
While there's been obvious conflict within the fandom, there's no denying the passion and love that fans have for Supergirl and its brilliant cast of characters. They've shown that passion with fanart, fanfic and a whole lot of love for all characters and all ships.  And that's the good thing about this fandom, whether you ship Karamel, like us, Supercorp, Sanvers or SaturnValor, there are like-minded people, support and a hell of a lot of content.
---

The Walking Dead
The Walking Dead fandom is one of memes, watching The Talking Dead after a new episode, and wildly yelling "Carl" in new and creative ways. Chris Hardwick is their geek God and is always present at TWD events at NYCC and SDCC. And Yvette Nicole Brown is their research extraordinaire who always has a notebook on hand with theories and little tidbits you missed out on. Even Snapchat has become part of this fandom, rolling out a zombie filter to transform yourself into the most gruesome version of yourself.
---

Arrow
If there's a DCTV fandom that deserves an award for surviving the previous season, it's the Arrow fandom. During a season where the show seemed to lose itself and lose sight of the things that defined the show for years, the fans made their voices heard with their disappointment. That rough stretch paid off near the end of Season 5 and carried through into Season 6, where Arrow has once again found a formula that feels genuine and makes our Olicity hearts full. The Arrow fandom once again marketed their own show, through Twitter and charity campaigns that make us proud to be a part of the fandom.
---

The Flash
It's hard to think about this fandom and not think about the beautiful couple in the middle of it – WestAllen. But the love of this wonderful fandom goes beyond love for Iris West and Barry Allen, it translates to celebrating Candice Patton and defending her when needed, to enjoying the 57 versions of Harrison Wells, to loving the Joe and the West family in general, and to celebrating Cisco's jokes and his friendship with Caitlin. The Flash fandom is that laid-back friends who loves everyone, and we love that about it!
---

One Tree Hill
One Tree Hill is a timeless fandom that we will always love. But the truth is this year, it's become more important. This year, we saw what a fandom does when they band together. We saw the female cast of this show come together unlike anything we had ever seen before, when coming forward with the allegations of sexual harassment against Mark Schwann. We have their backs and we're ready to #BurnitDownSis.
---

The Royals
Who isn't obsessed with the Royal family? Is it just me? Well, it's fine. But it's not only the real life family that we're fawning over. It's also the fictional one that lives on E! The fandom is obsessed with the storyline, the actors, and trying to figure out what crazy ass Robert is up to. But – I think we all know that greatness is coming. The Royals fandom is laid back, supportive, and full of life. Well… and they are holding out for Jaspenor. At least that's the fandom we see.
---
One Direction
Yes, we're aware that One Direction is on a break and the lads are on their solo career, but we're still lumping all of them together. The boys have been through a lot but the fandom remains strong and united. It doesn't matter who your favorite it – if you are a Harry, Niall, Liam, or Louis girl – the fandom stays behind them all. They are united. They don't give up and yes, we're holding out for a reunion, but we're going to get there. Fandom is family and we're all going to remain supportive and loving of this family.
---
Blindspot
We're holding out for Jeller babies and their happily ever after. Well, also someone taking down Roman. But the greatest thing about the Blindspot fandom is that they are there for the ups, downs, and the craziness – WITHOUT going overboard and slinging insults. They remember that fandom is fun. They become invested in the characters, the storyline, and the future of the franchise. They talk it out. We're cheering that shit on!
---

Supernatural
I know that 13 seasons might seem a little daunting when you first look at it but joining the SPN family might be the final nudge you need to watch this show. They have been going strong for so long that they've created campaigns, sold shirts for charity, been present and joined in GISHWHES, and have come together as a supportive community via groups like Wayward Daughters. Never have I seen a group of people so welcoming and willing to talk to you if depression is something that you deal with on a daily basis or if you need a little hope in your day via a throwback to one of their intimate cons where Jared is hair flipping and Jensen and Misha are goofing off together.
---

Taylor Swift
People may not always agree with Taylor Swift, but that's fine. Her loyal fans are there for her, no matter what. Taylor has had a phenomenal year and Reputation is arguably one of the best albums of the year. What makes her fandom so special? Well that is their unending and unwavering loyalty to T-Swift. They will protect her at all costs and that's in part, because Taylor has made it clear that she will always be there for her fans. She is unlike any other artist and has built a unique relationship with them based on
---
Game of Thrones
This fandom gets about two months of happiness every year and change, and somehow, despite the fact that we're way past the books with very little chance more book canon is coming and that we get less and less episodes every year, they keep thriving, theorizing, writing fics, making gifs and of course, stanning the actors. Don't think this fandom is slowing down, if anything they're enjoying the last hiatus before the show ends, and doing it in style.
---

Riverdale
Riverdale has a cult following and we are one of those that can't get enough. The Riverdale fandom is close and they are always trying to figure out the best way to support those around them. Sure, they don't always agree on the same ships and they have very strong opinions, but at the same time – when it comes down to it – the passion of this fandom is what gets it through. They may not agree all the time, but they are so supportive of the show.
---
Timeless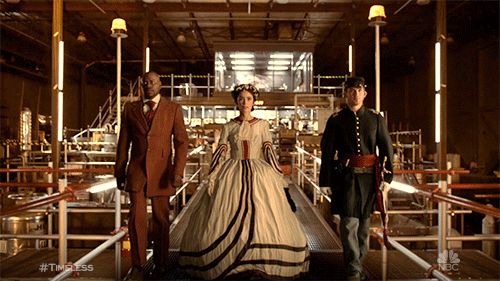 A fandom that saved their show from cancellation is already amazing, but a fandom that brought it's show back AFTER the show was cancelled? That's unheard of! And yet, that's exactly what the clockblockers managed to do after their favorite show was cancelled, with petitions, articles, and a #RenewTimeless campaign on social media we proudly participated in. Be proud, Timeless fans. You did the unthinkable, and we get more episodes of this wonderful show because of you.
---
The Originals
As we get ready for the end, The Originals fandom has become more united than ever. They have spend their time remembering and preparing to say goodbye. I think that what is so amazing about The Originals fandom this year is that they have put aside a lot of differences and have embraced that the writers are going to leave us with. The fandom has been creating meme's, fan fiction, videos, and more. The end will not be easy, but this fandom will be behind it – Always & Forever.
---
Wynonna Earp
The Earper community is full of funny, weird, sassy, and dedicated fans who love Emily Andras and Beau Smith's creation. And honestly I think a lot of the goofiness and camaraderie inside of this fandom comes from Andras and the celebrities who played these amazing characters. They are so welcoming and so kind that you can't help but join in. The Earper community also consists of Wayhaught fans who are over the moon that a LGBT couple is being given the time, dedication, and loving care that it deserves. What you end up with is an inclusive and light-hearted fandom that lifts you up instead of bringing you down.
---

Star Wars
Star Wars is probably the fandom that started fandoms, the one that saw the birth of fanzines, of dressing up, of shipping, even, before we used that word, and forty years after the original Star Wars, it shows no signs of slowing down. If anything, Star Wars' push for female-driven stories and diversity puts them at the forefront of entertainment, just like they were 40 years ago. Oh, and they're still making great movies!
---
The Vampire Diaries
We said goodbye to The Vampire Diaries this year, but that doesn't mean that we've let go. The Vampire Diaries fandom is as united as ever. They are still active in rewatches, memes, fan fiction, videos, clips… whatever they can make. Sure – the ships wars are still there, but everyone has settled that the ending has been decided. Their own happy ending though? Well, hey – that's what fan fiction is for.
---
Anything and Everything Marvel
Give us Infinity War and give it to us now. We're ready. The thing about Marvel – it's TV, Movies, Books – they are giving us everything. So no matter what superhero that you are partial to, there is a fandom for it. The Marvel community is strong and passionate. They are vocal on likes and dislikes. They show up for events and they are there to support. They know everything. Their knowledge blows us away, but their passion makes us stand up and applaid.
---

After
If you haven't read After by Anna Todd, you are missing out on a phenomenon. The writers fandom has long been passionate, all over any news about books that she is writing, places she is traveling, and the possibility of Hardin and Tessa coming to the big screen. This year, all their dreams are coming true, as a director signed on to direct the movie adaptation. The fandom has gone wild. They continue to create fan art, fan videos, memes, and chime in on who they think should be cast. But the amazing thing about this fandom is that they are supportive of each other no matter what – even during the disagreements.  They stand up for Anna no matter what.
---
Wonder Woman
If there is one superhero that inspired us all on a different level this year, if was Wonder Woman. The movie not only set records, but inspired several generations to embrace their inner Wonder Woman. They are there for each other. Always present. It's women supporting women and we love it!
---
This Is Us
It doesn't matter that you know that This Is Us will make you cry week after week, if you are a fan of the show you are all in. The show has changed the way that we look at television, effectively made it more human. The fandom is invested in every character, every moment, every nuance. It's like taking an intimate look at someones life. Almost as though you are intruding on it. But the entire fandom is here for it.
---
The 100
When you talk a passionate fandom – The 100 ranks right up there. The can be divided, they can be overwhelming, and they can be extremely vocal. BUT that's okay. It's their passion that ignites the show and keeps it going. It doesn't matter who you ship and who you don't – this fandom does everything that it can to make sure you know that they will never give up, they will always be there, and that they love The 100. 
---
The Maze Runner
It's another fandom that is coming to an end, that we're not willing to say goodbye to. The Maze Runner fandom – Gladers as they are called, are resilient. They ban together in the good times and the bad. But they never forget where the fandom has come from and where it will go. They create content and they drive the way that things go in the marketing of the movies, books, and their love for the actors shines bright. Gladers are a force of nature.
---
Outlander
Give us Jamie and Claire forever. We're about it. The fandom is passionate and for 10 glorious days a year we get our fix. Forget Jon Snow, the fandom is all about the JAMMF. Sure, there are the normal fandom hijinks, but that doesn't phase us with them. It just tells us how passionate they are. The fandom knows the books and what is great about Outlander is that it stays true to the books.
It understands fandom.
---
What fandom is your favorite? Who do you think should have made the list?