In an effort to build a space for queer people like myself, every Tuesday I'll be posting opinion pieces, listicals, reviews, and more focused on the LGBT community (and occasionally about the Latinx/WOC community since I am Latinx.) Welcome to Queerly Not Straight! Enjoy and leave a comment below if you have a suggestion for what I should cover next.
---
Fairytales have always been part of my life.
They were there when I was a child in the form of Disney princesses and daring heroes.
They were there in my teen years in the form of dark and twisted Grimm's Fairytales.
And now they continue to be part of my life because of people like Nikita Gill and her new book Fierce Fairytales.
From the very first moment you open this book and begin to read it's pages, you are blown away by the portraits Gill paints of traditional tales like The Mad Hatter and Scheherezade. Each story that Gill has modernized contains the wonder that comes from their Disney years, the brutality of the Grimm tales, and a stark understanding that we are all but human at the end of the day.
We are all full of hope at one time or another and are defined by the things that have happened to us in our lives. Our parents shape us, our plight shapes us, the friends we make along the way  shape us, and the method we chose to fight back against the world, also shapes us. It's not black and white or as simple as good vs evil. It's a complex series of events that solidify the fact that we are flawed and complex beings, no matter if we are Jafar of the Fairy Godmother.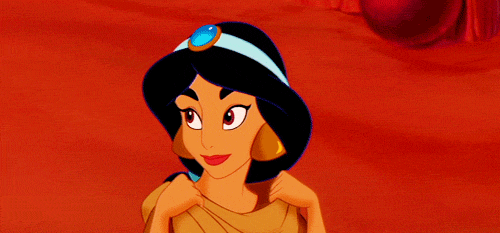 Gill's approach to Cinderella, Aladdin, Peter Pan and more, tell of a story of survival. It speaks to our want to be understood, cared for, and treated with the respect we deserve. And it shows the twists and turns that villains like Hook (queer twists and turns) and the evil stepmother take in surviving, thriving, and being the bad guy of the story while still remaining faithful to the person they were once upon a time.
It's also a story of the inner fire that we all have inside of ourselves. Princesses that were saved by the galant prince find strength, take their time, and use the power inside themselves to save their own skin. They come to realize that they sometimes aren't the heroes and that love is the thing that drives them. And they use the power of words to defeat the giants that they have always feared and never thought possible of conquering.
In the midst of the #MeToo movement, Fierce Fairytales feels like the powerful retelling of fairytales that we deserve. In fleshing out these classic stories, in making them more human, we uncover and expose the faults in these fairytales and the ones in our very own lives and society. It shows how we have grown, what we need to work on, and what is no longer relevant to the kind of people we are.
Fierce Fairytales showcases how a woman's anger can change the world. And I'm just talking about Cinderella and her daily struggle to survive, have courage, and be kind. I'm talking about Sleeping Beauty, who sunk into a depression at being told of her doomed future but nevertheless studied her ass off so she could rescue herself. I'm talking about Jasmine from Aladdin who took to the streets to help her people no matter what the cost. And I'm talking about Scheherazade who wove tales night after night as a promise to the women who came before her that "never again" would one of them perish because of a man's foolishness and appetite.
Gill's Fierce Fairytales is magic born out of a curiosity to know more about the literature that shapes us and follows us through our lives. In turn, it makes ordinary life seem magical, warts and all. It makes me realize how marvelous my life has been despite the dragons, stepsisters, and giants in my way. I've slain the dragon and survived the crushing weight of stepsisters and giants who have tried to snuff me out. And that strength, that drive to keep going like all the princesses & heroines I've watched throughout my life, well…it's already inside me.
It's already inside you.
---
About the Author:
Nikita Gill is a British-Indian writer and poet living in the south of England. With a huge online following, her words have entranced hearts and minds all over the world.
Instagram: @nikita_gill
Tumblr: meanwhilepoetry.tumblr.com
Facebook: @nikitagillwrites
Twitter: @nktgill
---
'Fierce Fairytales' is available for purchase HERE.
Add 'Fierce Fairytales' to your Goodreads HERE.
Discover more of their work HERE.
---
Queerly Not Straight posts every Tuesday with opinion pieces, listicals, reviews, and more focused on the LGBT community (and occasionally about the Latinx community since I am Latinx.)
Don't miss out on posts like this! SUBSCRIBE to our monthly newsletter HERE!