Okay, so major shoutout to Grown-ish for keeping the continuity of last week's episode focusing on black mental health, because this week Aaron hosts a Gala in support of this cause in "Mind Playing Tricks on Me." Aaron spared no expense for his Black Minds Matter Gala, and had black artwork on display, a killer female D.J. and special guest Joey Bada$$ was there to pull it all together. I was proud of him, Zoey was proud of him, and Luca was happy because the menu had vegan sliders and we all know it's a "lifestyle." Oh Luca!
Meanwhile, Sky hurt her knee, not sure when that happened? All I know is she showed up on crutches but dressed to kill and was determined to let no one ruin her vibe. Ana and Nomi came together, I feel like the writers are leading us down the rabbit hole with these two, but I'm not sure just yet, it will all play out in next weeks finale I'm sure. Read on for my review of this weeks Grown-ish, it was fire, as always.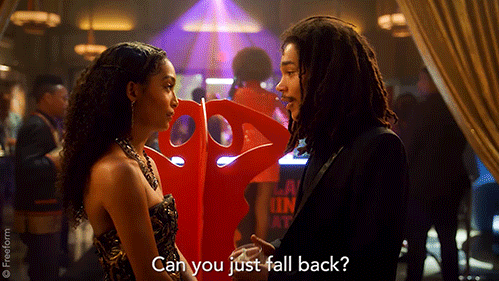 Dude, Luca was being an ass the entire episode, Zoey even comments to Aaron that Luca is not like other guys, he's a little off center. Remember when Zoey and Nomi vowed not to put a relationship before themselves ever again? Well Zoey threw that motto out the window when she's offered a styling job by Joey Bada$$ for his new pop up shop and she decides NOT to take it because it might hurt Luca's feelings! WTF Zoey? 100x WTF? Are you freaking kidding me? You love to style people, you are going to get paid, you need the money, and who cares if Luca is sad? Not me. Not your friends who are supporting you.
Zoey and Luca are not married guys, they are what? 21? Okay Aaron is probably 23 but whatever. Zoey was about to literally throw away the chance of a lifetime because she didn't want to steal the spotlight from Luca. Ugh. Is that what Jay-Z and Beyoncé go through? I doubt it! Beyoncé is her own BOSS and Zoey needs to be too. Fuck what Luca thinks about it. Girl Bye!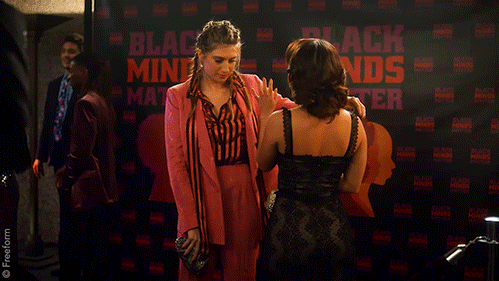 Let's talk about Nomi and Ana for a minute shall we. Both ladies are on the mend from bad break-ups, both ladies are curious, and both ladies are beautiful. I'm curious to see if they just stay friends or if this night leads to something more. Honestly its never a good idea to sleep with your roommate, it makes things hella awkward. BUT, this relationship also makes for a good storyline no matter how it ends. Well done writers.
Also Dougie says I love you to Jazz and she says it back! It was very sweet and like major cool points to Dougie for calling up Junior and having him be Sky's date for the night so she didn't feel like the 3rd wheel. It was a nice surprise and very sweet. I think out of everyone Dougie and Jazz will be the college sweethearts who marry. I feel that in my bones. #5yearplan
In the end, Zoey has a change of heart after talking with Aaron and decides to work with Joey Bada$$. Good girl Zoey! Aaron is always there for her, encouraging her and supporting her. Ana points this out to him and Zoey feels "something" when they embrace. Is this really over? I'm wondering? Aaron is wondering? But Zoey says nothing.
Luca of course is oblivious, and calls an Uber to come pick them up. I don't know guys, like on the one hand I really dig Luca, I do. But he is not always on Zoey's level, the same way Aaron is. Then again no relationship is perfect and she can't make one boyfriend out of Aaron and Luca, it just doesn't work that way. Zoey will have to chose.
Right now I don't even think she realizes that she still has feelings for Aaron, its all about Luca. Perhaps she needs a break from him? He did nothing wrong but I'm telling you when he finds out she took that job with Joey….we might be seeing another side of Luca! Zoey is scared/nervous to tell him which to me, says a lot about their relationship.
Only time will tell, next week is the season finale, and everything will go down, I'm sure of it and I am HERE FOR IT!
Grown-ish airs on Freefrom at 8/7c