Well guys, we have reached the close of sophomore year for Zoey and co. I'd say it has been a year of growth and maturity for everyone. Things are really looking up for Zoey, now that she has her career goals and school back on track. I'm still not sure if she's patched things up with her parents yet, that was all left up in the air.
We've seen break-up's and make-up's this year. We've seen Ana and Zoey battle it out, hell Zoey and Jazz battle it out; Nomi dated her teacher for a hot minute, and Vivek realized he's not black. I want a t-shirt made for this season! I loved this season, and I'm not ready to see it end yet. Thankfully, Freeform renewed Grown-ish for season 3, so there's that. Read on for my review of the finale, I basically told you guys all of this would happen, and I just want to go on record as saying that. #yourewelcome #toldyouso #imalwaysright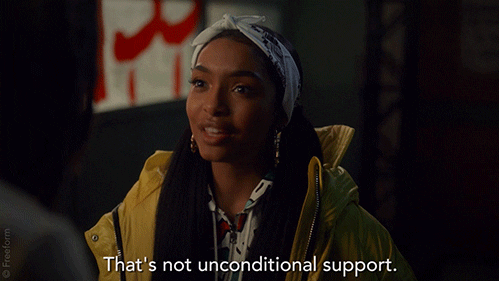 Zoey took the job with Joey Bada$$ as his personal stylist and she broke the new to Luca, who was not amused. Guys, Luca was pissed! And I called this last week. When Zoey is doing good for herself he doesn't seem happy, he seems annoyed, and that is just what she tells him. Luca was a total asshole in this episode. Just sayin… He told Zoey that her taking the job with Joey was some "Double crossing snake shit" WTF!! For reals Luca? It's like that now? In the midst of his tirade, he stormed out of Zoey's apartment without his pants. Idiot. Zoey is left bewildered, and who can blame her? Her boo, just told her that she ain't shit. I mean he didn't say that but that's what that Mutha Fucka meant. Fuck Luca! On to the next!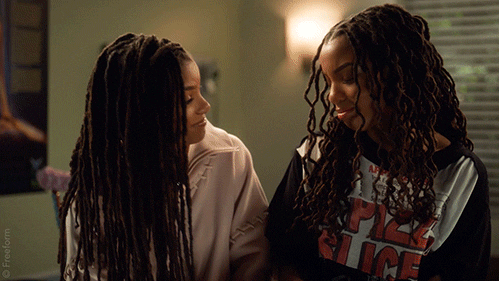 In the B-storyline we find out Sky's knee injury is worse than she thought, she has a hairline fracture and cannot run this summer with Jazz. Will this injury affect her scholarship? Her future career? I applaud the writers for the continuity here, because they could have easily been lazy and Sky could have been fine this week, but they are letting this storyline play out.
Nomi is put on notice by the schools ethics board, regarding allegations involving her and her professor! Dun Dun Dun! I cannot wait until next season to see how that unfolds. That peaked my interest the most, because I wondered was Nomi the professors first student? Did someone tell? How did the ethics board find out they dated at one time? Shit is about to get REAL for Nomi.
Finally, I thought Luca might have redeemed himself because he shows up at Zoey and Joey's event, looking like he's there to support her. But its fucking gaslight production ya'll, this fool tells Zoey the only reason she was hired over him is because of her looks, implying that Joey Bada$$ wants to sleep with her. Zoey is fed up, and so am I.
Guess who is there to witness this train wreck? Yup, Aaron. I said last season, that Zoey should have chosen Aaron over Luca, but these young kids don't listen to me! Zoey tells Luca they are DONE! Yasss girl! The cherry on top is that she is offered a summer job in Europe, to work with Joey Bada$$ and clothing line. #badbitch
I am happy for her, Aaron is happy for her, her girls are happy for her, but Luca is sullen and jealous, so not a good look for him. Zoey gets a ride to the airport from Aaron and confesses that he is always there for her and always has her back. I knew this was coming, the whole rom-com ride to the airport, express your true feelings, airport kiss. It's straight outta When Harry Met Sally. Only this time, I have no idea how it's gonna end. Until next season guys… PEACE!
Grown-ish is set to return for season 3 on Freeform.