It's summertime and you know what that means, vacations, sunny days, and lots of time to binge watch shows! Yassss!
Grown-ish returns for it's second half of the season on Freeform this week, on June 5th. Basically it's like A Different World for millennials. There is no Whitley Gilbert but there are still plenty of other characters to love and laugh at/with (depends on the episode). It's funny. It's endearing. We love that the majority of the cast is of color, one of the leads is a lesbian, and that none of this matters in terms of how ride or die this group is for each other.
We're breaking down why you should be watching the show. If you haven't caught the show, it's available on demand now. Catch up. You can thank us later.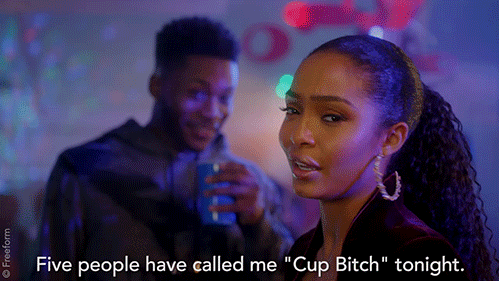 This quote right here, its LOL spit your drink out funny. It's one of the many reasons I love this show, it's so damn quotable. Like for real, been there done that Zoey! #cupbitch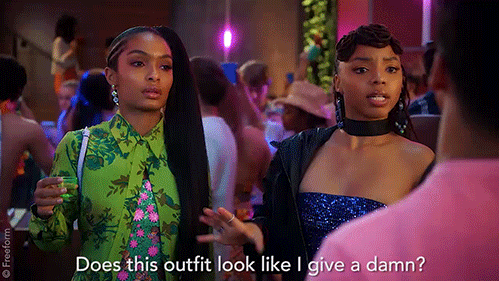 This chick right here in blue and her sister. AKA Skye and Chloe. They sing the main them song and are Beyoncé's protégés. Who knew they could act too? They keep it real and are hilarious, they have so much sass and are always down to give Zoey some real talk. Love them.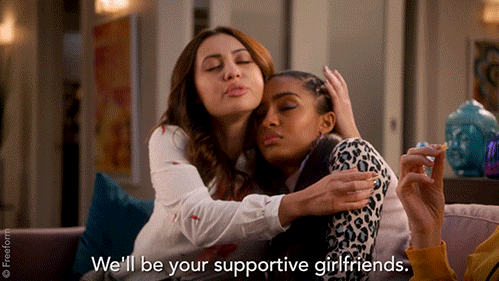 These three girls. Ana, Zoey and Nomi. They are the glue of the show, and this show has some really great friendships. This trio is my fave, because they are diverse in not only their upbringings but also their sexuality and ethnicities. It's been a rough 1st semester for Zoey, I'm not sure how she is going to be paying for this apartment without her fathers help, earlier this season he cut her off financially. We'll see how these girls will help her pull this crisis.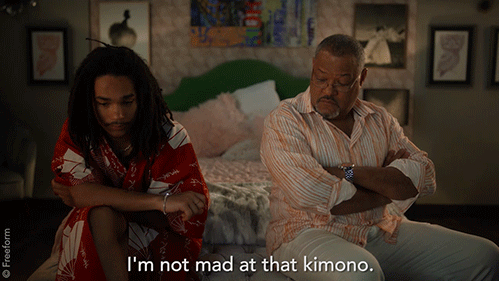 Where do I begin? That's Luca in the kimono. He came from out of nowhere and stole the show. He's Zoey's boyfriend and he's super dope. He knows it, we know it. It's like if Lenny Kravitz and Lisa Bonet had a son, Luca would be it.
Also he's always saying the most random, hilarious, one liners.
"Money speaks and wealth whispers bro." -Luca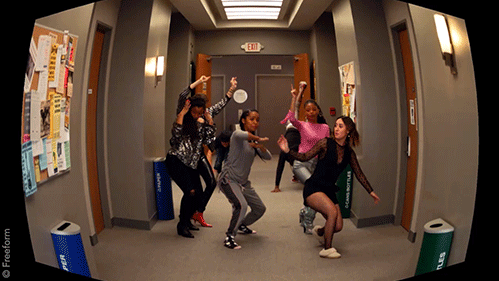 Okay Guy's there is no gif to represent my DEEP LOVE for the grown-ish soundtrack week to week. They have so many new artists, up and comers, killa music it's unreal. Spotify has a grown-ish soundtrack, that's how dope it is. You're sleep if you don't know about this yet. I can honestly say at least half of my playlist right now, consist of songs I've heard on grown-ish. Seriously.
grown-ish will be return on June 5th to Freeform at  8/7 CST.