Grown-ish has ended its season 2, and Yara Shahidi has already Snapchatted about the filming of season 3, which is happening right NOW! You all know it will pick right back up from where it left off, with Zoey's plane taking off to Paris and the two men in her life watching her from down below. While, I'm excited for season 3, right now I want to talk to about season 2; there was so much drama, and jaw dropping moments that I hope I can get them all down in this post.
Did I tell you how much I love this show and its cast? I did, over the entire season? Oh well. It's time to do it all over again with my Top 5 things I liked the BEST, from Grown-ish season 2!
5. Relationships that shouldn't work but actually DID #cutiepies
Case and point, Junior and Sky. I was not expecting this combination because at first glance they do not go together. BUT, I found out I actually like them together, it's like fried chicken and waffles! Two things that shouldn't taste good together, but DO!
4. Relationships that were DOOMED, and I mean DOOMED from the start #justwhy
Ana and Aaron. These two are the opposite of Junior and Sky, they shouldn't be together, they got together, and It didn't work. I called that from the jump. I still don't know why they slept together? Loneliness? Co-dependency? Lack of foresight? We will never know and I'm glad this relationship was over and done with in less than two episodes.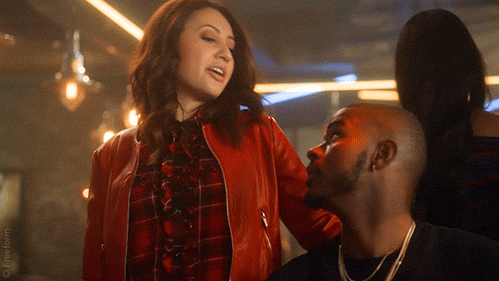 3. Zoey's parents cutting her off financially #getajobbitch
Dre cuts Zoey off financially. This one, was needed. Zoey needs to grow-up and stop spending her parents money like she is an only child. In my opinion, Dre took it to another level when he had her car towed, I thought that was extra, but I was totally on board with him making her get a job and start paying for own expenses. Zoey took a while to figure out a solid plan of action, she is sooo spoiled, but she did get a job at the bookstore and she finally got her academics back on track. I'm proud of the growth she made this season.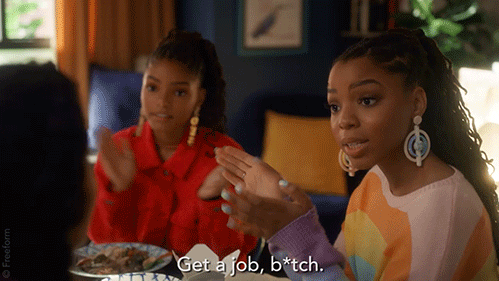 2. Nomi's shocking mistake of sleeping with her professor #justsayno
Nomi dating her professor. This was a serious WTF moment for me this season. I was adamantly against it from the start, I thought it was gross and weird and I felt like if Nomi's professor had been male, this shit would not have happened. In my opinion it was an example of someone having more power over you in a relationship. The professor was at least 20 years older than Nomi, and she was well established, had lived her life and had no intention of really being the companion Nomi wanted. I felt like she used Nomi, even if for a while Nomi felt like she was on top of the world. Nomi finally came out to her parents as a lesbian, she was living her best life, and then her relationship with the professor happened and shit went sideways. Nomi will be called to the table by the school ethics board on her relationship with the professor in season 3, and I'm extremely anxious to see how it all plays out.
1. The END of Zuca #igotboyproblems
Zoey and Luca AKA "Zuca". This duo burned hot for a minute then fizzled out slowly under Luca's jealousy and pettiness when Zoey received a job offer from Joey Bada$$. Zoey went for the job, because duh! Homegirl has worked hard this semester on her styling and burgeoning fashion blog. Luca has not done anything but criticize her and make her feel inadequate most of the time. Luca even told her that the only reason Joey Bada$$ even offered her the job and not him is because he wants to sleep with her. Not cool Luca. I was proud of Zoey for standing up for herself and letting Luca know she is smart, she knows what she is doing and more importantly Zoey took back ownership of her life. That's BIG ya'll. I'm proud of her, she has come a long way this season and it's starting to pay off. Don't let these men act up Zoey, wash Luca's dread head ass out of your hair with a press and style. #truthhurts #whymengottabegreattilltheygottabegreat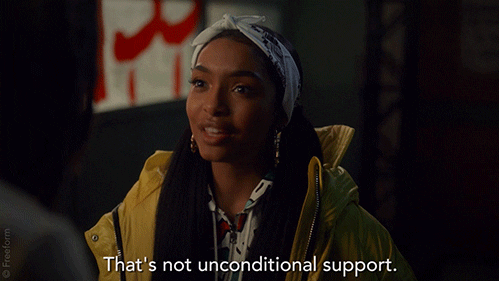 Okay, Okay, I know I said top 5 but I have to include a BONUS for ya'll. It's like a cherry on top, with whip cream and sprinkles.
Aaron and Zoey A.K.A Whitley and Dwayne-Wayne #blackmagic
This kiss right here says it all! Zoey wanted it, Aaron most definitely wanted it, since season one if we're keeping track, and more importantly I wanted it. I said last season that Zoey should have chosen Aaron over Luca, and I will standby my remarks! Its true. Do I need to mention A Different World again? Zoey=Whitley, Aaron=Dwayne Wayne. Who knows what will happen with these two when Zoey comes back from Paris this summer? Aaron will probably still have feelings for her big time, but I think things will awkward between them, especially when her girls find out. Will Ana be heartbroken? Or did she like me, call this all along? Luca will be heartbroken, but maybe he will find someone he can vibe with too. Whatever the future holds for these two next season I am here for it and I can't wait to share it with you guys. Until next time… XOXO
Grown-ish is set to return for season 3 on Freeform.