The year 2019 graced us with fantastic female leads who are strong and, most importantly – smart and self-sufficient. And one woman coupled with another one, creating a beautiful friendship – that's something that helps society. Instead of backstabbing and stealing significant others, we finally got beautiful examples of real, healthy female friendship in films and television.
Here are a few of our favorites:
Booksmart (

Amy and Molly)
After Booksmart was released, there was no doubt that Olivia Wilde directed one of the best films of 2019. Kaitlyn Dever and Beanie Feldstein portray two high school best friends, who, after years of hardcore studying, finally decide to go all the way out and have the best night of partying. That one night changes their perspective of their peers, and reveals things they never talked about. Both actresses did phenomenal work, showing the real female high school friendship, with its ups and downs. 
---
Big Little Lies
 (The Monterey Five)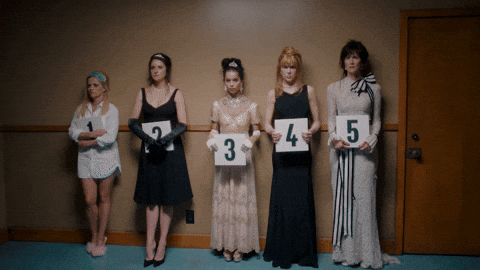 Five women connected by a gruesome crime. Bonnie (Zoë Kravitz), Celeste (Nicole Kidman), Jane (Shailene Woodley), Renata (Laura Dern), and Madeleine (Reese Witherspoon) try to move on from the events of season one, where Celeste loses her abusive husband after he falls down the stairs. The women's friendship, sadly, is strained in season two. Thankfully, once they find their way back after Perry's death (Alexander Skarsgård), they remain loyal to each other until the end.
---
Unbelievable (
Grace and Karen)
Toni Collette and Merritt Wever play detectives Grace Rasmussen and Karen Duvall. The women join the forces after a series of rapes occur in the area. After much research, they discover that the cases are connected to the rape of Marie Adler (Kaitlyn Dever), which happened in Colorado a couple of years earlier. At first, the women seem not to like each other, but after time, the audience can perceive the care they have for one another. The case they work on needs to be handled delicately- and this pair is the best at it. Duvall's caring voice perfectly harmonizes with Rasmussen's firm attitude; they create a power couple in the police world.
---
Orange Is The New Black
 (Red and Nichols)
The storyline of Red (Kate Mulgrew) and Nichols (Natasha Lyonne) is one of the most heartbreaking relationships in Orange is The New Black. From the very beginning, Red treats Nichols as her daughter, and helps her get out of drugs. The younger woman knows she can always go to Galina (Red's real name) for help. In the end, in OITNB's series finale, it's Nichols that becomes Red's caretaker. The woman forgets where she is, and doesn't remember faces. Nichols does everything in her power not to be separated from her; sadly, she loses the battle against the prison system, and Red is transferred to B-Block — aka "Florida."
---
Stranger Things

 (Eleven and Max)
The 4th of July was a special date, not only because of American Independence Day. It was when the audience came back to Hawkins, Indiana. This time, the group battles even worse monsters – growing up and growin apart. While the boys are doing their stuff, Eleven (Millie Bobby Brown) gets closer to Max (Sadie Sink). The girl bond over talking about Mike (Finn Wolfhard) and Lucas (Caleb McLaughlin) at first. For Eleven, friendship means everything. Max opens the door to the world of shopping, makeup, and colorful magazines. It's very pure and beautiful. As Eleven, who was raised in labs and poked every day, spending time with a female friend shows her "normal" teenage stuff that the kids obsess over. 
---
Dead To Me

 (Jen and Judy)
Christina Applegate and Linda Cardellini play friends in the Netflix Original comedy titled Dead To Me. The two women, Judy and the recent widow, Jen, meet by accident. The friendship between them blossoms from the beginning. What Jen doesn't know is that Judy knew her before. What originally started as a lie becomes very real to Cardellini's character, as she moves into Jen's house. Two characters are total opposites, but in the hard times, they are each other's rocks. Even after Jen finds out about the lies and kicks the other woman out, Judy decides to do everything in her power to bring their friendship back. This plot-line, alongside crime and phenomenal humor make Dead To Me a must-watch. 
---
Grace and Frankie

 (Grace and Frankie)
The series, created by Martha Kauffmann and Howard J. Morris has made audiences laugh throughout five seasons, and still remains one of the best comedies that Netflix has ever made. Jane Fonda and Lily Tomlin portray the roles of two ladies who are dumped by their husbands during a shared dinner. As it turns out, Sol (Sam Waterston) and Robert (Martin Sheen) became romantically involved after working together. Grace and Frankie are forced to live under the same roof. The women are entirely different. Similar to the characters from Dead to Me, Grace doesn't walk on clouds, she is a realist, almost a pessimist. Frankie, on the contrary, is a free spirit who loves to smoke pot and chant to the sun. But when differences are put aside, they always help each other and fight everybody who's on their way.
---
9-1-1 (

Hen and Athena)
9-1-1, created by Ryan Murphy, Brad Falchuk, and Tim Minear is one of the most underrated series on TV. It shouldn't be. It tells the stories of firefighters from LAFD who struggle daily with their lives, while they help people in the most desperate moments. Athena (Angela Bassett), who works in LAPD, is one of the best characters in the show – strong, independent, and smart. She's friend with Hen (Aisha Hinds) – a firefighter. They have a special bond that was created at the beginning of Hen's journey with LAFD. Although not many people talk about 9-1-1, we should – even if it's only about Athena and Hen's beautiful friendship. 
---
Broad City 

(Abby and Ilana)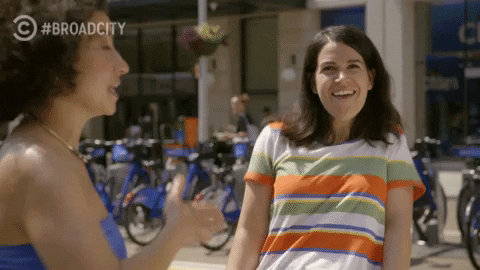 Ilana Glazer and Abbi Jacobson portray two best friends in their 20s who try to survive in New York City. They created Broad City together, and have gained loyal fans all over the world. The series focuses on the relationship between two characters and shows their daily lives. The excellent script and phenomenal humor definitely contributed to Broad City's success. It's a must-see for all young people who daily struggle with the costs of living by themselves. Abbi and Ilana (the name of the characters as well) prove to the audience that every young person needs to go through "survival mode."
---
Brooklyn Nine-Nine (Rosa and Amy)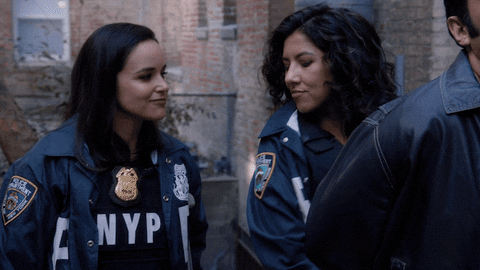 Just because I can't find a gif of these two being homies in season 6, doesn't mean that their friendship isn't epic. For years they've had each others back during tense, funny, and dramatic situations. These two Latinas have each other no matter what!
---
All female friendships mentioned above prove to society that the bond between two women doesn't have to be toxic. Some are new, some went through hell together, some said goodbye to their fans. We hope we will get more friendships as such in the upcoming year, because pure female friendship needs to be celebrated.
Think we missed anyone? Let us know in the comments section below!