The one-season wonder Pitch, a show we here at Fangirlish adore and have championed since it came out, is now on Hulu, and though we might not be getting more episodes (yet …never say never, right?), that doesn't mean you shouldn't give the season a chance to charm you.
And hey, maybe if we all watch, the chances of the show ever being revived will increase. Everything is getting revived some way or another these days, after all.
So, without further ado, here are three reasons why you should not just try Pitch, but try it right now
Badass women
This one's a given, this is, after all, a show based on the first woman to make it to the MLB. And yet, Ginny Baker isn't the only badasswoman on this show, not by a longshot, and there's a lot of attention paid to the different ways women can be successful and make a difference.
It's not just about being the first woman in the MLB, though that is, indeed, big. It's about making your mark in what you do – whether that's being the best baseball player, the best agent or even in some cases the best friend you can be.
The baseball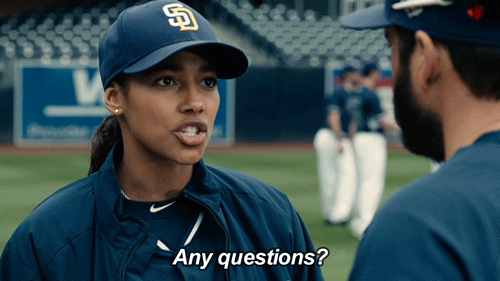 You might not like the sport, and you might not understand the sport, but for someone who both loves it and understands it, I can tell you that Pitch is one of the best dramas ever created about baseball. It both makes sense, and yet it's not too complicated to follow.
That's an almost impossible standard, the trying to please both fans and non-fans. And yet Pitch exists somewhere in the middle of that impossible place, which means that no matter which side you're leaning towards, there's something in it for you.
The OTP
It's hard for an OTP that has only ten episodes of setup to really grab you, but here we are. Mike and Ginny both exist within a trope and yet not, because there has never really been a character on TV put into the same position as Ginny Baker. And yet, to see him be amazed by her, grown to respect her, and care for her, and then for that to turn into more, well …it's perfection.
And that's without even mentioning her journey from "hey, this guy is a role-model," to this guy can be a friend and then to wait, maybe there's more than friendship here. And we only had one shortened season. Imagine how epic they would have been with ten or twenty more episodes!
Are you a fan of Pitch? What's your favorite thing about the show?
Pitch is available to stream on Hulu.