As most of you already know, the official trailer for After We Collided was released yesterday and we cannot get over it. It was everything and more. I think Afternators are quite pleased and rightly so.
The trailer showed us just how much time and effort Anna Todd, and Director Roger Kumble put into this. It's easy to see they really took the fans into consideration and we truly appreciate it. Personally, I have watched the trailer an endless amount of times because I just can't get over it. It covered so much but we narrowed it down to our top 5 favorite moments.
---
That Opening Sequence
Feels, Feels, Feels! as soon as the first 18 seconds of the trailer began, I was an emotional wreck. One of the things I loved most about this was that there were all those flashbacks from After. It was a brilliantly done way to respect the previous film while leading us into a new era. As soon as Hardin began narrating, I knew immediately this was not only Tessa's story but his as well. Last July, when I wrote about the synopsis for After We Collided, I mentioned that it seemed like we would be getting more of Hardin's backstory and this just confirmed it.
---
Book Hessa
I have no words to describe how happy I am to see book Hessa come to life onscreen. I know we got Hessa in After but it was nothing compared to what we're getting in After We Collided. The intensity, the passion, this scene in particular makes me swoon so hard. The way Hardin looks deeply into Tessa's eyes as he places his hand lovingly on her cheek makes me melt. When he said "there's no one else for me Tessa. No one." I died.
---
NYE DRAMA!
Drama, drama, and more drama! I know people would say it's weird that I want to see Hessa fight but I do. In the books, they fight all the time because they both do things to push each other's buttons. The New Year's Eve fight is one of the worst ones they have in After We Collided. Seriously, when I read that chapter, I was like whoo! even I needed a break afterwards.
Tessa and Hardin's relationship goes through a rollercoaster of emotions but eventually they make it out on the other side. The realness of the problems they face is what makes them so relatable. Not every relationship is perfect and this shows that.
---
Club Tessa
Club Tessa is everything and ever since Dylan Sprouse gave us a behind the scenes sneak peek during filming, we have been dying to see Tessa's club look. Now, we know we got a taste when the teaser dropped but, in the official trailer we got dancing carefree Tessa. She rarely let's go so it's a nice change to see Tessa just let loose. Also, that gold dress!!!
---
Book Hardin!!!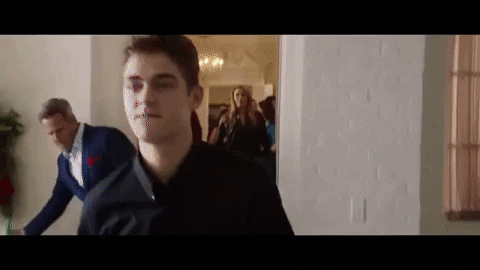 I'll be honest, when After came out I was disappointed that we didn't completely get book Hardin. I love Hero and he is incredible as Hardin but, I felt like that PG-13 rating After had, didn't allow him to fully become Hardin. At least not in the way Anna Todd intended in her books. After We Collided has definitely done that. In every single frame of this trailer, I felt like I was looking at book Hardin.
---
BONUS Favorite: The amped up love scenes
I know you didn't think I was going to leave this list without talking about the sex. After We Collided did not come to play games in the love scene department. I think my TV almost melted watching all the sexiness unfold. Like I said before, the sexy dial has been turned up.
---
There you have it. These are just five of the moments I loved in the After We Collided official trailer. I'm just going to keep rewatching it over and over until October.
Have you watched the official trailer for After We Collided? what were your favorite moments? tell us in the comments.