Star Trek Day 2022 really brought its A-Game this year! Release dates, sneak peeks, a reveal I was hoping for, and one reveal that definitely caught me off guard! Let's break down all the goodness we got from Star Trek Day 2022. 
Star Trek: Lower Decks First Look!
Star Trek Day 2022 featured tons of first looks and announcements, and is was also hosted by two of the Lower Decks cast members! Tawny Newsome and Paul F. Tompkins emceed the event. They also gave us a first look at an upcoming episode of Star Trek: Lower Decks.
Take a look!
I've had the pleasure of seeing this episode in screeners, so let me just tell you, you're in for a real treat. We also got to see Noël Wells who plays my gal Tendi, as well as comedian Brian Posehn, who is the voice of numerous Pakleds! I love the humor and fun this cast has with one another. I'm looking forward to seeing how the rest of this season of Lower Decks shakes out.
Star Trek: Prodigy is BACK!
It's been ages since we got nary a crumb of news about Star Trek: Prodigy. We've been waiting for the second half of the first season since episode 1×10 aired on February 3 of this year. That's seven months and change, people!
Thankfully, Star Trek Day came through! The second half of Star Trek: Prodigy season 1 will begin airing on October 27, 2022, on Paramount+. That's just over a month and a half away! I'll be using my "Hold-Onto-Your-Butts" Grab Handles until then! 
But wait, there's more! We got a sneak peek of the last half of Star Trek: Prodigy, featuring our crew on the run from the real Janeway, a virus of some kind infecting the ship, Murf in some sort of either frozen or chrysalis state, and the biggest surprise of all, Okona!
Okona (Billy Campbell) is in one episode of Star Trek: The Next Generation, episode 2×04, "The Outrageous Okona." He had a tiny cameo in Star Trek: Lower Decks in episode 2×05, "An Embarrassment of Dooplers" last year, so I wouldn't have been surprised to see the lovable rogue in that series.
In Star Trek: Prodigy, we get an eyepatch-wearing "outrageous" Okona! What sort of shenanigans do you think he's up to? We've only got a little while longer to wait and find out. 
Star Trek: Picard Season 3 Release Date!
I wasn't too surprised that we got a Star Trek: Picard season 3 release date this Star Trek Day, as they filmed both seasons 2 and 3 simultaneously. However, I wasn't sure how far along the show was in post-production. Apparently, the answer is far enough along to give the fans a release date!
Star Trek: Picard season 3 will premiere on February 16, 2023, on Paramount+. With the crew of the Enterprise-D back in action, I'm excited to see where they boldly go on one last adventure. Take a look at the sneak peek! 
It looks like we're taking the Titan on this adventure! While you're waiting for season 3, you can take a look at this analysis I wrote about the Picard season 3 crew.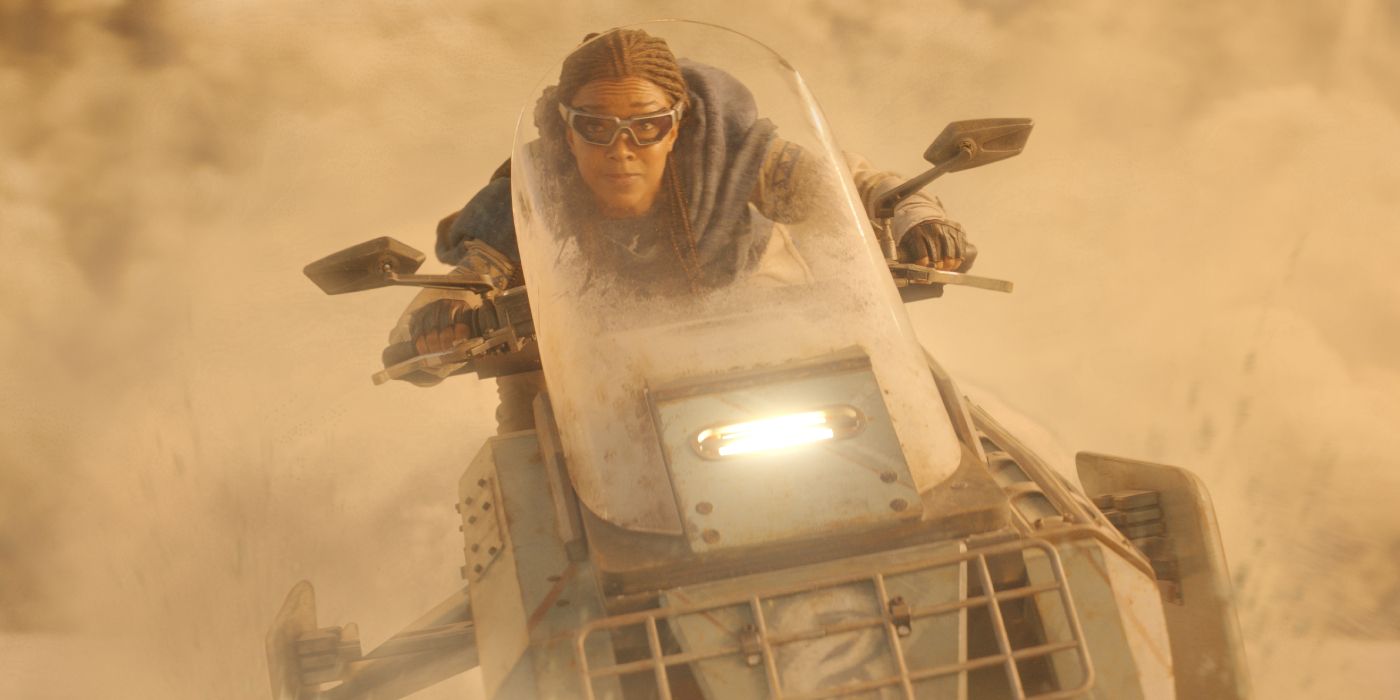 Star Trek: Discovery Sneak Peek!
While we didn't get an exact release date, we do know that the Disco crew will be back on our screens sometime in 2023. What we DID get was a great peek behind the curtain at Star Trek: Discovery season 5. Take a peek! 
As cool as it is to see what's going on behind the scenes, my favorite part is seeing Mary Wiseman on set! This means my gal Tilly is back in action on Star Trek: Discovery next year! Also, that picture of Michael on a space motorcycle is super badass. I can't wait to see what the Disco crew will get up to this season. I'm glad I've got lots of new Trek goodness to hold me over until then. 
Star Trek: Strange New Worlds News!
Star Trek: Strange New Worlds finished filming its second season a few weeks ago, so I know we've got some post-production time to wait through before we get our second season. Season 2 of Star Trek: Strange New Worlds will premiere sometime in 2023. I would imagine this will occur sometime after Star Trek: Picard and Star Trek: Discovery.
So, what do we get to hold us over while we wait for the next season of Strange New Worlds? The fine folks at Paramount in their benevolence bestowed not one, but TWO treats, for Strange New Worlds fans this Star Trek Day. 
First up, we get a clip of an unnamed episode in season 2 that gave me what I had been clamoring for the entire first season: #MORETEGAS!
Did you miss it, or do you just want to watch that sneak peek again for the millionth time? We've got you covered. Take a look!
I have been promised an Ortegas-centric episode, and I will NOT be denied. In the meantime, I'll be over here looking for one of those hats to add to my winter wardrobe. 
Carol Kane is on Strange New Worlds?!
The second Strange New Worlds surprise we received on Star Trek Day came from our Number One, Rebecca Romijn. Rebecca had the privilege of announcing that the great Carol Kane will be joining the cast of Star Trek: Strange New Worlds as our new chief engineer. There was some question at the end of season one about who would be taking up the post of chief engineer. We know that Bruce Horak is returning as a different character in season 2, but we've been given no clues thus far about his character.
In the meantime, I'll be over here speculating on the sort of comedy and sass we're going to get from Carol Kane as chief engineer. "Have fun stormin' the Romulans!" "I'm not a _____, I'm your Engineer!" I'll stop with The Princess Bride jokes now. Also, can someone tell me where I can get one of her super cool Space Fanny Packs? I'm not a fanny pack person, but that's a hip, hip bag. 
Star Trek: Khan—Ceti Alpha V Podcast!
On its 40th anniversary, Star Trek II: The Wrath of Khan fans were treated to a bit of an unexpected piece of news. Wrath of Khan writer Nicholas Meyer is writing a new audio drama podcast called Star Trek: Khan—Ceti Alpha V, which will serve as a prequel for the film. Of all the things I expected to hear about the Star Trek universe on Star Trek Day, this was not on my radar! The podcast is the Star Trek universe's first scripted podcast, and I can't wait to hear it. 
Final Thoughts
There was so much goodness packed into this year's Star Trek Day. What are you looking forward to the most? As for me, it's got to be #MORETEGAS and the return of the great Mary Wiseman to Star Trek: Discovery.
If you want to watch the full video of all the Star Trek Day events, here's the link! 
I want to hear your thoughts about these sneak peeks! Leave me a comment, and let's talk Trek. 
All episodes of all Star Trek series are available now on Paramount+.