Here at Fangirlish we have a strong appreciation for Dean Winchester from Supernatural. He's a hunter, hero, and man who happens to look absolutely fantastic in any pair of pants that he wears. Let us take you on a journey and remind you that Dean Winchester derriere is something to be cherished and protected from all that wish to harm it. Protect the Booty SPNFamily.
Here are 10 times we wished we were Dean Winchesters pants!
2. When he's catching a quick nap in between hunts…
3. When he's trying to investigate mysterious events…
4.
When he's on the move…
5. When he's looking for the perfect weapon to gank some baddie…
6. When he's chilling out with his daisy dukes and smoothie…
7. When he's trying to educate the masses in gym class…
8. When he's on his hands and knees…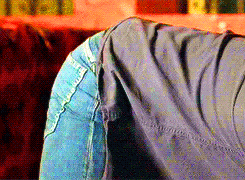 9. When he's traversing the countryside in a snug sweater…
10. And finally, during rigorous exercise…
Have you ever wished to be Dean Winchesters pants? Do you wish to be his pants now? Let us know in the comments below!
Supernatural airs Thursday at 9/8c on The CW.