Welcome to Wakanda!
*Warning* If you have not seen the movie yet, don't continue on reading. There are spoilers! But if you have, well, come celebrate with me!
Oh man, this movie blew. my. mind. The wait is finally over. There is just so much to say about Black Panther. From the acting, visually stunning cinematography, the story, the heart and everything in between. I might be going on in rambles in this post, but it's because I loved every minute of it. It deserves all the praise, all the love, and all the money as it's currently snatching away the record in the box office.
I've got lots to say. So, let's begin, shall we?!
Wakanda Forever:
Seeing the fictional existence of this magical and technologically advanced nation had me thinking of "what Africa could have been." The "if only" thoughts that linger about how if Africa was never stripped away from its resources, it's wealth, it would have been far from a continent that is classified as a 3rd world country today.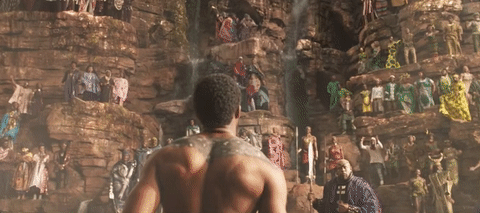 Everything about the way this hidden nation is portrayed was amazing. The visuals were beautiful, absolutely beautiful. Just looking at how everything makes you feel so peaceful. My favorite visual was the ancestral plane T'Challa visited. The mesmerizing colorful presence that was released was gorgeous, with a lot of warmth. It's a happy place for sure.
Representation MATTERS:
Oh, it matters sooo much, I don't even know where to begin. That is pretty much the main goal of this movie. Representation. Yes, it's beautiful and yes, it is so damn powerful. Seeing someone look like you on screen, does wonders. This new generation is now lucky enough to look up to a black superhero, someone we never got the chance to see back when we were kids (I'm speaking for myself and fellow 90s kids). Just imagine the impact it has now on these children, and the kind of strong message it will send out.
Alongside fierce dark-skinned black woman that has a lot of screen time, it's amazing, it really is. Black excellence is beautiful, and I'm glad that now this will showcase more children of color to always be proud of what they look like and who they are.
The Characters:
Let me just give a round of applause, maybe ten, or twenty, for this perfectly talented ensemble of an all-black cast. Wow. Chadwick, Michael B. Jordan, Lupita, Danai, Letitia, Angela, Daniel, Forrest. Phenomenal cast that you can truly witness they bought a lot of their heart and soul into this movie and they KILLED IT. 100%.
Long Live the King!
T'Challa is just a pure-hearted, gentle soul that he just makes you feel like you gotta worry about him so much. Chadwick's performance is brilliant, and the way he cares the accent so well is another noteworthy aspect of him. The talent that goes into acting really does amaze me because it is a form of art. T'Challa portrays a heroine everyone needs, he has a lot of humility and bravery which allows him to stand out so well. His passion to serve his country and protect it is his main goal. The people love their king, they love their Black Panther. Don't you just LOVE his suit?! All thanks to his genius of a sister, Shuri, ofcourse!
The Story of Erik Killmonger:
Alright, Michael B. Jordan's role as Erik Stevens/Killmonger was so intriguing and might I add, he's handsome as ever. Ugh, I was so memorized by his demeanor. I'm glad Michael B. Jordan is getting the outpour of love for this movie. He's been around in the industry for a while now before Black Panther, but this movie fired him all the way up and I'm here for it.
But anywho, onto Killmonger. The way he's introduced into the MCU is a bit different. Ryan Coogler decided to tweak his character up a little. Killmonger comes from a story that's rather different from most villains. Actually, he and Loki from Thor share pretty much the same kind of pain. Killmonger is consumed with vengeance and his idea of revolutionizing the world doesn't align with T'Challa's. He wants the throne. But, you really feel for him, you do. I know I do.
He spilled some truth while he was at it. Black Panther doesn't shy away from bringing about the tension between Africans and African-Americans. This is something that has been around for ages now, however, it's when it's presented to you in this manner that you understand it has been a lingering issue. There is ignorance that comes from Africans not necessarily understanding what African-Americans have been through. How they don't understand that African-Americans felt like they were ripped away and stripped from their culture, language and land, and how that's something that is still embedded in pain.
So, when Killmonger is introduced as the one that was stripped from learning about his roots, from a life that he could essentially belong to, compared to T'Challa who peacefully lives his life, there is surely pain that goes into that. Michael B. Jordan's final line in the movie before he dies really stuck out the most and resonates with a lot of people. It had so much hurt and truth to it, you just felt it automatically. And that's when he said:
"Nah, bury me in the ocean with my ancestors that jumped from the ships. Because they knew death was better than bondage."
That line right there spoke so much truth. It was powerful. Though a part of me feels like he's not really dead. I guess we'll see when we get a sequel!
My Female Warriors:
Ah, I can go on and on about the female characters in Black Panther. Perfection at its best, intelligence at its best and beauty at its best. We have Shuri who's intelligence and smart mind is over the roof for someone who is just a young girl. Nakia, in being the stubborn fighter that will always stand by the side of justice while working hard to dismantle injustice.
Then you have Okoye, the general and most badass woman that doesn't take any crap. I love them all. Seriously.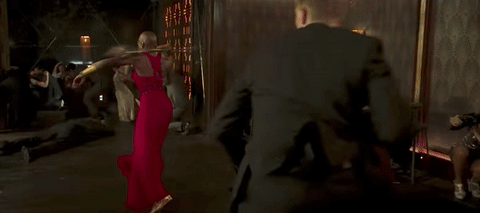 What the movie did best with our female leads is that they weren't used as plot devices, they weren't used as love interests or played those traditional roles. No, they did none of that. The fact that T'Challa needs their guidance, assistance and at times approvals is such is a great thing to witness and it allows female characters to take on captivating roles, and do anything as they please. We need more of that.
This is very important, these women and predominantly most of the women in Wakanda have the spotlight. They're equals. Shuri, though, has got to be the MVP of them all. Her intelligence and the way that she manages and creates the technology around her is enthralling.
Female warriors are here to STAY.
Kick-Ass Fight Scenes:
The scenes that stuck out the most to me were the scenes in South Korea. Intense, intense, intense! CGI was incredible, and it just had you clinging to your seat. I think the way they all worked as a team was phenomenal. Definitely, action-packed. Then the challenge scenes between M'Baku and T'Challa, then with and Killmonger were extreme. Those moments were so raw and executed very well. Kudos to Ryan Coogler!
The Directing: Ryan Coogler, you have done one heck of a job. You, sir, have made a masterpiece. The man behind the camera, the man with the vision has brought the storytelling into an exquisite form of art with great visuals, angles, cinematography, alll of it. Exceptional work. I can't wait to see more of his movies in the future.
Black Panther is in theaters now.