Oh Happy Day! Zoey got her ride back! Her daddy relented and gave her back her car! She was pumped, I was pumped, her girls were pumped. Everyone is happy except Anna who is still feeling some kind of way about her sorta break up with Aaron. I for one, am so glad Zoey decides to take everyone away for the weekend back to her house in L.A. while her parents are on their annual M.L.K. Ski trip. Guess who crashes this girl fest weekend? Junior! Haha! He is really digging Sky, and she might be digging him too? More on that later, for now lets get into these girls bonding over secrets, relationships and life goals on this weeks Grown-ish.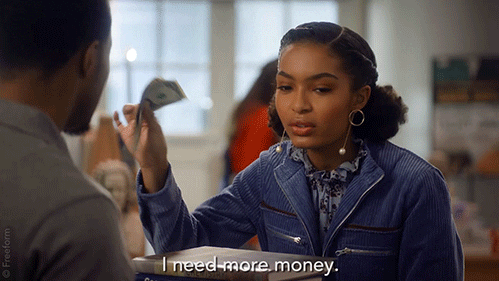 Zoey gets her first paycheck and is deeply devastated that it only afforded her enough to put gas in her car and 4 adult coloring books for her girls weekend. I mean Zoey, you called in twice over a two week period and I'm pretty sure you are making minimum wage. I am proud of her for holding down a job and actually studying for an exam and passing her chemistry exam with a C minus BUT, she still needs a reality check, and I'm hoping that there will be a black-ish cross over soon or maybe a heart to heart with her mother. Zoey shows her friends around her house, Nomi comments that she is not as rich as she thinks she is! LMAO. Zoey's heart is in the right place though, because she decided to take this trip with her girls so that they can all get back to some self care and self reflection, without BOYS. I'm in "Zozo."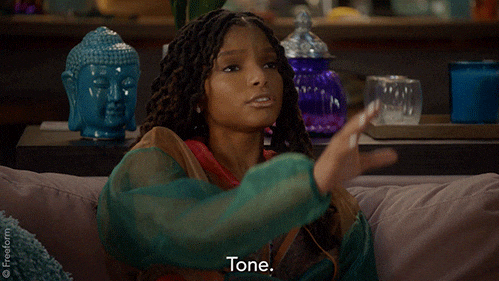 I like the bond of these girls, they take care of each other in good times and bad. They fight, they make-up and they put each other first and I am all about it. Nomi comes clean about her relationship with the professor and guess what the twins said what I have been saying, it's a power dynamic, because the professor is 20 years older than her! Also how would everyone feel if the professor were a man instead of a woman? That's what I've been saying! I still think it's weird and I still say it will not end well, on the flip side at least Nomi can't get pregnant. Junior interrupts the girl talk because he opted out of the family trip this year… He sets his sights on Sky and later they share a bath much to Zoey's utter shock and dismay. "I don't know what my brother was doing with your feet." Girl, me either.
In the B-storyline this week, the boys are fundraising for a good cause, raising money for an upgrade to the basketball goals in the neighborhood children's parks. Aaron hosts a party, and charges $10 to get in and he run's an ongoing commercial on why giving back to the community is so important, however by the nights end he only has $250 raised. Thank God Vivek is a drug dealer with cash, he donates $1,000 to his friends cause and those kids get new basketball goals and balls! Everyone is happy. Except Aaron, who started a fight with a dude named Mauricio and by episodes end ends up being chased through campus by him. Uh Oh! Aaron gets on his righteous kicks sometimes and pisses a lot of folks off in the process. Aaron you gotta be quiet sometimes, your mouth gets you in a lot trouble. Zoey has learned to chill, and keep her opinions to herself, but now it's Aaron's turn, here's hoping this week's encounter taught him a lesson.
Grown-ish airs at 8/7 CST on Freeform.