Batwoman's "Who Are You?" left us fanning ourselves after that Kate/Reagan bed scene, wowed us with Mary's quick thinking, and provided a little levity in the form of a batarang gone wild. Read on for these moments and more from "Who Are You?" that we loved and can't stop thinking about!
1. Kate and Reagan in bed doing all the smooching.
I'm legit sitting here and wondering if I've ever seen something like this on The CW. Sure, we've seen Olicity have hot and heavy scenes on Arrow. But we're never seen something like this before: two women unapologetically and wholly in the throes of passion. I don't think Sara/Nyssa ever were this hot and heavy. Avalance neither. (Sidenote: Let me know if Black Lightning has ever had a scene like this with Anissa because I need to see it.) Point is, being this gay, in this world, it means something. It means change. It means representation. And it starts with intimate moments like this.
2. Mary pretending to be Alice like the boss she is.
Look, we already love Mary. She's smart, badass, and serves up that truth tea every Sunday. "Who Are You?" just made us fall in love with her EVEN MORE! Who even does something like this? Mary does! Even after he attacked her, and even after Batwoman surprised her by dropping him off there, she was thinking five steps ahead. Anyone else would've ran from this guy or said, "No. I'm not Alice." when he thought she was our resident baddie. But no, Mary was on that like white on rice and used her wit to get what she could for Batwoman.
THIS is what queens are made of and we stan.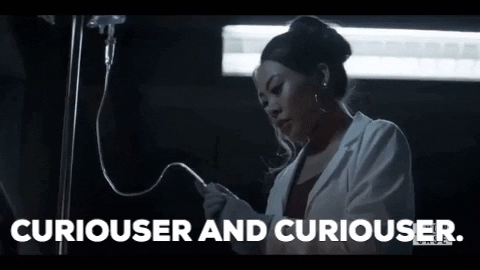 3. Alice not being a creature of the night.
I love seeing my bae Alice in the light of day. It just shows that she's not a creature of the night or a baddie who you should watch out for when it gets dark. You should beware of Alice at all times of the day. Because she isn't afraid of being caught, she's isn't afraid of being exposed, and she isn't afraid of pulling the strings she has to as a means of getting what she wants from people like his dad's new wifey Catherine. She even brought her merry men with her, masks and all. Power move if I've ever seen one.
4. This little girl realizing it's Batwoman.
THIS MOMENT RIGHT HERE MAKES IT ALL WORTH WHILE. Why? Because this young girl met Batwoman. Not just that, she was saved by Batwoman. And the way that she looks at Kate Kane's Batwoman…it's enough to make a grown woman cry. I remember how much Wonder Woman meant to me and how No Man's Land brought me to tears. It was unlike anything I've seen before. Maybe this scene with the little girl realizing that Batwoman is real and not just a rumor, is that moment for other queer women like me.
5. Kate missing the Batarang.
A little levity does everyone and their mother well. And the look on her face when she didn't catch it. Simply priceless. Really loved how this scene wasn't forgotten in the mix of everything going on. There was bantering and an actual reason why Batwoman couldn't capture the Batarang. It wasn't meant for her before. Now it is.
Batwoman airs Sunday at 8/7c on The CW.