Halsey's third and most anticipated album was just released on Friday and I haven't stopped listening since.  As some of you may know, I am a huge fan of Halsey.  I have followed her career since discovering her music in 2015 when her debut album Badlands was released.  Every single one of her albums is amazing but I can honestly say Manic is her best one yet.
Unlike Halsey's previous work, Manic is all Ashley (For those that don't already know, Halsey is an anagram of her name).  Last year, when Halsey announced her third album title and release date, she used the tagline "Hi, my name is Ashley. It's nice to meet you." it was clear back then that this was going to be a very different album.  Halsey's previous albums; Badlands and Hopeless Fountain Kingdom, were all concept albums. Manic is certainly not that.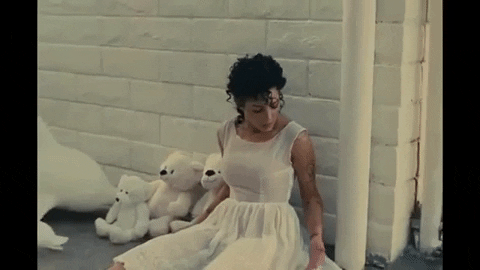 As soon as the opening track 'Ashley' begins, you immediately feel her vulnerability.  With lyrics like; "Now, if I figure this out apart from my beating heart It's a muscle, but it's still not strong enough to carry the weight of the choices I've made," it feels like she's reminding us all to remember she is just as human as we are and her heart breaks as easily as the next person. 
The artwork on the back of Halsey's album is so fitting because it's reminiscent of one of those old human anatomy charts. Each track points to a corresponding body part to indicate that's where the song came from, for example, 'Ashley,' 'Without Me,' and '929,' all point to the heart which lets you know those songs came from the heart.  Manic is raw, emotional, and pure Ashley.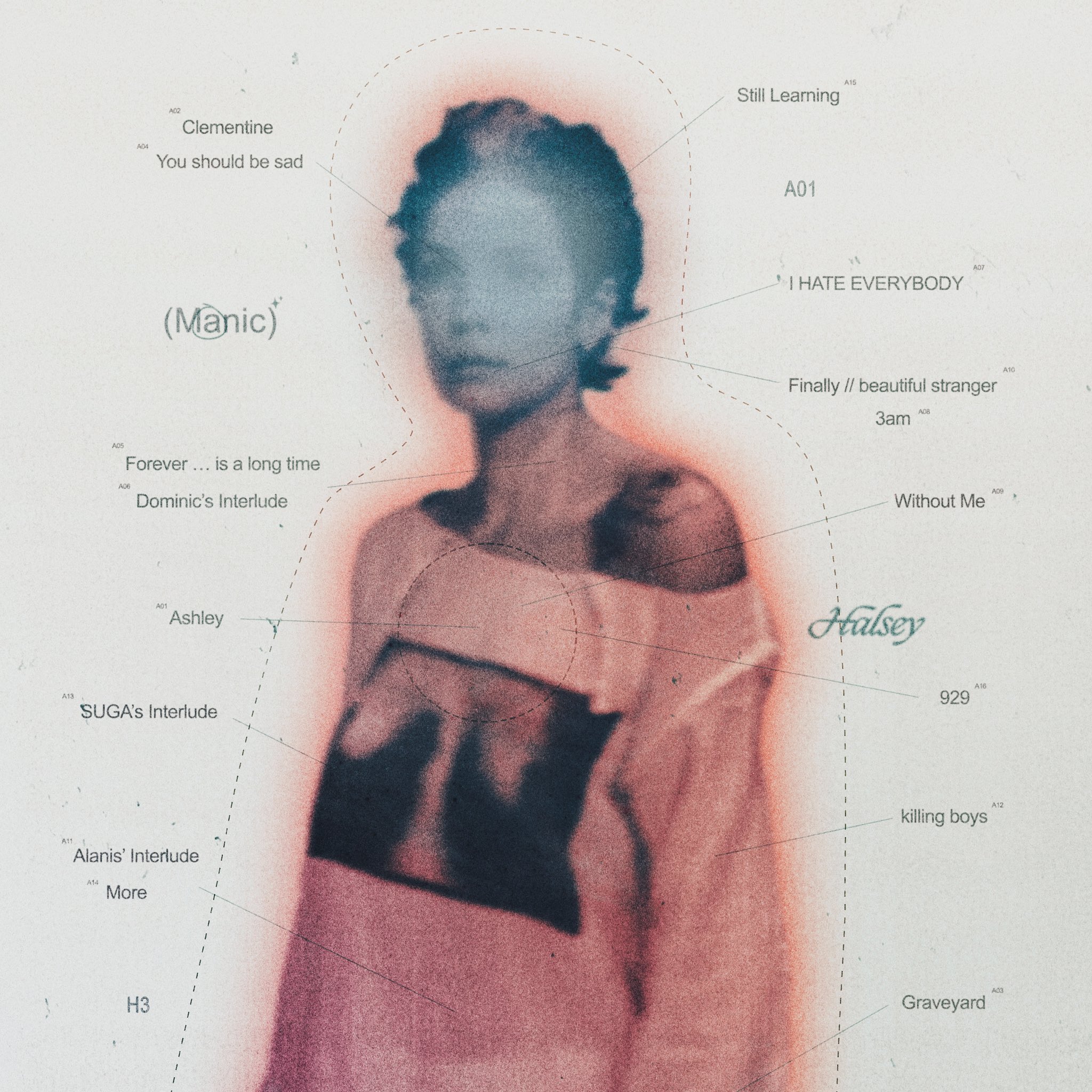 Halseys track 'More,' had me in tears. In the song, Halsey expresses her feelings of wanting to have a baby someday.  She's always been very open with her fans about her reproductive health.   This song is the first time she expressed her emotions about everything she's gone through over the years.
I know it had to be an extremely difficult song to write and record. It took courage for her to release it and I don't know how anyone could listen to it and not cry. 
Halsey also opens up about her tumultuous relationship with rapper G-Eazy. With tracks like her most recent release 'You Should Be Sad,' 'Killing Boys,' and the bonus track 'I'm Not Mad' which is only available on the Target exclusive edition, she makes it clear while she was angry, at the same time, she had begun to move on and start to focus on herself.  
Halsey enlisted some pretty amazing artists for Manic; Dominic Fike, BTS's Suga, Red Hot Chili Peppers drummer Chad Smith, Jon Bellion, and Finneas O'Connell. One of my personal favorites is her collaboration with Alanis Morrisette on 'Alanis' Interlude.' On the track, Halsey and Alanis bodly sing about her bisexuality.  It's fiery, fierce, and feels more like a full song than an interlude.
Every track on Manic is different.  There are no songs that sound the same.  There are elements of country, R&B, and rock so it suits whatever mood you're feeling.  There are highs, and lows, joy, and pain which is the definition of Mania. Halsey advised that her album be listened to from front to back because some songs go together and I agree.  It's such a beautiful album lyrically and musically so to just skip around would ruin the full experience. 
I'm a firm believer that the first time you hear an album should be front to back and so that's why I make them that way! Some songs go together. Halves of a whole. so when Manic is out, pls don't skip ur excited asses to a random song. Just at least not on the first listen 😅

— h (@halsey) January 15, 2020
The  last two tracks on the album, 'Still Learning,' and '929,' are equally as emotional as the opening track.  In still learning, Halsey sings about learning to love herself through everything she's gone through and that's something we can all identify with.  The closing track, '929,' is what Halsey says is "probably the most uncensored song I have ever written" and I understand why.
With '929,' it feels like Halsey pulled every random thought she's been holding onto and put them on paper.  The way the lyrics are delivered with such candor, is Ashley 100%. She talks about her struggle of trying to stop smoking, interactions with fans, and the anxiety she faces. It's another song that reminds us again although she's famous, her issues are just as real as anyone else's. 
Listening to Manic is truly an experience, it takes you on an emotional rollercoaster and it's a true exploration of what it feels like to be inside of Ashley/Halsey's head.  After finishing the album, I feel like I have gotten to know more about Ashley, and it was a joy to meet her.
---
Favorite Tracks
Ashley

You Should Be Sad

Alanis' Interlude

Killing Boys

Still Learning
I'm Not Mad (bonus track only available on the Target exclusive edition)
Have you listened to Manic yet? What are your thoughts? Tell us in the comments below!