One of the greatest debates of all time: Who reigns supreme as Lord of the Chrises? Is it Evans? Hemsworth? Pine? Or do you like Pratt best? Since the world has been crazy lately, I thought it'd be fun to pose this question for the Fangirlish team.
Join Becky, McKenzie, Michelle, Jasmine, Lizzie, and me as we go through our reasons for our main Chris love.
---
Becky: Okay, so, obviously it's Chris Evans.
He's sweet, genuine, goofy, obsessed (obsessed) with his dogs and animals, he stands up for what he believes is right, gets infuriated over wrongdoings and cruelty and injustice. He is this adorable goofball of a human being, but is also, like, one thousand percent ready to throw down with anyone who dares to mess around with evildoing – and he looks like that, on top of everything, and I just…?!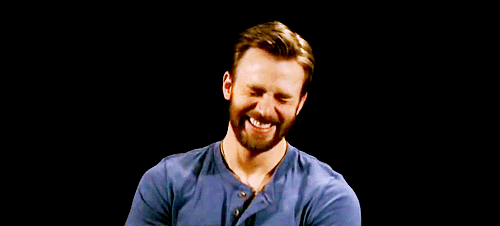 It's absolute insanity that someone like that exists.
And, honestly, lightheartedness aside, I knew Chris Evans was my ultimate Chris the moment he spoke up about the anxiety he experiences in regards to fame and fan/press interactions. He's so vocal about his experience with mental illness, and how it affects his work and how he manages it. It's really, really cool, so, of course I latched onto him immediately after hearing him begin to open up about such things – and he openly encourages people to talk about it and seek help.
"Everyone's brain is noisy, and the root of suffering is following that brain noise and listening to that brain noise, and identifying with it as if it's who you are." (Source: Men's Health)
It's so awesome – especially coming from someone like him who is viewed as a sort of pinnacle of masculinity, who is a role model for kids all around the world. He knows the sort of power he has to influence these kids, and he uses that for good and to help them in whatever way he can.
He's just an absolute sweetheart.
I don't know, guys, Chris Evans is great all around and I literally can't believe that a guy like that is real – and looks like that.
Good luck finding a better Chris.
McKenzie: Evans. Evans. Evans. I love me some Chris Evans. The man has a sense of humor. He is hilarious on Twitter. If you don't follow him, you should. He is gorgeous. I mean have you looked at the man? If not I'll wait. He is known as America's Ass. He's a fantastic actor. He is a delight when he gets passionate about what he believes in and he cries at the injustices of the world. The man is open about his struggles and anxiety. He worships the ground his dog walks on. All dogs for that matter. I think the best thing of all though is his heart. Chris puts it into everything he does and it shows. I agree with Becky. There simply is no better Chris.
Michelle: Can there be another Chris aside from Evans? We mention a famous Chris, and you know the majority votes for Chris Evans. Not only is he America's Ass, he is an American Pie.
Aside from the various masterpieces that Evans has been in, he is also a good humanitarian. Not saying the other Chris' aren't, but there is something that allows us regular people to engage and connect with him. He seems approachable, attainable, and I am all for it.
Last note. I have seen him be an advocate for mental health. I've read articles on Evans talking about his anxiety beyond the camera. It brings attention to a serious matter, and adding his own story just makes him that much MORE. America's Sweetheart? You bet.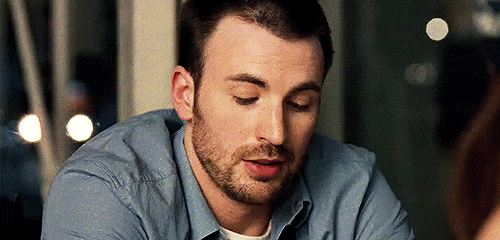 Jasmine: I didn't expect this to be so hard. I'm torn between Chris Hemsworth and Chris Evans because I love them both. And this sucks even more because they're both in the Marvel Universe! Okay, okay, I choose… Chris Hemsworth. I just love him and not for that accent and those abs although they are lovely to look at.
He knows how to have fun and you can tell he genuinely enjoys life.
He's handsome, an amazing family man, and devoted husband, plus he just launched his fitness site Centr which tells you he cares about our health and fitness.
Lizzie: Allow me to be the dissenting voice, but as much as I love Chris Evans – and I do, everyone does, I usually say Chris Hemwsorth, without a doubt. Mostly because short-hair Chris Hemsworth making you laugh is like the perfect man. Picture Thor: Ragnarok Hemsworth and tell me, you'd pick someone else?
There is, however, something to be said about Wonder Woman Chris Pine, especially in that scene. You know which one I'm talking about.
There's just something about Pine too, something that makes you feel like he'd be the one to understand you, to fight with you for equality. And that's very, very sexy.
In the end, I think the answer is clear …almost any Chris is a good answer. Except Chris Pratt. Never Chris Pratt.
Gillian: Look, I know Chris Evans is amazing. I am not disputing that fact in the slightest, but he is not my pick for best Chris. (It's the Boston accent, sorry!)
I have been a Chris Pine fan since 2004 when he appeared in The Princess Diaries 2: Royal Engagement. With piercing blue eyes and great comic timing, you can't go wrong. But it was really around the time he starred as Captain Kirk in the 2009 reboot of Star Trek that he fully secured his place as #1 Chris in my heart.
He proved himself as a blockbuster leading man in the role, but what really got me was the promotional activities. Chris Pine is extremely smart. Like he and Zachary Quinto got into vocabulary wars during junkets and it was an absolute joy. He eschews social media which is why I think people discount him most of the time. But that's another reason I respect him, because he keeps things private.
But Chris Pine: smart, attractive, great actor, fantastic singer (his "Agony" never fails to make me happy), and stays out of drama. Best Chris in my eyes.
---
And to no one's surprise, Chris Evans is the clear winner!
Who do you think is the best Chris? And you don't have to only pick from these four, there are so many Chrises in the entertainment world! Let us know your thoughts below!