It's almost Trek time! Star Trek: Lower Decks is set to premiere on August 12, 2021. To say I'm excited is an understatement. After a summer of Star Trek class, you would think that I'd be all Trek-ed out, but that definitely is NOT the case. I can't wait to have more Star Trek in my life and I'm eager to laugh myself silly with Lower Decks. Have you seen the latest trailer for Lower Decks? Give it a watch and then I'll tell you my hopes, fears, and feels for season 2 of Lower Decks.
Hopes
As I mentioned in my recent rundown of all the new Trek coming up, it took me a couple of episodes to really get into Lower Decks last year, but by the end of the season, I was having a blast. The witty dialogue, precision delivery, and madcap antics of the crew of the Cerritos keep me in stitches. I did a rewatch recently and Lower Decks still holds up.
I am hopeful that we will get more laughs, more chuckles, and more deep-cut Star Trek jokes. The trailer already had me cracking up with who I assume is the new chief security officer walking onto the bridge and saying, "Rapungi, when he joined The Seven." This blatant reference to the fan-favorite episode, "Darmok" from Star Trek: The Next Generation is a sweet morsel for longtime Trek fans.
I also hope that we will see more interaction between Mariner (Tawny Newsome) and Captain Freeman (Dawnn Lewis) now that everyone knows the Captain is her mother. I'm eager to see how this affects the dynamic, not only between them but between Mariner and the crew and Captain Freeman and the crew.
Fears
My fear surrounding Lower Decks is minimal, but I do have one concern. Last season, many fans were turned off by this seemingly irreverent take on Trek. While its straight-up silliness was a little off-putting to me at first as well, I'm glad I stuck with it. What I discovered was not irreverence, but a deep love of Trek with an appreciation for the little details that any student of Trek lore would notice. I fear that many Star Trek fans won't give Lower Decks a fair shake. It's definitely worth checking out, and hey, I think we could all use a good laugh right now. Why not have a good laugh, but make it Star Trek?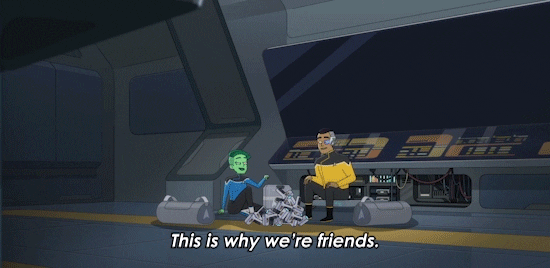 Feels
While I love a good laugh as much as anyone, Lower Decks gives me feels too! I was not anticipating that I would get choked up over the loss of Lt. Shaxs (Fred Tatasciore) last season. I also got big feels when Rutherford (Eugene Cordero) lost his memory and he and Tendi (Noël Wells) have to restart their friendship. I am starting to ship them a bit, so I'm fully expecting them to give me more feels this season too.
Do you have hopes, fears, and feels for the next season of Star Trek: Lower Decks? Leave me a comment and tell me all about it. You know how I love to talk Trek.
Star Trek: Lower Decks will premiere on Paramount+ on August 12, 2021.