If you're here, you've already watched the trailer for Fast X. And like us, you're enthralled. Just when we think this franchise can't get better they bring in Oscar winning actresses Brie Larson and Rita Moreno. Larson is set to play Tess and have some "game recognizes game with Michelle Rodriguez' Letty. And Moreno, well she has the role of a lifetime. She plays Dominic Toretto's abuela.
Even though we've watched the trailer over and over again in hopes of catching even the smallest details, we're already thinking of what we want. Because for a movie like this, a moment like this, you have to go big and push the limit on the story you're telling. Not only to honor the fans but to bring in new ones. That's why we've put together a list of 5 things we want to see in Fast X.
1. Rita Moreno and Helen Mirren battling each other.
Look, someone's got to show these youths how it's really done. And we couldn't think of a better example than Abuela Toretto and Queenie. Just imagine them racing against each other in supped up cars and saving the day? Or better yet, think of the family finding out that these two know each other. For a very long in fact. And they only tease about their mysterious past together, opening the door for a prequel! Just imagine!
2. Gal Gadot's Gisele to make an epic return.
If Han can make a return in this franchise, then so can Gisele. Who says that Mr. Nobody didn't help her? He was sneaky AF and got Han out of a situation that was inescapable. Also, if there's anything that we've learned from our long long time watching TV and movies, it's that if there's no body, there's no death. Simple as that. And you best believe we hope that Gisele returns and has a happy beginning with Han.
3. Letty finally taking down Cipher.
We know that the Fast and Furious has a thing about redeeming villains. They did it with Deckard Shaw and then Jakob Toretto. But Cipher, what she did was unforgivable in our eyes. Besides the truly terrible haircut that still haunts our dreams, Cipher went after our ship. No one tries to break up Letty and Dom. That's why we never wanted to see Owen Shaw again. And it's why we're hoping Letty takes Cipher down once and for all.
4. Ridiculous stunts that defy logic.
Every Fast and Furious has their own ridiculous stunts that defy logic but are so satisfying. Just off the top of our heads we've had cars racing against a submarine and winning. Oh and then there's the time they used a rocket to go to space. Or where a tank slingshot Letty across a bridge. And we can't forget the magnets. Basically, if this giant rolling ball in Fast X is just the beginning…WE CAN'T WAIT FOR MORE!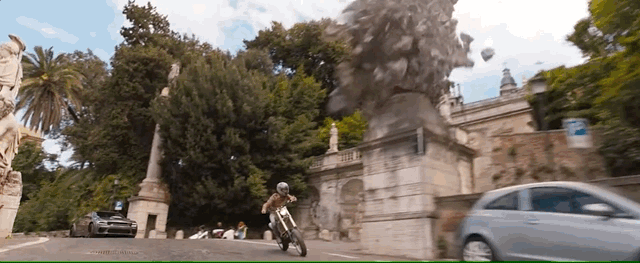 5. More hints of Brian living his best life <3
Years later and Paul Walker still holds such a special place in all our hearts. And we're hoping against hope that Brian is doing well, watching the kids, and living his best life Mia takes care of business. Sure, the footage from previous movies in the Fast X trailer made our hearts ache. But we want to know more of the life he's living. And we know it's a good one.
Fast X hits theaters May 19, 2023.