Summer is here. With it's arrival comes the dreaded realization that your favorite shows have ended. Don't enter panic mode just yet.
Poldark will save you!
This BBC production, spanning eight episodes, tells the story of Ross Poldark and his return to his home in Cornwall. His family's mining business has fallen apart and he's taken it upon himself to rebuild it. And before you sign this off as another period drama, I'd like to say that you know a show is worth all the praise and glory when you marathon it in one big bang while your friends, who have already watched it, live tweet your reactions with a special hashtag.
Let's dive in and talk about the five reasons you should be watching Poldark!
The Leading Man: Ross Poldark
The driving force behind the success of Poldark is it's lead. Ross Poldark, played by Aidan Turner, is a quiet and serious man whose secret smiles makes viewers swoon. He's determined to help the people on his land, no matter what station they're from, or if he has to get down and dirty in the mines with them.
Ross is loyal, smart, and doesn't let the doubts of others weigh him down, or steer him away from what he's after. This is his home and nothing will stop him from seeing it flourish and succeed.
P.S. He's also quite handsome taking a bath…
Or clearing the fields…
The Leading Lady: Demelza
Behind every great man…wait. Scratch that. Next to every great man, there's an amazing woman ready to take the world on with him. That's where Demelza, played by Eleanor Tomlinson, comes in.
When given the opportunity to better her life, she starts off down a path that eventually elevates her position and status. But that's not what makes her magnificent.
She's smart, funny, and not afraid to show us that she's a woman with problems and emotions that plague her waking moments. Demelza wants to learn and explore the world around her without losing the innocence she holds inside.
P.S. Let's not forget those gorgeous red locks. They might not appear in the first episode but you wait and see!
The Romance: Romelza
No story is complete without a romance to cheer for.
Admittedly Romelza (Ross & Demelza) starts off on the wrong foot. He thinks she's a boy trying to rescue his dog and she's affronted by the fact that he has high standards of cleanliness when she starts working for him. Now I don't want to spoil anything, but at each others side, you begin to see these characters blossom.
Remember those secret smiles that I mentioned earlier when it comes to Ross? They're for Demelza when she surprises others with her honesty, teases him or knows what he needs even before he asks. (Look at that little grin below!)
Our leading lady returns his affections wholeheartedly. Demelza falls for a man who saw potential in her and gave her a home, companionship, and treated her as an equal when her own family didn't.
But wait! It gets better. They don't just explore the beginnings of Romelza in this series. Poldark delves into what happens after they get together, the challenges they face with each other, and how they survive all the drama in Cornwall as partners.
The Story: A Different Kind of Period Drama
Honestly I'm not a fan of period dramas. The fancy clothes, dancing, and drama over defying your class, never struck a chord with me. Of course Poldark would be the one to break the mold.
Poldark is about the lengths a man would go to save the livelihood of those he sees as friends, without losing himself to the hardships of the world. It's about fighting back and not letting those harpies in a corner talking about your lack of grace, pull you down. It's about hope and joy, while taking a swift turn away from cliched plots.
And sure you'll see classist drama rear it's ugly head every once in awhile, but it pales in comparison to the struggles of doing what's right when everyone tells you it's wrong.
The Beautiful Filming Locations: Cornwall
If there were a drinking game based on all the times that Ross or Demelza walk, frolick, or ride with the Cornwall shore to their backs, everyone would be drunk after one episode. It's a stunning backdrop that reminds you that no matter what deviousness is going down, some things remain beautiful and untouched by man's troubles.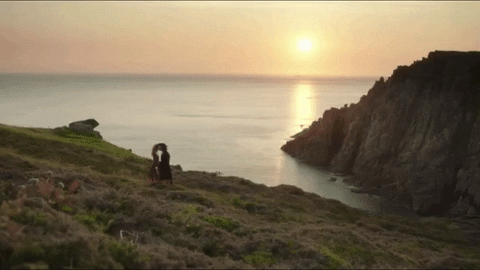 Bonus Reason: Similarities to Arrow
If you're a fan of The CW's Arrow you'll see similarities to the show almost immediately. Rugged man, believed to be dead, returns to a home/town/business in shambles. He makes it his mission to fix what has been left uncared for, while traversing through the remains of a relationship that is no more. Top it all off with love emerging from an unexpected place and you've got a show worth watching.
Go on and give Poldark a chance. Explore the lives of the people of Cornwall and fall in love with the relationships, drama, and world of Poldark.
You won't regret it!
Poldark is expected to return for Series 2 on the BBC.