In an effort to build a space for queer people like myself, every Tuesday I'll be posting opinion pieces, listicals, reviews, and more focused on the LGBT community. Welcome to Queerly Not Straight! Enjoy and leave a comment below if you have a suggestion for what I should cover next.
---
Just because Pride Month is over doesn't mean that the gay/queer times are over. They've just begun! Here are 5 things that you can do for yourself, your community, and for your love life that keep the queer times going in 20GayTeen!
1. You can catch up/discover books by queer authors
Don't know where to start in this sea of books? LGBTQ Reads has got you. This Twitter and it's accompanying website has recommendations, a book of the month, and even exclusive cover reveals & interviews. They have an ongoing list of book recs by representation including main characters who are disabled, have mental health issues, or identify as fat and/or plus-size.
You can check out LGBTQ Reads HERE. Also, check out the lit site dedicated to LGBTQIA+ lit called YA Pride HERE.
2. You can donate to an LGBT organization
With so much going on in the United States about immigration, I wanted to included the nation's leading LGBTQ Immigration Rights Organization called Immigration Equality. They provide FREE "direct legal services to lesbian, gay, bisexual, transgender, queer, and HIV positive immigrants." In a world where it is a crime to be LGBTQ in several countries, this organization provides pro bono work to asylum seekers, detained people, and undocumented LGBTQ people living in the U.S.
You can learn more Immigration Rights Organization them HERE.
Also check out Sage HERE. It's an organization that provides services & advocacy for LGBTQ elders!
3. You can join a queer group/find community on MeetUp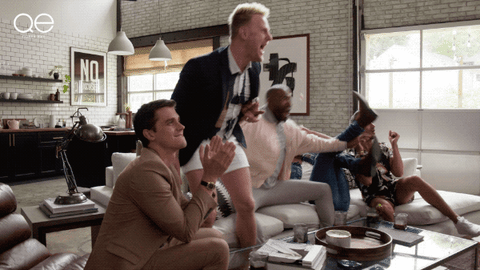 Meeting new people is always hard. Whether you're a new queer or a seasoned one, it always takes a bit to find your community. Websites like Meetup are here to help! They allow you to find local groups of people that have the same interests as you whether it be queer tv/movie nights, book clubs, jogging groups, or a night out at queer clubs. It's easy, fun, and really accessible.
Find a local group HERE and find your community!
4. You can learn more about queer history
When I was a baby gay (a gay just learning about herself) I thought I was a rare unicorn. I didn't know anyone else who identified as gay/queer and I would spend my days in history class, flipping through my books, and wondering where the gays in history were. As an adult I realized that A) I am a unicorn and B) I'm not the only unicorn out there. Websites like Our Queer History educate the masses and let all know that queers have been here for AGESSSSS!
Check out the website HERE and learn more about how not all history was straight!
5. You can give queer love/lust a chance by sending out a personal ad
It took me going to Autostraddle's A-Camp, a queer inclusive camp that changed my life, to learn about personal ads. It's this complex network of personal ads on Instagram where your wit and linguistic seduction is all you need. It's fun, fresh, and allows you to break past those societal constructs about what beauty is. You learn and see the beauty in these people's words, whether it be the things they like to do on the weekends or if they're looking for a top to match their bottom.
Learn more about personal ads HERE.
---
Queerly Not Straight posts every Tuesday with opinion pieces, listicals, reviews, and more focused on the LGBT community.