With San Diego Comic Con 2018 just around the corner we wanted to sit down, discuss, and put together some questions we want answered when The Walking Dead heads to Hall H at SDCC. Some are ominously looking towards the future while others are heart eye inducing.
Let's discuss the 5 questions we want answered at San Diego Comic Con about Season 9 of The Walking Dead!
1. How will Rick die?
With Andrew Lincoln saying goodbye after this season, our number one question concerns his death. I want to say that it's going to be epic and unforgettable but The Walking Dead has a way of surprising us and doing the unexpected. All I'm saying is that, if this is all a dream I'm gonna lose it. It can't all be a dream. And if it is a dream, will it mean the end of The Walking Dead? Again, The Walking Dead has a way of shocking us and doing the unexpected. What if this is what they do?
2. Will Negan team up with Rick to defeat bigger foe?
Carl's vision was a world where Rick and Negan could live together and had made peace. That's all fine and dandy for a vision but to make this come true, to set it in stone, Rick & Negan are going to have to have an enemy bigger than them. Could The Whisperers be on the horizon? Will they be even bigger, badder, and scarier?
3. Will Maggie have her baby?
The preview photo for the upcoming season had a Maggie with long hair and a flat stomach. And I don't know about you but hair takes time to grow and even if Maggie's hair grows really fast it wouldn't outgrow her belly. Has she already had Gleggie Jr.?
And if she plans on leaving The Walking Dead soon, will she be killed and the baby left motherless? #ThingsIDontWant
4. Does Michonne have the potential to lead Rock & Co.?
With Andrew Lincoln set to leave The Walking Dead, why is Norman Reedus rumored to take on the leadership mantle on the show? I love his character Daryl. Loved him from the very first day, squirrels and all. But he's not a leader. He's a soldier, a great right hand. You know who's a leader? Michonne. She has led the charge many times and knows what it takes to survive in this group. Not saying Daryl doesn't have these two things, but he doesn't have the temperament like Michonne does, the planning, to get these things done.
So why not make Michonne the leader of the community? Why not place a brilliant badass African American woman as the lead on one of TV's most popular shows?
5. Will we get more LGBT characters?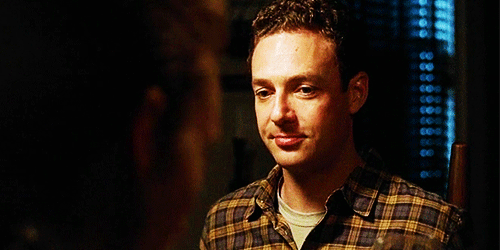 Before anyone says, "But we have Tara and Aaron," I'm gonna stop you right there. Believe it or not, there are more queer people around you than you'd expect. Also, queer people of all shapes, sizes, and colors love The Walking Dead. We deserve to see ourselves in the media we consume.
So…when are we getting more queer characters? Aaron and Jesus going to finally get together? Epic POC power duo coming my way? I want it. I need it.
The Walking Dead will be appearing at San Diego Comic for a panel in Hall H on Friday, July 20 at 12:15 PT.
The Walking Dead Season 9 returns Fall 2018 on AMC.