2018 was a landmark year for some of our favorite movies. From Black Panther to To All the Boys I've Loved Before, diversity has become something more than just people talking about change. Studios, writers, and creators are MAKING change and allowing communities to see themselves, maybe for the first time, in the content consumed in theaters.
This year also saw the return of some of our favorite characters/people. Laurie Strode returned to battle Michael and erase our memory of the god awful movie in the Halloween franchise that killed her. Mr. Incredible, Elastigirl, and the rest of The Incredibles returned for a sequel 14 years in the making. And Mr. Rogers returned to us in a documentary that made us weep for the man who wanted to be our neighbor.
Even horror movies have had a stellar year with productions such as A Quiet Place and Bird Box. The former felt like a punch in the heart full of family feels and spooky creatures that hunt you by sound. The latter hasn't come out yet but is based on a book, looks brilliant, and has a mother trying to protect her kids from a monster they can't see.
So without further ado, here are our favorite movies of 2018!
Crazy Rich Asians
Crazy Rich Asians was funny, witty, and the kind of romantic and diverse movie that we need to see more of.  As someone who's used to seeing Caucasian couple after Caucasian couple on TV and in the movies I consume in theaters, it's so refreshing to see the representation that people have been fighting for up on the big screen. It's here in Rachel's fight to not lose herself in the midst of her fiance's HUGE and judgemental family. It's here in the respect and love Nick holds for the woman he brought home. It's here and it's more beautiful than we ever expected.
Black Panther
We're going to start off by saying that Black Panther 100% deserves that Golden Globe nomination. We've never had a hero like Black Panther and we're all aboard for him creating the change that we so desperately need when it comes to African American representation on TV and in movie theaters. Also, Black Panther was so vibrant and visually stunning. Their technology hadn't stripped away their customs, culture, or the things that they held important across generations. Wakandans carried who their ancestors were and who they are now even in the clothes that they wore into battle. And don't even get us started on the villain of the story and how he made us think and wonder if you was right all along. That's always the best kind of villain!
A Quiet Place
What looked like a horror ended up being one of the most heartfelt and family-oriented movies of the year. John Krasinski brought to life a love story after the Apocalypse between him and his family. It was made even more real by the struggles, misconceptions, and plain old human behavior that messes things up on a daily basis. Of course, the creatures were horrifying and we were tense 75% of the time about making even the slightest noise. But it was the family story that grounded A Quiet Place. It was the love they held for each other.
Incredibles 2
We only had to wait 14 years for The Incredibles 2. And we're not going to even lie, it was well worth it! While the first movie focused on Mr. Incredible's journey back into the hero business, this movie put Elastigirl in the spotlight as the hero ready and willing to make change for heroes all over. This enabled is Disney to tell a different story where the father stays at home and learns that taking care of his family is an adventure of its own with perils you'd never think about. Basically it's punching gender norms and stereotypes while still giving you people that mess up and learn. Kudos for bringing back most of the original cast and Frozones wife. We love her.
Love, Simon
Love, Simon and it's theatrical release felt like a doorway being opened and to understanding who we are as queer people. We're so grateful to this movie for the conversations that it has started, the relationships that have been mended, and the realizations that some people had (even on set) that they were and are part of the LGBTQ community. This movie makes me want to push for more because the chances of my story being told have skyrocketed. And we am so ready for more, especially if we get a F/F romance that doesn't end bad or sad. We want happy. The same kind of happy that Simon and Blue found with each other!
Oceans 8
The fact that this spinoff, with women at the forefront, did better than the movies that came before it just makes this movie even sweeter. There were so many people doubting it and Oceans 8 kicked ass with this cast of strongly written women who lifted each other up will having a damn good time stealing a bunch of jewels. Also, it was queer as hell. No one can change my mind that Lou and Debbie weren't girlfriends at some time or another. Even Daphne and Nine Ball had me going, "Hmm. This is pretty gay…AND WE LOVE IT!" Like, we don't need confirmation on this being queer as hell because it's right there in your face and there's no use denying it.
To All the Boys I've Loved Before
Personally, I've never seen a young adult romantic comedy with an Asian lead. (And yes, I mentioned Crazy Rich Asians at the beginning of this but I watched this one first & CRA isn't teen drama) Even more so, an Asian lead who plays an American girl who has a diverse background and hasn't forgotten about it. Lara Jean is just a girl trying to not die of embarrassment when her love letters get mailed out and the twists and turns of high school in To All the Boys I've Loved Before. She's just a regular girl and seeing her as such really matters to viewers who maybe have never seen themselves on screen. Also, the attention to detail that this movie took to Lara Jeans relationships, whether it be her sisters or bae Peter Kavinsky, seals the deal on making this more than just a romantic comedy. It's a story about a young girl's life.
Halloween
Laurie Strode and 2018's Halloween basically flipped the bird at the death of this iconic character. She didn't die by Michael's hands. Nope. They erase that and pretended like it didn't happen. She survived! Laurie suffered from the ramifications of the trauma she experienced. But she also grew up in tried her hand at moving forward and having a family. Also we appreciate how this Halloween doesn't erase the woman that Laurie is, wrinkles and all. She's a badass mama, grandmother, and protector of the people of Haddonfield.
Won't You Be My Neighbor
What started as a way of digging up dirt on Fred Rogers ended up being a documentary covering his life, influence, and memory. He's changed the lives of so many people and it was a joy seeing so many people remembering him. Plus the movie was a tear fest. Seriously, left and right, FEELS ALL AROUND for the man who wanted to help the children of the world and be our neighbor. Even the trailer was enough to make us want to curl up, cry, and wonder about the person that Mr. Rogers always believed we could be.
Destination Wedding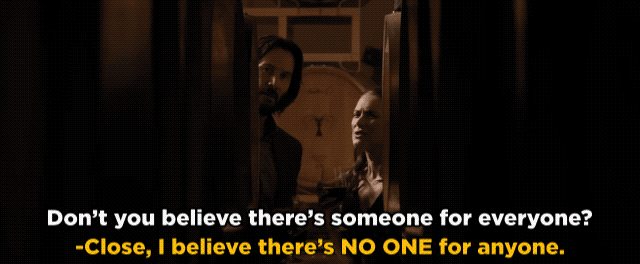 Destination Wedding, starring Keanu Reeves and Winona Ryder, was a bit hard for some people to follow because of the long bouts of dialogue that these two exchange throughout the movie. But for us, people who love musicals, plays, and rich dialogue that builds up on the characters we know and love, this movie was perfect! Reeves and Ryder had a chemistry that was clearly built on years of knowing and trusting each other. Personally, I need more of these sassy and sarcastic assholes that somehow manage to fall in love with each other while we fall for them.
Teen Titans Go! To the Movies
Circumstance and life being crazy made it so we didn't get to see Teen Titans Go! To the Movies when it came out in theaters. And by the time that we did end up watching it, we were mad at ourselves for missing out on the glory that is this movie. If you're into superheroes at all, there's something for you in this movie, particularly if that thing is shade that you are looking for. This movie didn't even back down even if it was something that was from the Marvel Universe! Unforgettable. Simply unforgettable.
Honorable Mentions:
Below are a couple movies that haven't been released yet in theaters, but that we're sure are going to be fantastic hits that everyone will enjoy in 2018! (Or what's left of it!)
Mary Poppins Returns
Mary Poppins holds if very special place inside the hearts of adults who grew up with her. Initially, like most people, we were hesitant about the return of Mary Poppins. But with every interview and with every clip that is being released we are more and more excited for this next adventure. Plus, we don't know how she does it, but Emily Blunt has transformed into Mary. Be it her walk or her general mannerisms, we see the woman we love in her!
Mortal Engines
Philip Reeve's epic series is coming to theaters via Peter Jackson's masterful ability to bring books to screen. Mortal Engines tells the story of a world where supplies are short and cities run on wheels. Nothing is what you expect and what you know, well…it's not even close to the truth. Also it just looks really cool! It makes me wonder what the green screen time for this movie was and how the actors didn't know the full scale and the world around them until the very end when the movie had all those special effects added to it. Shout out to the visual effects people! You're killing it!
Bird Box
Our boo Sandra Bullock is in the midst of a comeback that we am so here for. In Bird Box she is fighting a darkness / evil that she cannot see and should avoid unless she wants to die. Her family is her everything and it's going to be really interesting seeing how they navigate this world and stay alive. The little clues that we've seen so far are both terrifying and so damn interesting. P.S. congratulations to Josh Malerman for this opportunity to see his book come to life!
---
What were your favorite movies of 2018? Let us know in the comments below!