If there's anything that we can learn from Diana, Matthew, this episode, and Deborah Harkness' writing for A Discovery of Witches, it's that a woman's value is not dependent, goes away, or is brushed aside for the man in the story. It's TV like this that sets the stage and influences future writers to create better and more well rounded story lines for men and women. (I know I've blown your mind, but stay with me.)
Technically Diana doesn't need Matthew for what's to come. If anything, he needs her. And even then, neither are put down, forgotten, or made to feel less because of who they are, when they come together to figure this all out. They're on the same playing field, desperate to keep the book out of evil dude from Game of Thrones' hands.
And I love it.
Diana Ain't Got Time for Bigots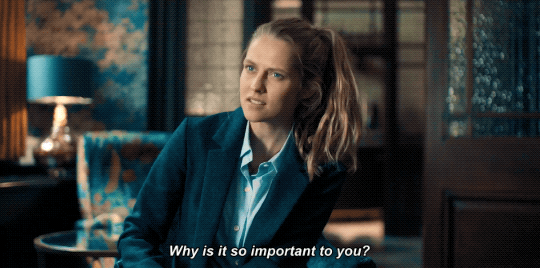 This witch has no time for politics that push witches, vampires, or demons against each other. Yes, she wants to have a normal life devoid of the supernatural, but she knows that sometimes you have to draw your line in the sand. Hurting vampires or uncovering their origins to wipe them out isn't what witches should "do" for each other and the greater good of the world. It's cruel and Diana knows it.
Evil dude from Game of Thrones can piss off because Diana is not a bigot or frightened by rumor or tale of who is evil. She makes her own decisions and befriends those that treat her with kindness. That's not to say that she's ignorant of the danger around her. Diana knows what creeps around in the dark. But she chooses to be better than prejudices. And that's why I love her even more in this episode!
Diana protecting this book from entering the hands of evil dude from Game of Thrones, is a huge part of why Matthew finds her so intriguing. Ginger lady from Sherlock took the first opportunity she got to betray Diana and turn her back on vampire kind. But not Diana. She values human life and that kindness is what has endeared Matthew to her (and me, if I'm being honest here.)
We could all do to be a little more like Diana Bishop. A little more kind like Diana Bishop. A little more tolerant like Diana Bishop.
Declaration of Intent for #Bishmont
Two episodes in and we already can tell that Diana and Matthew are going to have an epic romance that steers away from the star crossed lovers trope that supernatural stories like this tend to be like. They are both supernatural creatures who know what the other is. There's no hiding those parts of themselves, and THAT'S what set off their romance on the right foot.
Matthew's kiss on the wrist is the next step, a beautiful step, into whatever is growing between them. This is his declaration to her that he is in control, that he trusts her, and that they're in this together. It's also a declaration to himself that he is bigger and stronger than his vampire blood sucking instincts.
All that's left now is unexpected territory for someone like me that loves star crossed romances and is used to discoveries, like one is a witch and the other is a vampire, to take an entire season long. Now A Discovery of Witches can spend time taking more opportunities to deepen their relationships as individuals and as a pair.
I wouldn't be able to wrap up this section without mentioning the tension between Diana and Matthew. I can practically see it growing between, a manifestation of the curiosity and intrigue they have for each other. Just look back to Matthew's face when he really understood that Diana wasn't going to turn over the book to the crazy dude from Game of Thrones or Diana learning that she he is a living, breathing, book that she would gladly look through and that he would answer.
There's tension and care to every moment between these two and I'm scared that I'm just going to pop, socks flying off at the same time, when they actually kiss or hold hands. That right there, that want and wait from viewers like me, is a sign of fantastic writing. It's also a testament to the work Teresa Palmer and Matthew Goode put into their work and relationship. They're brilliant together and I can't wait to see more!
It Isn't Diana's Job to Save Matthew
It's hella refreshing to see a storyline/relationship where it isn't the woman's responsibility to guide the man towards light and away from the darkness. That's Matthew's job and no one else's. Too long we've lived in this world of storytelling where everything that the woman possesses, even her own self respect, is pushed to the side because the man needs to be rescued from himself.
This happens even when the lead of the show/movie/book is a woman. It's ultimately not about her and she spends 75% of her time trying to guide him. And I'm deathly bored of it. Diana and Matthew, they don't owe each other anything right now. And even when they get closer, as we all know they will, they still won't owe or own each other. Why? Because they're grown ass adults who realize that it's not all about them.
Refreshing, right?
Diana and Matthew are companions on the same wavelength when it comes to this magical book that must be kept out of the hands of those who wish to do harm. They're not trying to rescue each other or do some great swooping romantic gesture. Diana is a good person. Matthew is a good person. And they just happen to have met and want to work together.
Simple. To the point. Refreshing. And the kind of stuff we have to see more often.
Favorite Moment from A Discovery of Witches 1×02:
A man went and got advice from his friend and talked about his feelings. How often do you see that happening? Oh, wait. Never. That's the answer. This right here sets A Discovery of Witches apart from all supernatural creature shows before it.
A Discovery of Witches is available on Sundance Now and Shudder.