Another week, another episode of Roswell, New Mexico to break down, reassess, and rehash with some of our favorite moments of The CW drama. "Tearin' Up My Heart" saw the ups and downs of various relationships, ranging from Alex & Micheal to Liz & Max. Things are tense, getting ever more complicated with each episode, and we can't stop watching!
1. Malex morning after.
THAT'S THE MOMENT. DO WE NEED ANY WORDS? NOPE. JUST LOOK AT THE GIF AND CRY AT THE QUEER REPRESENTATION.
2. Max confession to Liz.
Max isn't certain about a lot of things. (Story of all our lives, sometimes.) But if there's one thing that he's certain about, it's how he feels about Liz. She's his star, his person, and just because he feels this for her, doesn't mean that she has to return it. This is just him telling her so she can trust him as a friend and as a person who is straight forward.
3. Isobel's face after Max having sex is mentioned.
This right here is the face of a sister and I love it. It's in these little moments that we get to see what kind of people they all are once you strip away the crazy alien stuff happening. No matter where Isobel, Max, or Michael came from, they love each other like family. Part of being family is giving your brother the stank face at the thought of your other brother having sex. Gross.
4. Max and his racing heart.
Again we have Max being honest as hell. I wish someone as lovely as Max would be honest with me. Hell, I even wish that I was that honest with myself and the people I care about in my life. And just to clarify, this isn't Max trying to get into Liz's pants. This is him being upfront and slightly embarrassed. It's been 10 years. TIME. TO. BE. UPFRONT.
5. Noah Bracken's everything.
Dear Lord, Noah Bracken is the sweetest husband ever! He's kind, understanding, and willing to work with Isobel because he knows what family he married into and he's ok with it. He's her rock and watching him be there for Isobel was feels inducing. Top it all off with that beautiful movie night he set up, and you've got a recipe for best husband ever! P.S. Please don't hurt him! Also, ship names, anyone?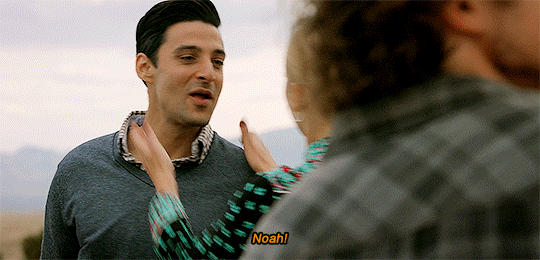 6. Kyle standing up for Alex.
I know Alex might not be perfect, and we might be still on the fence with him, but seeing Kyle stand up for Alex warmed our hearts. He knows that Alex is strong and he's not going to let his friends pops, put down his own son. NOT. IN. THIS. HOUSE. Also, it's good to see Kyle in other moments that have nothing to do with Liz. It makes him his own character and not just a stand in for romantic intentions.
7. Max and his emotional response to everything.
HOLY SHIT. MAX HAS THE POWER. Honestly, this connection with Liz, and all the anger pouring into him from her, is stirring the pot of Roswell, New Mexico in unexpectadly dramatic and game changing ways. Are they going to be able to trace the power surge to Max's house? Is shit about to go crazy and Kyle will have to intervene? I don't know and I'm excited for more!
8. All that flashback/memory goodness.
All the flashbacks and memory tampering done by Isobel, we're top notch drama to keep the story going. Whatever Rosa did, it's not simple or black and white. And I think that she got in way deeper than expected in something dangerous. It's the only logical explanation for the burn on her face. There are others out there like them. Max, Isobel, and Michael are not alone. Mark my words.
What moments or things are you still thinking about? Let us know in the comments section below!
Roswell, New Mexico airs Tuesdays at 9/8c on The CW.