We all have them, those fictional couples that make our hearts beat faster, that make us smile and cry and just feel all the things  – be it because the actors ooze chemistry, because we can relate to some parts of their stories, or maybe because the journeys these people are on speak to a part of us.
So, for Valentine's Day, we asked our writers to talk about their OTPs and why they love them. As you can see, there are many couples, from many different genres – but one thing remains the same – we all love how these people love each other.  And today, we're gonna celebrate them!
Lizzie: Right now, my favorite OTP has to be Lyatt, from Timeless. And I love them because I think they bring out the best in each other, and they complement each other. There's an old adage saying opposites attract, but Lucy and Wyatt aren't really opposites, they're just two people with different upbringings who, throughout the course of Timeless, have been shown to fit together perfectly. And, I know, I know, they got the "happy ending," with the family and the ring and all of that, but when you love something, and when it's good, you're never satisfied. You want more! So, yes, I selfishly want more Lyatt, and I want more Timeless. Can we get that season 3?
Honorable mention to the couple that might not ever even become a couple, but that I can't stop thinking about: Penelope and Schneider, from One Day At A Time. They're just …each other's person. How can I ship them with anyone else?
Lyra: I'm going to be like everyone else and cheat by naming some of my fav ships, that HAVEN'T been listed here yet. First off, Sterek from Teen Wolf. Dear Lord, the potential was there and I am so grateful every day for the stories told by fic authors, the art created by talented badasses, and the people of this community. Sterek has been a place of refuge in a world that doesn't see queer relationships as something really worth investing in.
Then there's Richonne from The Walking Dead. We were blessed and so honored to be part of that journey. Over seasons they grew to be allies, friends, family, and then lovers. They showed that love can survive the end of the world and that romance isn't dead despite what people like Negan would tell you. Special love/shout out to the fic writers who saw the connection between Rick and Michonne long before they became official. You saw the potential and you were right!
Finally, Lara Jean and Peter Kavinsky. I love this movie. I love these actors. And I love these characters! In a world plagued with cliches and painful tropes that happen over and over, you have To All the Boys I've Loved Before showing us that we can be more. Our relationships can be built on trust, love, and friendships. And when you hit a little bump in the road, because we all do, Lara Jean and Peter Kavinsky are the couple that show you there is forgiveness possible and that growth happens to the best of us. Here's hoping that the sequel is just as good as the original!
Lily: I have a long list of OTPs but my favorite OTP of all time is definitely Lois and Clark. Every version of them is iconic. I've loved them since I was a kid. But if I have to pick just one incarnation then it'd be Smallville's Clois. No other pair can hold a candle to Tom and Erica's chemistry. They started out as frenemies, became partners and eventually fell in love. We don't always get to see a couple with so much source material go on such a long journey. And at the time it was on the air, I really thought Smallville was taking too long to give us Clois but now that it's been years since the series finale, I have a different perspective a newfound appreciation for those earlier episodes where they lay down the groundwork for that friendship.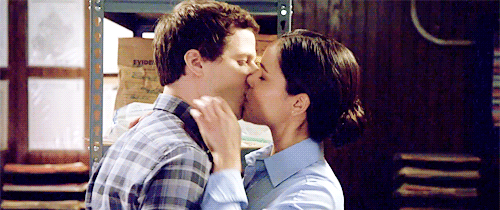 Beata: I have so many ships I don't know how I could possibly narrow it down to just one. Stucky and Stormpilot are some of my favorite non-canon ships, I still love Captain Swan even though OUAT is over, and having just binged season 3 of One Day At A Time I'm super into Elena and Syd right now. And don't even get me started on my book ships.
But because I have to pick one, I'm going to talk about a ship I think needs to be talked about somewhere on this list, and that's Jake and Amy from Brooklyn Nine-Nine. I recently binged this series on Netflix, and what really struck me was how refreshing it was to see two main characters get together and just… stay together. No drama. No breakups. There were obstacles, sure, but nothing they couldn't overcome together. They're adorable, they're a fantastic team, and they just click in a way that few couples do. They didn't take over the show, but every once in awhile they got to take the spotlight for a little bit. Do I want more? Absolutely. But that's because everything I see from them is so damn good.
Jasmine: My favorite OTP is Anastasia and Christian from the Fifty shades trilogy. The two of them overcame so many obstacles and they both impacted each other's lives in so many ways. Anna showed Christian how to love and accept love, she got him to finally let down his walls and let her touch him. They survived a break up, and they were able to move past all the crazy situations that came into their lives; "Mrs Robinson," Leila, Jack Hyde. In the end, they had a beautiful family and that's all I could have ever wished for those two.
Kayla: My favorite OTP right now is Conic from The Resident. Hands down. They've grown so much with each other, and Conrad is the supportive boyfriend we all dream of having. No matter what, even with a few bumps along the way, they have each other's backs. Professionally and personally. I wouldn't have it any other way. I can't wait to see how they continue to handle what life throws at them, together.
I have two honorable mentions.
The first one is Karamel from Supergirl. Kara and Mon-El will always have a major place in my heart. It's etched in there, and it's not going anywhere. They are the epitome of true love. While they didn't get the happy ending they DESERVED, they showed each other that acceptance is the first step to love.
My second one is Leonard and Penny from The Big Bang Theory. I have shipped them from the day I saw the pilot episode 12 years ago. I will always ship this couple. As mismatched as they are, I feel they've helped each other in more ways than I can count. Seeing them get married in season 10 was a highlight for me. Now, with the show ending in May, I can only say one thing, I've loved seeing their journey over the past 12 years.
Lacey: My top 5 fluctuates because I have so many dang ships but one ship that is always at the top is Kara and Mon-El from Supergirl. While they didn't get the happily ever after that they and WE deserved, they will always hold a special place in my heart. Karamel proved that it doesn't matter where you come from or if your respective pasts dictate that you should be enemies. They proved that love is stronger than any hate or judgements. Watching them both grow and learn thing about themselves throughout season 2 was some of the best television. The character development for Mon-El especially made my heart soar. Here was a man who grew up with a silver spoon in his mouth surrounded by people who didn't love him for him but for his title. He grew up in a world where hate thrived and kindness was put on the backburner. But in spite all of that, he was a good person with a giant heart that just wanted to be loved and cared for and he found that in Kara. We also saw Kara struggle with her identity and where she fit in. She struggled with balancing her life as a "human", superhero and most importantly, an alien. Everyone around her expected a certain piece of her to shine through the most (even if they didn't realize it) but Mon-El never did. He just wanted her to be happy being whomever she wanted to be and that is what true love stories are made of. Acceptance of all of you, the good and the bad. This is why Karamel will always be the ship of dreams.
My honorable mention ship is the amazing Logan and Veronica aka LoVe from Veronica Mars. This ship right here, my goodness! From the moment Logan bared his vulnerability to Veronica when he lost his mother, I knew they were soulmates. Was the road to their happily ever after easy? Heck no, but what ship is? Abruptly ending in season 3, it seemed all hope was lost for these two lovers until Rob Thomas blessed us with the outstanding Veronica Mars movie!! Funded by the Marshmallows, LoVe fans got their closure and finally got to see their favorites reunite and reunite they did! I can watch that scene on repeat (you know what scene I'm talking about! ;-P) followed by not one, but two books! With the reboot of Veronica Mars due to hit Hulu this summer, I cannot wait to see what's in store for this amazing ship!
Michelle: My OTP starts in Netflix, with Sheith on Voltron: Legendary Defender. Not only do they fight evil to save the galaxy, they also have a bromance love afair! Shiro and Keith have had their lives intertwined since the beginning, when Shiro saved Keith and altered his future. Being in the academy was one of the best things for Keith, and he always tried to make it up to Shiro in one way or another. And the very last episode of the series? Guys, this is the type of intergalactic free love that I want in my life.
My honorable mention, and a very close second, is Rebecca and Jack from This Is Us. Nothing makes me tear up then scenes between these favored couple. There is so much equal support and love that I feel these are realistic couple goals. Do I want a husband that looks at me the way Jack looks at Rebecca? Absolutely. Do I want to be a type of girl that smiles the way Rebecca smiles at Jack? You bet.
McKenzie: I have so many OTP's that I could discuss forever. However, my first one I grew attached to holds a special place in my heart. Piper and Leo from the OG Charmed. Also, the only good one, but that's not here nor there. Piper and Leo literally go through hell on a daily basis. While they were apart sometimes, they never stopped loving each other. They fought for each other and they chose one another when there were easier options. I think we can all learn a lesson from them. Don't ever give up your person and to fight for them.
Gillian: Number one OTP is Han and Leia from Star Wars. One of my very first OTPs! Han was my favorite character from the first time I saw the movies and Leia is honestly one of my biggest inspirations. The princess and the scoundrel, what could be better? They had some of the best banter but it was the softer moments that really shine. The scenes in Return of the Jedi always make me smile. Although they don't get the happiest ending (or a good son, ugh), I am still obsessed with their relationship and sad we didn't get to see that much of it on screen.
Honorable mentions are Monica & Chandler from Friends and Will & Elizabeth from Pirates of the Caribbean. Monica and Chandler are like the OTP to end all OTPs for me. They began as friends which is what I always wanted and worked through their relationship issues together. They were always such a strong team and I appreciated that a sitcom put in the effort to show that. As for Will & Elizabeth, *sigh*. I love that despite their differences, they managed to push each other to be the best they could be and that they can rescue each other. Their love story had a bit of a tragic ending but it still managed to work out. I wish Disney would give me a sixth movie that focuses on their lives together again.
Amanda: Representing Milo Ventimiglia's other iconic and swoon-worthy iterations, my number one OTP is Jess Mariano and Rory Gilmore from Gilmore Girls. Not only because it was my first die-hard ship that got me into fandom, but also because they're mirrors of each other that no one else was able to recognize. They come into each other's lives when they need it most and say the words they never even realized they needed to hear. No one else understands the power of words, both written and spoken, to the extent that these two do and that's what will always bond them together.
My honorable mention is Spike and Buffy Summers from Buffy the Vampire Slayer. A controversial choice, but one I become more and more confident of with every rewatch, with every meta read, with every podcast listen. It's a story that wasn't planned from the beginning, yet the pieces come together as if it was. I could go on about them forever (and likely will, stay tuned!), but for now I'll be succinct. It's the ultimate enemies to lovers story, and who doesn't love that?
Gretchen: My favorite OTP right now is Lyatt from Timeless.  Like Lizzie said they are just perfect for one another.  Both of them were disillusioned with their parents for very different reasons, both of them lost someone close to them they cared about and despite near impossible odds, they overcame the obstacles thrown their way (including their noble idiot selves) and found happiness.  It makes me sick that we didn't get to see their whole journey to marriage and kids, but here's hoping someone saves Timeless so we can see more of those two on our screens.  They truly are so much better together than they are apart.  
Honorable mentions (I have three): Chuck and Ned from Pushing Daisies.  I'm rewatching this series with my daughter and falling in love with those two all over again.  Chuck was made undead by Ned's magic touch and therefore, he could never touch her again, otherwise she would die.  So for two glorious seasons we saw their romance blossom, holding hands via gloves, dancing in beekeeper suits and kissing through Saran wrap.  It was unbelievably adorable and heart warming. I'm still mad at ABC for cancelling that series – it was truly magical.
Clark and Lois from Smallville has to be on this list just for the mere fact that Erica Durance is the most amazing Lois Lane EVER.  Not only was her sass for the intrepid reporter ON POINT, she and Tom Welling had incredible chemistry that just made you believe that those two really were the legendary couple of DC Comic legend.  
Next up, Pam and Jim from The Office.  PB&J, Jam, Pim…whatever you want to call them, these two had me GUSHING every week for 7 seasons.  Yes, I said 7 seasons, because I wasn't a big fan of the show after Steve Carell left. Still, seeing those two move from friends to lovers to parents was just so so special.  They are iconic.
Mimi: Well, clearly I agree with Lizzie on her OTP! I am crazy about Lyatt. I love them and I want to see them with their babies and I want to see their life playout on Hulu season 3. Lyatt was the beating heart of Timeless for me. They had a theme song and these longing looks, it was like prime times Bo and Hope circa 1985. Don't hate!
I have 2 honorable mentions, first one is Cheryl and Toni from Riverdale, I didn't think I'd fall in love with them but out of all the couples on that show i appreciate them the most. They have each other's backs even when they are mad with each other and Cheryl is a badass with a bow and arrow. She's like a red-headed assassin's creed. I freaking love her. My next honorable mention goes to Rizzles aka Rizzoli and Isles. I always thought they were secretly married or dating but maybe that's just my take or way too much fan fiction. At any rate they were hot and they were smart and they were BOSSES. I wanted them to be a couple and even though they were "partners" and BFF's I always knew they were OTP.
Raquel: I have so many favorite OTPs that it has cost me a lot to choose, seriously, shipping is so much fun! But here goes my top 4. One of them is Olicity from Arrow. It was born without thinking, it was … unexpected, it only came suddenly. It's difficult for couples in TV to have this chemistry, this connection, in a word: magic. They have gone through so much. Both have grown along the way. They have made mistakes but they have learned from them. They both become better to each other, complement each other and have been there for each other, for better or worst. Their relationship is so real. So perfectly imperfect. Impossible not to fall in love with them.

Another couple that I love is Jeller from Blindspot. Their story was born of shadows, of uncertainty. Everything has been so confusing along the way … but there was only something that bound them here and now, the only unchanging truth of their lives: their love for each other. Mutual trust has been tested countless times and their hearts always won. Although in their minds everything was warnings and precautions, their hearts beat in unison and that was enough. It was the only thing that mattered.

My next favorite couple is Jamie and Claire from Outlander. An immutable love, even through time and the most painful separation. For Jamie, it was love at first sight. For Claire, it was a matter of time and an internal struggle. She fought tirelessly over what her heart felt for Jamie, she was divided between two loves, but at the moment of truth, there was only one person who flooded everything: Jamie. He is her heart, her soul. She is his. Both have the heart of the other in their hands and the enormous trust between them to know that there are no better hands in which it can be.

And finally, Bishmont of the Discovery of Witches. Wonderful series and even better couple. Their love is impossible for an outdated society but both struggle together against all prejudices and their enemies. Even against their own prejudices. There's an intrinsic respect between them, a mutual acceptance of the brightest and darkest parts of each. Both are aware that the other has that dark and stormy part … and loving everything. Darkness and light.
Erin: Mine is Hessa. I know that After started out as Harry Styles fan fiction, but the truth is that it is so much more. The story is somewhat of a coming of age – but in my opinion it's more about coming into yourself and figuring out who you are. With Hardin and Tessa, mistakes have been made, it's part of who they are but what makes them my OTP's is that the mistakes propel a deeper story. One of finding a way out of being shaped by what made you who you are, and becoming who you are meant to be. One of finding redemption when it's not deserved. One of finding strength when weakness is the only thing you have left to give. Hessa to me is the epitome of growth, understanding, and eventually finding safety and not fear in love. Maybe it's because I relate to them, but also it's because I find strength in the story and the realization that we all deserve to be loved, even when it's the last thing we deserve.
Shelby: My OTP is Stefan and Elena from The Vampire Diaries. Their journey throughout the series is one filled with so much love, respect, and trust. All supernatural aspects aside, Stefan and Elena had a predominantly healthy relationship that evolved into an equally healthy friendship. Their bond was so strong that being exes didn't stop them from goofing around, standing up for one another, and truly caring for each other. There was no real bad blood between them. No matter what, they found a way back to each other. That is why Stelena will always hold a very special place in my heart.
Agree? Disagree? Have another OTP you love? Share with us in the comments!