This week's episode, "The Next Episode", has blown me away. Euphoria keeps on taking things to the next level and I thought this week did a very good job covering a wide range of issues. Though it seems like that is always the case with this series. Let's get started.
No Judgement
I'm going to say this to anyone that has a problem with how women dress, get over it. You don't get to dictate someones personal style or dress code. If we want to dress sexy, casual, formal, or whatever we can.  It does not make women less than what we are.  It doesn't make us a slut for dressing sexy or provocative. We can dress as Bob Ross as well, that's perfectly fine. You don't have the right to judge someone for expressing who they are.  Keep your comments to yourself if you have nothing nice to say and learn to grow.
Little Sister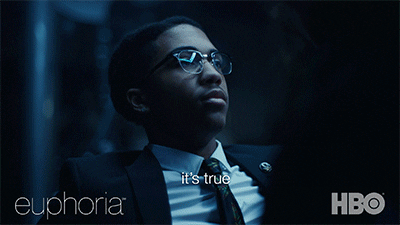 Gia, you are breaking Rue's heart.  Being the little sister, I always felt that if my sister lectured me on something that I did, that she was doing or had done, it made her hypocritical. I didn't see it as her trying to protect me or saving me from the pain of her experiences.  Looking back now, it makes me appreciate my sister all the more. She wants more for me than she had for herself. She would kill for me. Just like Rue would for Gia.  Gia, listen to your big sister, she is on your side.  She just wants to protect you.
Shitty Humans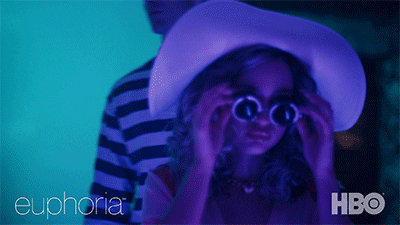 There are some really shitty humans in this episode. I'm going to call them out, Jules, Kat, Nate, Maddy, Cassie, dude that was going to hook up with Cassie.  This is a P.S.A. announcement, just because you are going through something doesn't me you get to treat others like shit.
If you have insecurities, don't take them out on other people. Don't make your friends and significant others feel like they are a burden or that they are beneath you if they have different experiences. If you have a problem take the time you need and simply have a conversation about it. This will solve more problems then you know. Also, don't set up innocent people for a crime they didn't commit just to save yourself. That is a new low of shitty. To put it simply, don't be a shitty person. Practice the golden rule and be kind. We don't have enough kindness in this world.
What did you think of this week's episode? Share your thoughts with us in the comments.
Euphoria airs Sundaysl at 9/8c on HBO.