I wish I could always talk about light-hearted moments when writing about Euphoria. However, to me, this series just gives us many relevant issues that I feel like need to be touched on more than just bringing fun all the time.  As Rue stated in this episode, life is not a Nicholas Sparks novel, and neither is Euphoria.
Body Image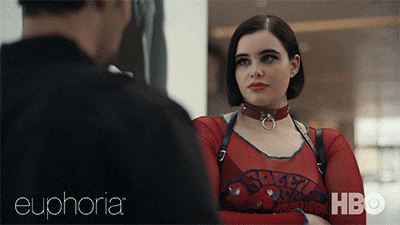 Over the course of the last five episodes we have gotten insight into Kat. She was shaped in her childhood to be ashamed of how she looked when she was bullied by kids. That all changed this episode. She got confident in her own skin.
There is nothing more powerful than a fat girl who doesn't give a fuck.- Kat
I love this quote and it shouldn't just apply to those that are labeled as fat. It should apply to anyone. There is nothing more powerful than anyone who doesn't care about how they look. Being shamed for your body just doesn't belong to one body type. It can apply to anyone.  People use terms that are made to put people down and make them feel less just because they might not look like everyone else.  There are also those that society deem perfect that also believe that their bodies are imperfect.
It is so hard to learn to accept yourself and how you look 100%. Everyone struggles with it everyday and it happens to a variety of different people. Kat is an example that we should learn to love ourselves for who we are and say fuck off to everyone else.  She is my hero for the week.
Abuse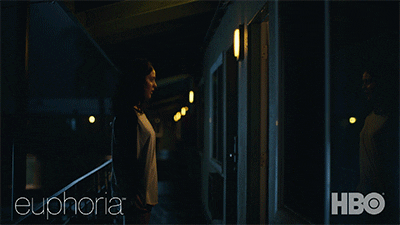 Maddy and Nate have a very toxic relationship that is filled with abuse. I'm not going to pretend that I'm an expert on this subject because I'm not. This is just such an important topic to cover and I'm glad Euphoria is. It can be so complex and it reaches so many different types of people and they suffer many different forms of abuse. Please be kind to others that you may think are in abusive situations, it isn't as easy as you think to leave. Let them know that you are there and that there are resources available.
If you are reading this and you are in any kind of abusive situation please know that you are not alone. If you need help, reach out to the National Domestic Violence Hotline at 1-800-799-7233. They are available 24/7 to take your call.  If you would like to get involved visit their website.
Euphoria airs Sundays on HBO at 10 P.M.