Here we are again.  Another week of pretty much straight relationship drama with a dash of history.  Did I mention this is a HISTORICAL drama? Anyway, I found myself this week wanting to fast forward through some of this episode. Ok, most if I'm honest. I'm not going to rehash what I said last week, so let's talk about two new subjects that irritated me.
I felt like this whole episode was full of Potemkin crying and yelling about how his life isn't fair. Frankly, he sounded like annoying, and I was over it. Dude, you are the lover of the Queen, did you really expect to have any power? She also told you straight up you wouldn't, and she isn't the type to share it anyway.
If you want to be taken seriously or feel like you matter, then go do something about it. Stop crying and whining and throwing temper tantrums in public because you aren't getting what you want. Are you a toddler or a grown ass man?
You have some serious insecurities that you need to deal with. Don't take them out on Catherine. She has been nothing but patient and loving towards you. She is also the Queen, which you should remember. She doesn't just get to do what she wants all the time. If I was Catherine I would have dumped his ass. Ain't nobody got time for that. Boy bye.
Mother?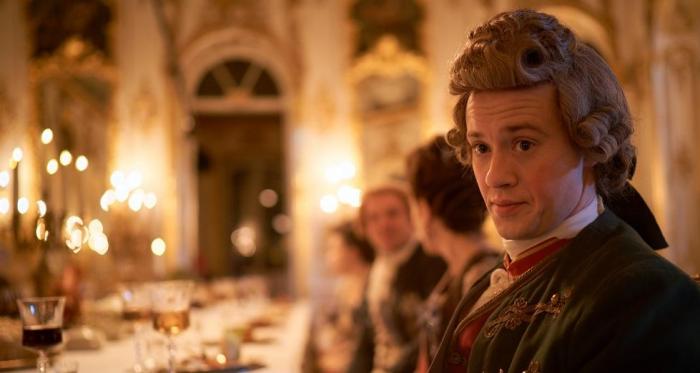 Catherine really needs to grow some compassion for her son, after his wife and supposed child fucking dies. I don't care if she was having an affair or if his son wasn't biologically his. The important point was that your son was in love with her and that baby. The kid didn't even have ten seconds to grieve before you are already pushing arranged marriages at him. He's human, Catherine. He's allowed to wallow, hurt, and grieve for a period of time after the people he loves die.
The Catherine the Great miniseries finale is next week. Will we see some actual history more than relationship drama? I'm not going to hold my breath. Either way, I will be watching it, and pleasantly surprised if I don't have the urge to skip through any of it.
Catherine the Great airs Monday's at 10 P.M. on HBO.