Over a decade after Snow White, Alice from 1951's Alice in Wonderland and Wendy Darling from 1953's Peter Pan were both immediately introduced to the audience as siblings in their respective films-the former the youngest and the latter the eldest. Despite their respective films never specifying how old they are, one may assume that the two girls are around two years apart in age as the animators used the same voice actress, Kathryn Beaumont, for both films, which were released two years apart. Therefore, they are rife with comparison potential. Not only, it should be noted, is Wendy the oldest of three siblings, but she is the only girl amidst the three. Alice, on the other hand, is the younger of two sisters. While they are both, of course, children, Alice is allowed to be selfish to an extent that Wendy is not.
Alice in Wonderland went into production in 1946, Peter Pan in 1949, and the effects of World War II still loomed large in American culture throughout both films' developments. Society expected women to return to the subservient roles the majority of them had held prior to the war. This expectation would last to define the 1950's, when both films would be released, as popular culture and mass media reinforced messages that domestic life was the natural ideal.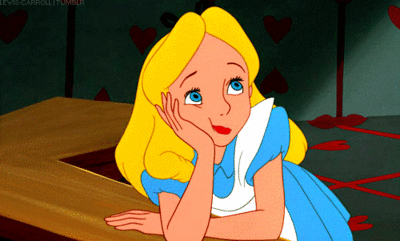 Young women in school learned the rules of becoming good housewives: "Have dinner ready, prepare yourself, clean away the clutter, prepare the children, minimize all noise, be happy to see him, listen to him, make the evening his." It was so understood that girls went to school with the express purpose of securing themselves husbands and having children that teachers in educational films chuckled at obstinate girls who insisted on delaying the inevitable by going to college.
When we first meet Alice in Alice in Wonderland, her older sister is attempting to teach her British history, but Alice is too busy daydreaming. She has no interest in listening to her lesson, and laments that, "How can one possibly pay attention to a book with no pictures in it…In my world, the books would be nothing but pictures." She does not respect her sister's painstaking efforts to give her an education. Instead, Alice completely ignores her sister's continued lecture in favor of wandering off to satisfy her curiosity about the white rabbit in a waistcoat that has crossed her path. She doesn't consider the fact that the white rabbit quite clearly has somewhere to be – it's hard to misinterpret repeated panicked shouts of "I'm late, I'm late, I'm late!" – she still calls out to him multiple times to stop, wait, and explain himself so that she may accompany him to his presumed party.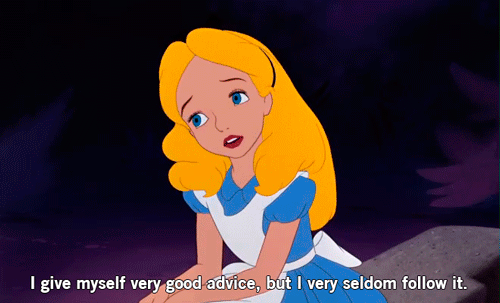 These two scenes, it should be said, both have small but key differences to the novel from which the movie was adapted. In the book, Alice's sister is not teaching Alice. Rather, she is just reading quietly beside Alice for her own leisure. Furthermore, in the book, Alice does not call after the white rabbit to demand an explanation, but wordlessly follows after it. These small edits from text to screen may not seem like much, but when implemented they depict Alice's character as one who disregards the needs and feelings of others. There are additional dissimilarities, including the movie's choice to make the door knob a sentient being that Alice shows little to no care for as it drowns in an enlarged Alice's frustrated tears, and Alice's throttling of a flamingo in a fit of temper at its noncooperation to be used as a mallet for croquet. These are all examples of fairly age appropriate selfishness, but selfishness nonetheless.
Alice in Wonderland was a failure both at the box office and in critical reception. It grossed $2.4 million domestically during its initial theatrical run, causing the studio to write off a million-dollar loss. The New York Times attributed this primarily to a deficit in Alice's character, complaining that Alice was "not the modest and plain-faced little English girl of Mr. Carroll's suggestion and of Sir John Tenniel's illustrations for the books."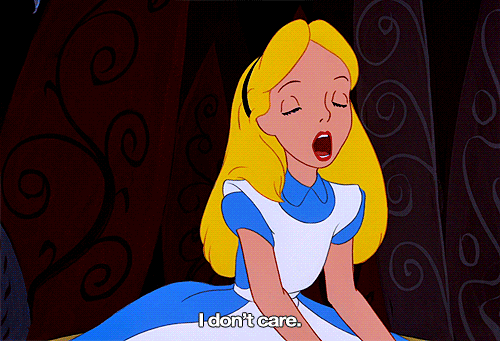 Surprisingly, Walt Disney himself didn't completely disagree, but had a different take on the problem with Alice's character, saying that, "Alice was cold, you couldn't get any warmth in her." Background artist Mary Blair felt differently. She appreciated that Alice wasn't a role model for post World War II America's parents to point out to their children. "She saw in Alice a heroine who seemed to have developed a personality of her own. She was unlike their other princesses-she wasn't a hero, she didn't grow emotionally during the film, and there was no moral at the end of her story. After the flawless Cinderella, there was something refreshing about Alice in all her imperfection."
Wendy Darling did not have the luxury of imperfection. She is the second mother to any and all of the boys that she encounters, including her two younger brothers, John and Michael. Peter Pan immediately draws a parallel between Wendy and her own mother, as the two women in the house who believe in Peter Pan. The Narrator describes Mary Darling, the mother, as believing that "Peter Pan was the spirit of youth" and Wendy as "the supreme authority on Peter Pan and all his marvelous adventures."
In fact, in Wendy's very first appearance, she gently corrects her brother John on which of Captain Hook's hands Peter cut off before picking up her washing bowls and leaving her brothers to their play. Mary and Wendy serve as the protectors of childlike imagination for John and Michael against the children's father who wants them to grow up and put such "poppycock" behind them.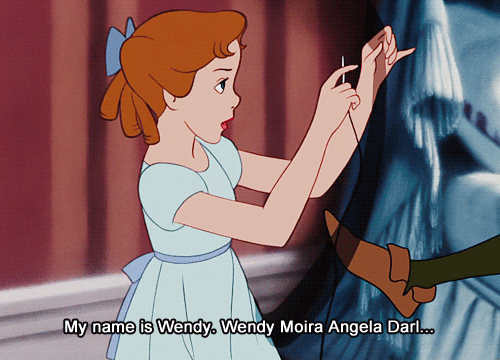 When Wendy meets Peter, she defines what a mother is to him as someone "who loves and cares for you and tells you stories…" These are all qualities that Wendy herself already expresses towards her brothers, and when Peter replies that she can be the Lost Boys' mother she gives no protest to the idea except to say that she couldn't stay too long. Unlike Alice, who wandered off from her sister without any thought, Wendy insists on taking her brothers with her on her adventure and leaving a note for her parents that details when they'll be back.
She compliments Tinker Bell despite Tink having just yanked her hair and called her a "big, ugly girl." Once John and Michael have become assimilated to the culture of Neverland, Wendy is the one to remind them that they must "take off that war paint and get ready for bed… we're going home in the morning…Do you want to stay here and grow up like-like savages?"
Her language is purposely reminiscent of a concerned mother reprimanding her sons. The end of the film makes it seem like Wendy has finally completed the transition between childhood and adulthood, but there is virtually no change in her behavior. At every turn, Wendy has exhibited the maturity and responsibility of a mother despite being barely older than those she's been called upon to care for.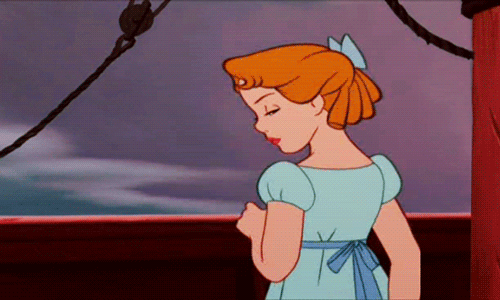 Peter Pan's ability to match the cultural values of the time was reflected in its box office success. It grossed $7 million during its initial box office run, nearly doubling its budget of $4 million. Within a review that sang the praises of the majority of Peter Pan's cast of characters, The New York Times assured potential viewers that "Wendy and the other children… are merely good, pious Disney creations in a first class, feature-length 'Disney cartoon.'"
What do you think? Who did you relate to more: Alice or Wendy? Share with us in the comments below!