The Half of It by Alice Wu is EXACTLY what my little queer heart needed in 2020. It's the kind of story that puts love front and center while teaching us that it comes in various forms and continues growing by leaps and bounds in unexpected directions. And that right there, sets this movie aside from any other queer story I've seen before. So, join us in celebrating The Half of It with four reasons why you should be watching this movie!
1. Ellie Chu got the girl.
No matter how this movie ended or how the big reveal turned out, Ellie Chu got the girl. Sure, they might've not ended up together because Ellie decided college and her life was more important than a highschool crush. But the fact remains that she got the girl, smooched her, and promised to see where the girl would be in a couple years, where they could pick things up again. 
It matters that Ellie got the girl. It shows that we as queer people can achieve our dreams and bag the girl, boy, or person of our dreams. All it takes is patience, kindness, and honesty and we're there. So, thank you The Half of It for making us feel like we can get our happy ending without having to sacrifice our dreams or our lives.
2. The friendship between Ellie and Paul.
This right here is where the true love story is of The Half of It. Sure, getting the girl is woah and we love it. But it's the friendship between Ellie and Paul that really shines through. They both lift each other up and push each others boundaries on what they believe, who they are, and what they're willing to do for those that they love.
Ellie learned how to be brave from Paul and Paul learned how to accept himself from Ellie. And where one fell short, the other was there to support, learn, and be that guiding light the other needed. And that's why this friendship is the real love story of The Half of It and why I loved their bond, their story, so damn much.
3. Love that Paul Munsky grew as a person.
Not going to lie, when Paul told Ellie that being queer was wrong and it was something that would send you to hell, I was like oh no. I didn't want this from The Half of It, especially after all the character development and falling in love with Paul in the first place. I'm glad I stuck it out and watched the rest of the movie.
Paul learned from his mistake. He sat down, did the research, and came to the realization that he couldn't judge someone he loves for loving in a way that was different than his. And that right there matters so much. It shows that people can change, no matter what their preconceived notions are of someone.
4. That Ellie chose her career and future.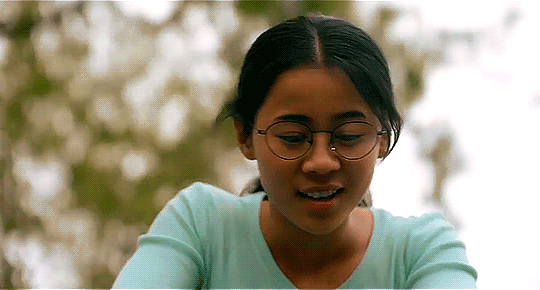 We love the fact that Ellie didn't let her career or her future suffer because of young love. Yes, the young love is important to our romantic little hearts, but so is Ellie's future. We loved that she had people pushing her to do more in her life, but we're super proud of her for choosing more for herself in the first place.
This decision to advance her life and career is made better by the fact that there is an endgame out there where if the girl is still around, maybe they will end up together. And just knowing that gives Ellie and us a sense of hope and an understanding that her journey is not over, not by a long shot!
The Half of It is available on Netflix.