Ships. In entertainment, and especially, in fandom, we live and die by them. Which is why every Friday, we'll be focusing on a couple, analyzing why we ship them, and overall, just proclaiming our eternal love for those couples that make us say:
I will go down with this ship.
Captain Swan isn't a new couple. Once Upon A Time ended a few years ago. And yet, Captain Swan is one of those couples that has never truly left, the kind that continues to have fans long after the show has been over, the kind people just can't – or don't want to – let go of.
There are many reasons for such a phenomenon. First, of course, there's chemistry. Sometimes two actors just click. Then, there's the writing – and though we'll be the first to say Once Upon A Time made plenty mistakes (some of them pretty egregious) during the show's run, they always seemed to save the best for Emma and Killian.
But sometimes – most times – there's just that intangible. You know, that thing that's hard to explain. The one that makes you not just care about two fictional characters, but rejoice in their happiness. And that's why we're here, to examine why, so many years later, we still can't let go of Captain Swan.
FIRST HE WAS A VILLAIN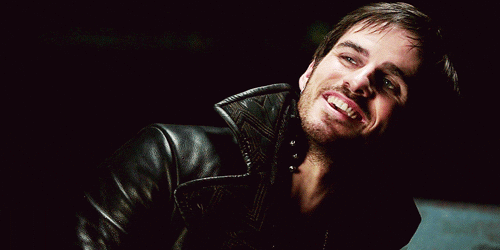 But was he? If Once Upon A Time did anything right it was set up plenty of villains that were anything but black and white. There was nuance to every character, a trail of choices – good or bad – that led them from one place to another. Killian Jones is no different. In fact, Killian Jones pretty much came to exemplify Once Upon A Time's idea of redemption.
Easy? No. Straightforward? Not by a longshot? Inspired by someone else? Maybe, but always, always dictated by the only person who can truly change someone else: that very same person. Because the truth is that, this show, even when it didn't understand other things, always understood that villains and heroes are just …choices. Repeated choices, made through life.
And you can always make different choices. You can always choose to put aside your vendetta and try something different: trust, companionship, family, love.
AND SHE WAS THE SAVIOR
She wasn't your typical savior, though. Emma Swan was never your typical anything. She was loving and kind and oh, so eager for a connection, but she was also scared. She'd live a hard, lonely life, and her walls were up. She could save the town, and that was easier for her than loving the town, loving the people in it …and more importantly, loving Killian.
But it was never because Emma didn't have feelings, it was always because she felt too much and her feelings had been used against her, again and again. How can you believe in the kind of love that's transformative when you grew up with no parents, no warmth, no safety, and when the man you thought might become your family and provide all that not only left you, but endeavored to make the situation even worse for you?
BUT THINGS AREN'T BLACK AND WHITE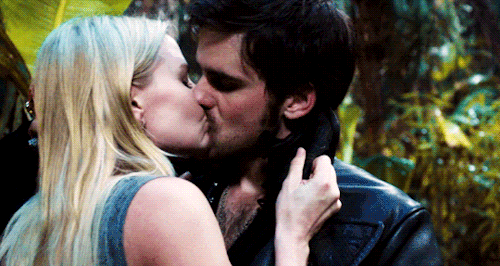 When bad things happen, when you make bad things happen, doing the right thing, expecting good things becomes ….well, harder. Emma and Killian didn't go through the same journey – she was always a hero, he was a villain – but in this part of the journey they mirrored each other.
Because it was about trusting. Trusting the world not to betray you, trusting the people around you to actually have your back. Trusting that you could stop being what you were, that you could make different choices, and people would allow you to try.
And trust, well …trust can sometimes be the hardest thing you ever do.
AND NEITHER ARE PEOPLE
But Emma had her parents, and Killian, well Killian had her. Not to be the reason, as I said before, but to be the support. Emma took her pain and her anger at her upbringing and put up walls after walls around her heart, so the Emma we met in the Pilot had walls so high up it was almost impossible to reach her.
Killian, on the other hand, took his pain at what happened to Liam and turned it outwardly, into hate. That's always the easier choice. And yet, in Emma, he saw another side of the same choice he made, and he was inspired. If she could do it, why couldn't he?
It was more or less the same for Emma. She never wanted to be like him, to be a villain, to turn pain outwards, but she did yearn to be the kind of person who, despite pain, could still put herself out there, could still try …
TOGETHER, THEY LEARNED TO TRUST
Before they could truly love each other, they had to trust each other, and that was a hard journey for them too. "We understand each other," Emma told Killian in season 2, as she was trying to convince him to help, and the truth is, they do. They always did. But that doesn't mean the journey towards trusting each other was hard, or that they didn't take one step forward and two steps back a couple of times.
The thing about trust is you can't have true love without it, but trust is often harder than love, and always much harder than attraction. Emma and Killian were clearly attracted to each other before they trusted each other, but it wasn't till they could absolutely trust, not just each other, but themselves, that they could finally move forward into something more, something deeper.
TOGETHER, THEY LEARNED HOW TO BE VULNERABLE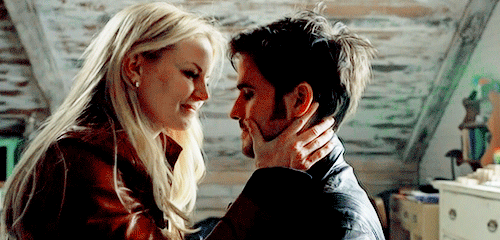 Which required something else these two were really bad at, opening up to each other. Because yes, you trust each other, and yes, you're attracted to each other, and you're like okay, let's give this a chance, but to actually give it a chance, you have to show a bit of yourself, and you have to trust that the other person will continue to care about you.
And that's one of the hardest things ever, not trusting someone with your life or with doing the right thing, but trusting someone to love you no matter what, to remain by your side, no matter what. Emma always felt that Killian couldn't love the unlovable orphan that she was, and Killian always felt that Emma wouldn't really stay once she knew all the things he'd done.
But love is about …forgiveness, and also about moving forward. Emma was never the unlovable orphan, and Killian was a villain, yes, but as long as he put that firmly in the past, well, that was all Emma wanted.
AND TOGETHER, THEY FOUND TRUE PARTNERSHIP
The one that's trust, and love and being able to be open and truthful with each other, but also the kind that's looking at life and knowing that whatever happens, whatever obstacle comes your way, you won't have to face it alone. You know, the kind of relationship Emma always saw in her parents, the kind she dreamed she could one day find.
And they didn't do that because it was meant to be, or because it made sense, no, they managed that because they worked hard at it – at being better people, for themselves and for each other, at communicating, and yes, this is a TV show, so there were missteps along the way, but they never stopped trying, and they never stopped loving each other and putting each other first.
TOGETHER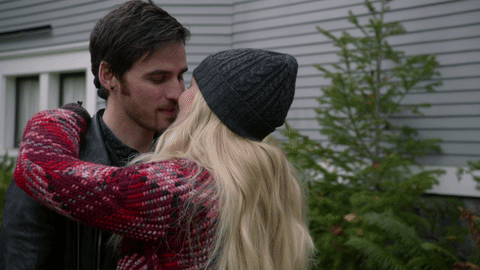 That is the story of Emma and Killian. A love story, yes, but more importantly, a story of finding the one person in the world who inspires you to be better, to be more. And these are just some of the many reasons that make us say: We will go down with this ship, now and forever.
Will you go down with this ship?