Well, season 3 of Fringe was a roller-coaster of emotions, not always in a good way. The Fauxlivia mess lasted way too long, the fallout for it lasted way too long, and I barely got any happiness before William Bell's consciousness, and oh yes, that cruel AF ending to the season.
Sure, I mostly enjoyed the alternate Fringe team, I absolutely love Lincoln Bell and would very much like to keep him, and the little moments we got between Peter and Olivia were good, but at this point it's starting to get a bit old. The only constant on this show is Peter and Walter, and even that seems like something they're going to take away in season 4, so yipee.
This level of angst deserves a bit more payoff than you're giving me, Fringe.
And that's not even going into how the season finale seems to, effectively, erase all the problems with season 3, which yay, except …well, you could have just not messed up with season 3? I'll give you Fauxlivia, if I have to, but the baby? The baby as a way to open the machine and nothing else, since Peter never even learned about him? The baby as a plot device with no emotions attached?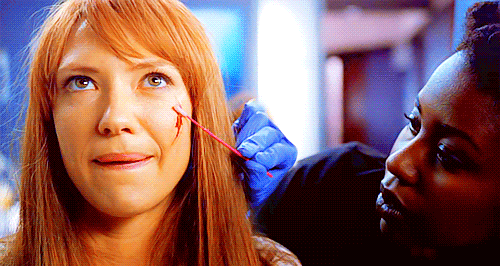 Way too much.
The best part of the season, as always, was the quiet moments between the team. The dynamics between Walter/Peter/Olivia are what have made this show good, and this season we got precious little of that dynamic, considering fake Olivia and possessed Olivia. We barely got Peter and Olivia, so I guess I'm just supposed to be happy we did get Walter and Peter since that's going to be taken away from me soon?
I will say, however, that this season made me feel for Polivia in a way the first two seasons didn't – the only problem is that, in return, it also made me mad that we weren't getting anything with Polivia, considering I now really, really cared about them. And at the end of the season, when my feelings were at their highest point, it all, inevitably, went to hell, and I was left wondering how – and how long – it will take to fix this latest twist.
My bet is on a while.
And that's the problem, it's always been the problem. My Alias comparison, as spot on as it was, doesn't give Alias its due. That show was insane, but it allowed us to feel more for the characters, because we got way more down moments with them. Here we get baby steps between Walter and Peter and more baby steps between Peter and Olivia, and then we get pain. Tons and tons of pain.
This doesn't mean I regret giving this show a chance, and it doesn't even mean I don't like it. It just means that, like any fan, I have my issues with it, and y'all got to complain live, but I have to complain on delay.
And complain I will.
I really, really hope season 4 gives us …well, more of these characters. I don't even need romance, I just need more episodes of the actual versions of the characters I want talking to each other, which I assume will be hard IF NO ONE REMEMBERS PETER.
*le sigh*
Maybe, what I need, after season 3 of Fringe, is a break. A nice romantic comedy, with a happy ending and no weird twists. You know, the opposite of the JJ way. Maybe that way I can cleanse myself and keep going with the torture.
I hope so.
Fringe is available to stream on IMDBTV.