There's nothing more agonizing than knowing that there's a big cliffhanger to be answered for a show that has yet to be picked up for a second season.
That's where I find myself with Netflix's Sweet Magnolias, that stole my heart faster than the season seemed to fly be. It was just the show that I needed to warm my heart and kickstart my summer. That is, until the season finale cliffhanger that has my mind racing with possibilities.
Warning: Sweet Magnolias finale spoilers beyond this point!
In the final minutes of Sweet Magnolias' season finale, Tyler and Kyle got into a little rift, which sent Kyle running out and into Tyler's car. That same car was found flipped over on the side of the road. We saw as Kyle was pulled from the wreckage. But the twist was that he wasn't alone in the car. There was a passenger.
Who the hell was in the car with Kyle?
There are three obvious options here, although my reasoning for why it could be each of them changes on the daily.
1. Annie
Annie makes a lot of sense at this moment, considering that she's someone that Kyle feels like he can confide in. Even after she rejected his romantic notions — as she's crushing on his brother, Ty. Annie is someone that would be able to calm Kyle down, and it would make sense for him to let her join him in the car.
Plus, the fallout that would come with Annie being in the car, including between Dana Sue and Maddie, is something that this show might deem too good to pass up. Not to mention it could make Ty realize that he can't keep his feelings bottled up, especially if he almost loses Annie.
2. Ty
The first question I had is: Where are Ty's keys to his car? How the hell did Kyle wind up with them? Did he snatch them on the way out (which seems likely)? Still, the fact that it was Ty's car on the side of the road isn't lost on me. Even if it's an obvious hint.
Then there's the storyline potential in season 2. This is a chance to further several relationships in Ty's life. Perhaps surviving a car crash like this makes Ty think about what's important in life. This could include mending things with his father, his brother, and finally admitting his feelings for Annie. There's nothing like a near-death experience to wake someone the hell up.
3. Nellie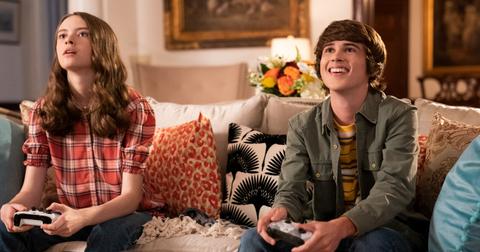 Like many on the Internet, I've watched the scene back looking for any clues as to who might've been in the car with Kyle. The one theory that makes sense is Nellie, considering she was the only one wearing sneakers that might've been able to catch up to Kyle. But, when thinking long term, Nellie being in the car wouldn't have as big of an impact on our core three, their kids, and everyone's journeys.
---
Sweet Magnolias showrunner Sheryl J. Anderson spoke to Entertainment Weekly, where she discussed the massive cliffhanger. While she obviously didn't reveal who's in the car with Kyle, she did hint at the
"I appreciate everyone's eagerness to learn who's in the car," showrunner Sheryl J. Anderson told EW.com. "All I can share is that the writers put a lot of thought into who's in the car, and we looked forward to the opportunity to let y'all know who it is.
"We know the answers to all the questions that we asked, including who the passenger is. We didn't do anything for shock value, we wanted to find an organic and to the season that was climactic because that's how you should end the season. It's organic in terms of all of our characters, the journeys that they've been on over the course of the season and, if we're fortunate enough to have a second season, questions that we'd be eager and excited to explore. How the events of that night propel everybody forward.
"We genuinely wanted to leave people with questions to ponder until we can come back together again."
At this current moment we're still waiting for Netflix to greenlight a second season, but that last bit of that quote sounded hopeful. With no "hopefully" involved. Still, Netflix, we're waiting. And I'd like you to make my summer with a second season.
My Guess: Annie
Trust me, I don't want to say it. And I'll be the first to tell you my guess changes on the regular. It could be Ty, as it could be an obstacle in his baseball journey. It could be Nellie, if only because I don't want to envision two of Maddie's kids being in the hospital.
At this point, I think it's Ty or Annie. Having the other passenger be Ty or Annie would certainly bring more drama to the equation — and could play a part in bringing Ty and Annie closer together. While I'm willing it to be Nellie, I can't help but think it's Annie in the car with Kyle.
Which, if true, threatens to send Ty over the freaking edge. Netflix, I NEED SEASON 2 NOW!
Sweet Magnolias is now streaming on Netflix.