There's something about the 12 Monkeys Pilot that is hard to explain. The show is about a pandemic that almost wipes out humanity, it's dark, it's dreary and it seems like just the thing I should not be watching while we're, you know, in the middle of a pandemic. And yet, watching it, I almost felt better about the world I'm living in. TV is magical that way sometimes, isn't it?
Of course, part of it probably has to do with the fact that I decided I needed to watch the movie first, and compared to the movie, the show is almost sunshine and light. I swear, you think the show is depressing? Take a couple of hours to watch the movie, and then come tell me what you think. Also, when you come back, can you please explain the movie to me?
I'm only half joking. I understood the nihilism; I just didn't really like it.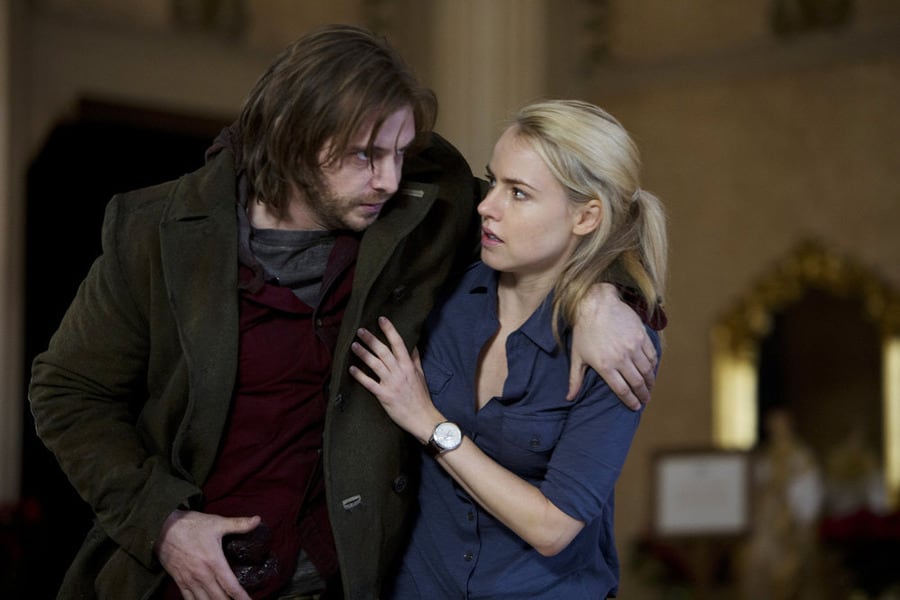 12 Monkeys the TV show does the movie one better in that it gives me not just an interesting plot point, but characters I actually care about. Sometimes bad shows can be saved by good characters, but rarely do shows with engaging plots end up lasting long if we do not care about the people involved in said plot. It sounds counterproductive, but characters are most important than plot. I promise.
Not that this show is sacrificing one for the other. At times, I felt that Fringe, my latest sci-fi binge and a show that, looking back, despite my many issues, I mostly enjoyed, did this. But Fringe also had 20+ episodes to fill every season, and when you have that, you tend to …you know, fill them. Sometimes with stuff that doesn't really advance the plot and ends up contradicting the characterization.
Thank God for 12 Monkeys' 13 episode season 1.
Of course, that doesn't make this the best Pilot I've ever seen. There are many other Pilots that left me desperate to watch the second episode, in a way 12 Monkeys didn't. But it seems to me that the show knows what it's doing, and that, maybe, looking back on this episode after I'm done, I'll find that this was even more perfect than I gave it credit for at the beginning.
Yes, it's still confusing, but I can deal with confusing as long as it's all heading somewhere. Yes, it's very dark, but I can deal with dark if there's a level of hope to the darkness, if we're all fighting to get out of this darkness. And yes, Kirk Acevedo is once again playing a character I'm supposed to like and am not sure I do, but I can also deal with that. Been there, Fringe that.
The number one reason why I can is Amanda Schull. I've loved Amanda since Suits, but Suits didn't give her the chance to showcase her emotional range the way just one episode of 12 Monkeys did, and I cannot wait to dive into Dr. Cassandra Railly and get to lover her the way I loved the mostly-reserved Katrina Bennett.
I also, surprisingly, coming off the movie, actually enjoyed Cole. Yes, he's got a death wish, and yes he needs to learn to plan and yes, he also needs to learn to listen, but there's a level of "oh, he might actually be willing to learn these things" that I didn't get from the movie, and that sort of endears him to me. I love character journeys, and I'm all in for him learning to care about himself, others and hey, maybe even come up with some plans, every once in a while.
So yes, I have found my next binge. Here I am, 12 Monkeys. Please be everything I expect you to be and more.
12 Monkeys is available to stream on Hulu.
Quarantine has been a time to binge watch shows I somehow missed the first time around! If you're interested in what else I've watched, check out my posts on Fringe, Avatar and Medici.