If asked to choose between a show with characterization and one with a tight plot, I'll always choose characterization. I invest in the characters, and more often than not, I can forgive even egregious mistakes if I love the people on my TV screen enough. See how long I continued watching shows like Arrow, how I stuck to Fringe even when I was so angry I could see red, and why I loved shows like Once Upon A Time, even if the plot wasn't always …you know, coherent.
Maybe, I realized as I watched the first season of 12 Monkeys, I've always been clear about my preference in this regard because most shows I've ever watched have made me feel like I have to choose.
Not 12 Monkeys.
Sure, season 1 feels like it's only barely scratching the surface of what these characters could be. They're all three dimensional, and yet not all of them are lovable. Only Cole and Cassie are, at this point, the type of characters you'd get into twitter arguments to defend – though Jennifer and Katarina come close.
That, however, doesn't matter as much when the plot is this tight, when it all makes sense in a way that makes the story feel both complete, and yet ongoing, and when you trust the writers to give you more of what you want.
Big words – trust. I don't trust TV all that much. TV has caused me pain, again and again. And I'll take pain, the good kind. I'll take the kind of pain that makes sense, that is going somewhere. That's part of the reason I was so made at Fringe throughout most of season 4: the pain felt unearned, the payoff way too little.
It's a delicate balance, giving the viewers enough plot to keep them hooked, enough character moments to make them want to continue the journey, and enough payoff so they don't feel cheated as they go on the journey. Is 12 Monkeys season 1 perfect? No, but it achieves this in a way not many shows do, and that's all that matters.
Because I want more.
Of Cassie, one of the best heroines I've seen on TV in a while – because she isn't defined by her male counterpart, and yet she isn't made to be unfeeling either. This is a hard balance for heroines, and yet one the show manages beautifully. She doesn't have to be Cole to be a hero, but if she ends up turning harder, guess what …that's life. That doesn't make her any less interesting; in fact, it makes her even more compelling.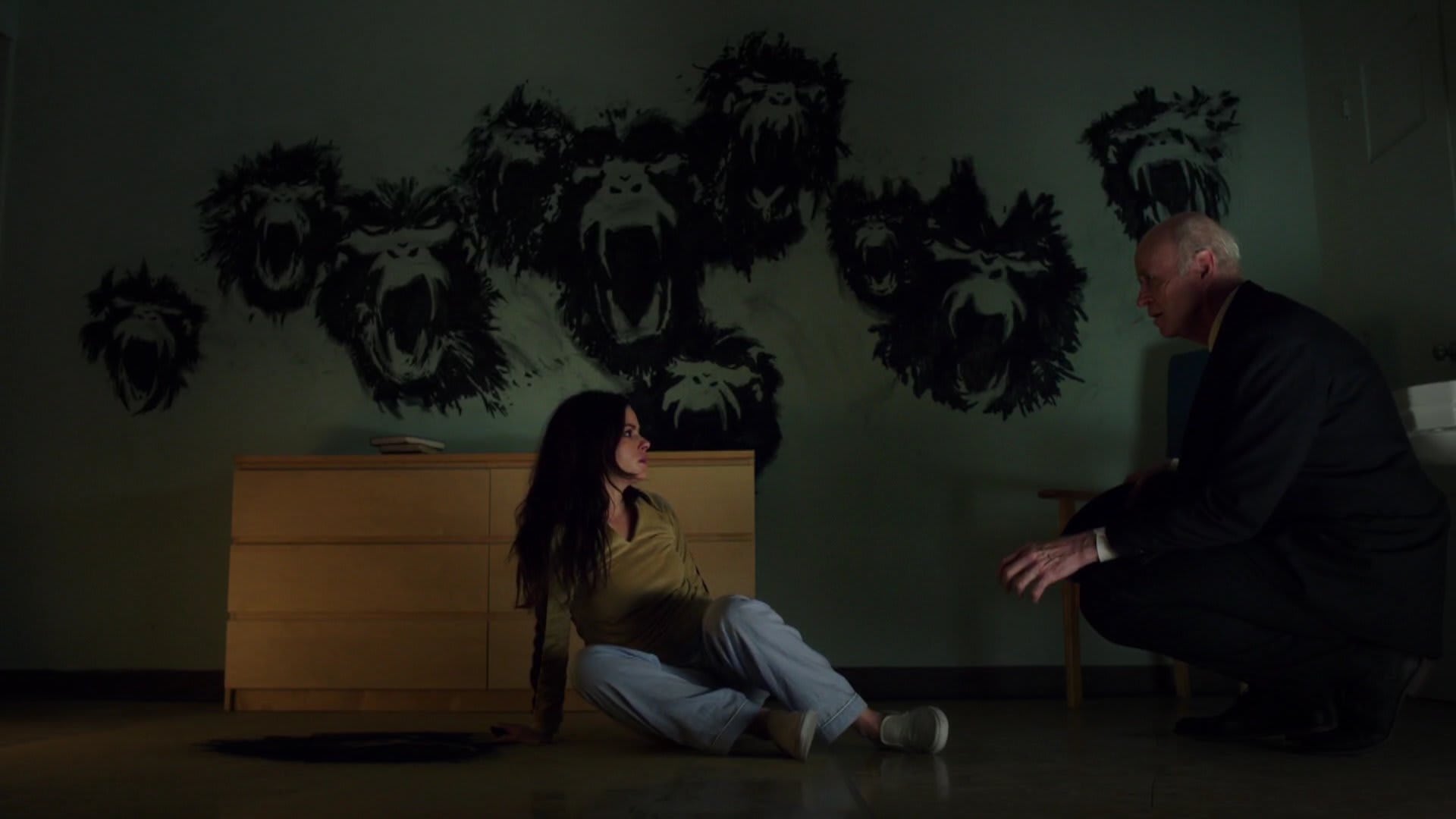 Of Cole, a man whose character arc seems to be going the other way from Cassie's, in a truly refreshing way. This is one of the ways 12 Monkeys flips the script and plays with stereotypes: at first Cole is just who we expect him to be, and so is Cassie. But life isn't linear, and your experiences do shape you.
Sometimes, they even turn you into the opposite of what you were.
And yes, of Jennifer Goines – because I came into this show looking for Emily Hampshire to blow me away, and she has done that and more with every second she's been on my screen – and Katarina Jones, two female characters who are so different from the main female character that it feels like I'm living in an alternate reality where shows understand that women don't have to be just one thing, and more importantly, that they don't have to remain that one thing.
They can be villains, and heroes, they can move from one to the other, they can be selfish, kind, hard, compassionate, and so much more, without being defined by just one emotion, just one decision.
You know, like male characters have always been.
If you only need one reason to give 12 Monkeys a chance, let it be this one: the show understands the complexity of humanity, and applies that same complexity to its female characters – which, even in 2020, we can't exactly say every show out there does.
But there are, of course, more. There's a budding romance I anticipate will make us suffer before we get any kind of reward, the possibility of friendships I'm already salivating over having on my screen, and a plot that never seems to lose focus of the story it's telling, even if I can't, for the life of me, figure out what that is yet.
That's part of the magic. I've gotten very used to being one, or even three steps head of shows. 12 Monkeys isn't the kind of show you can ever truly decipher, though, and I, for one, love that. I'll take all the twists, all the surprises, all the shocks – as long as they're as well written as the rest of the show has been.
Onto season 2 I go. It's been a while since I've been this excited about a journey.
12 Monkeys is available to stream on Hulu.