The crew of the Discovery has their hands full in this week's episode of Star Trek: Discovery, episode 4×02, "Anomaly." There are many different themes that could be discussed within this week's episode of Star Trek: Discovery, but the ones I will focus on are mentorship, trauma, and recovery. Here are a few of my thoughts on "Anomaly."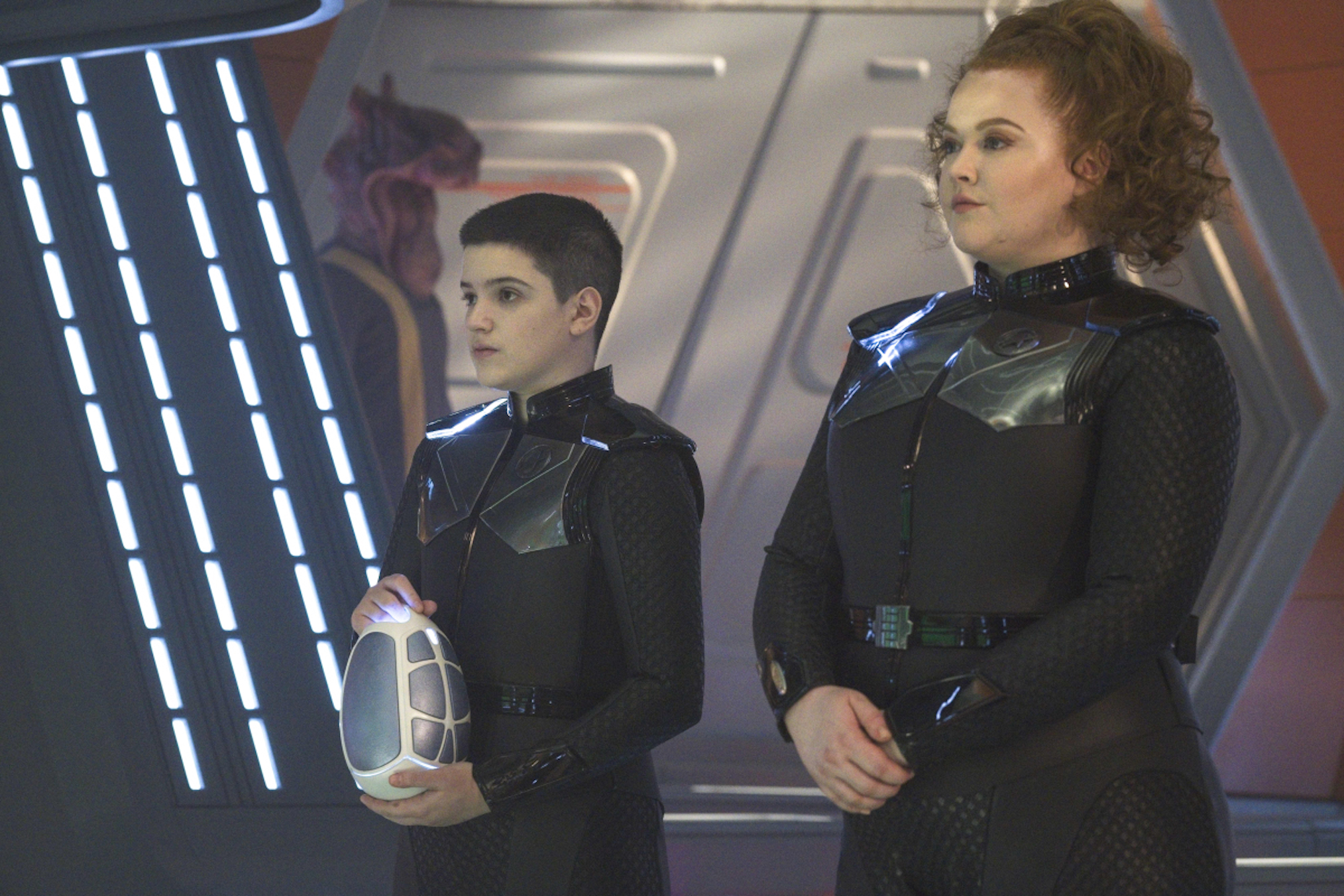 Everyone Needs a Mentor
One of the things that Discovery is doing really well is showing the need for people to invest in each other. It creates excellence. We've watched Georgiou invest in Michael and Saru, Saru in Tilly, and now it's Tilly's turn to invest in someone. Adira's admiration for Tilly is charming. It's sweet to watch them work hard to succeed and in some way, try to impress Tilly. When Tilly recognizes this, I would say it's not a stretch to say that Tilly sees a little bit of herself in Adira. That high five at the end and that big smile on Adira's face say it all.
Trauma Always Leaves a Mark
While many of our crew have experienced trauma in one way or another, trauma hits everyone differently. For some of our crew, like Adira and Stamets, experiencing another stressful or traumatic event, triggers this past trauma. Discovery is also doing a very healthy thing with this season–they are showing people seeking help and support for their trauma. Tilly asks for a counseling appointment with Dr. Culber. Adira talks things out with Gray. Book finally expresses the hurt he's trying to cope with at the loss of his planet and family.
This is fresh territory for Star Trek. While Star Trek: The Next Generation had a ship's counselor in Troi, we really only see one little chat and then that's it. There's no further discussion of the trauma or anything else. With this series, we're getting a more realistic depiction of trauma recovery. I hope that this focus on healing and recovery from trauma will encourage people to seek counseling for their mental health issues.
Final Thoughts
While I chose to zero in on the emotional aspects of "Anomaly," I would be remiss if I didn't mention a few other things of note.
First, this anomaly is much bigger than we thought and the fact that all the planets have chosen to help in the fight to solve this issue is of monumental importance. Those outside the Federation are pitching in, notably Ni'Var, the combined worlds of Vulcan and Romulus. It's encouraging to see this show of cooperation. I am hopeful that folks in government are watching Discovery because of this.
Second, this anomaly is no joke. Dueling black holes are scary enough, but the fact that they can't track them with any measure of accuracy is terrifying. I don't know how Discovery is going to pull this off, but I'm going to enjoy finding out.
Finally, am I the only person freaking out that this anomaly looks like an eye?! It looks frickin' scary. Here's hoping Galactus isn't somehow pulling off a ridiculous crossover from the MCU into the Star Trek universe, eating the worlds of the Federation.
What do you think about "Anomaly"? Leave me a comment and let's talk Trek.
The next episode of Star Trek: Discovery will air on December 2, 2021, on Paramount+.