If you've talked to me for more than 5 minutes, you know I love podcasts. I listen to several Star Trek podcasts, in addition to being on a Star Trek podcast of my own. It's always good to get perspective from other folks. One of the more fascinating things to me about art is that people can be exposed to the same art and walk away with entirely different conclusions. Podcasts give people exposure to those different conclusions. We have 55+ years of Star Trek shows, movies, books, and comics, so there's no shortage of material to cover. Here are 10 Star Trek podcasts that cover numerous aspects of and perspectives on Trek that I think you should check out.
The Mission Log Family of Podcasts
Admittedly, this one is a bit of a cheat, as there are numerous Mission Log podcasts. However, each show does a few different things so I think they're worth checking out. The flagship Mission Log show has been covering literally every episode of Star Trek ever made starting with Star Trek: The Original Series since 2012. They're currently in the third season of Star Trek: Voyager, but you can go all the way back to their coverage of Star Trek: The Original Series if you wish. If you want a good example of the kind of analysis the Mission Log guys, John Champion and Norman Lao, can do, I recommend listening to their coverage of Star Trek: Voyager's most infamous episode, "Threshold." This episode of Mission Log really made me think differently about "Threshold," or as it's sometimes called, "the one with the salamanders."
Mission Log Live
If you like what the Mission Log guys do with the back catalog of Trek, you'll want to check out Mission Log Live. Mission Log Live covers the current roster of adult-oriented Star Trek series, like Star Trek: Discovery, Star Trek: Picard, Star Trek: Lower Decks, and Star Trek: Strange New Worlds. Not only do you get some conversation around the latest Star Trek episode of the week, but you also get things like interviews with Trek actors, behind-the-scenes folks, and more. Best of all, this is the show YOU get to participate in. You can call into the show via phone or zoom, and be part of the conversation.
Mission Log Live airs every Monday after a new episode of Star Trek drops on YouTube and Facebook. I'm eagerly awaiting its return, along with the return of Star Trek: Picard. In the meantime, I recommend checking out this episode with Dr. Erin McDonald, the science advisor for the Star Trek franchise.
Mission Log Prodigy
Star Trek: Prodigy is such a special show that the Mission Log crew had to give it its own podcast. Mission Log Prodigy is a really sweet show. Regular Mission Log host Norman Lao along with Ashley V. Robinson and Charlynn Schmidt discuss each episode of Star Trek: Prodigy. The thing that makes this Mission Log show stand out is the voicemails they get from kids watching the show. Some of the wonderful life lessons these kids are getting while watching Star Trek: Prodigy have legitimately brought me to tears.
They have also had wonderful conversations with Star Trek: Prodigy creators and writers. They've interviewed the Hageman brothers, which was amazing, but I think the hidden gem in this show is their conversation with Prodigy writer Aaron Waltke. Aaron is the go-to Trek lore guy behind the scenes, and it's very apparent he knows his stuff. If you love Star Trek: Prodigy, do not miss this show.
Mission Log: The Orville
Finally, is The Orville technically Star Trek? No, but it is a clear love letter to the franchise, and many consider it Trek-adjacent. So much so that the Mission Log family of podcasts decided that it needed its own Mission Log podcast. Hosts Captain Mike Richards and Jessica Lynn Verdi break down each episode and occasionally get to interview the cast and crew of The Orville. They've even sat down with the showrunner, star, director, and writer for The Orville, Seth McFarlane himself. I recommend you give that one a listen.
Make It So – A Star Trek: Picard Podcast
If Picard is your preferred New Trek show, then you won't want to miss Make It So. Now, I will fully admit a little bias here, as Luke Winch and Kurt North who host the show are my friends and fellow We Made This Podcast Network Podcasters. BUT, Luke and Kurt know their Star Trek inside and out and Jean-Luc Picard is their captain. That doesn't mean they approach the series with an uncritical eye. If you want serious analysis and a legion of sharp guests, you should definitely check out Make It So. If you want a flavor for the upcoming season of Picard, you should listen to this season 3 preview that just dropped.
SyFy Sistas
The SyFy Sistas podcast only very recently got on my radar and I'm so glad it did! I once saw a meme that said, "A group of white men is called a 'podcast.'" The Sistas are anything but. These ladies are black women that love science fiction and met due to their love of Captain Michael Burnham, played by Queen Sonequa Martin-Green. Subrina, Fran, Tamia, and Yvette talk all things Star Trek, as well as dig into other aspects of science fiction, particularly Afrofuturism. These ladies have great conversations and have gotten to interview many Star Trek showrunners, cast, and behind-the-scenes folks. However, I think their recent interview with the lady that brought them together, Sonequa Martin-Green, is a great place to start. This interview hit me right in the feels and is definitely worth your time and that like/subscribe/5-star review.
The Brandi Jackola Family of Podcasts
This one's a bit of a cheat too, but my buddy Brandi Jackola is one of the most prolific Star Trek podcasters I know. Brandi is part of not one, not two, but THREE Star Trek podcasts and also is part of a Star Trek Youtube show called The Unready Room. Who has that kind of podcasting stamina?! Brandi! I love whenever I get to record with Brandi because she and I laugh nearly the entire time, while also having a great discussion. Here's a breakdown for each of Brandi's shows, and FYI, these can get a bit sweary, so if you listen at work, pop in those earbuds.
What the Future Holds
Brandi co-hosts a Star Trek: Discovery podcast called What the Future Holds where Brandi and her co-hosts Dave Jackola and Christopher D. Littlefield break down each episode of Star Trek: Discovery and chat Trek news. I asked Brandi to pick an episode to share with you all and she chose this episode called, "Newstralia." Hit that like/subscribe button for DISCO chat straight to your podcast app of choice!
Boldly Go
If Star Trek: Strange New Worlds is your jam, then hit that subscribe button for Boldly Go. This one is hosted by Brandi and her wonderful co-host Suzanne Williamson. Similar to What the Future Holds, Boldly Go offers thoughtful analysis and commentary on each episode of Star Trek: Strange New Worlds. Again, I asked Brandi to handpick an episode for you all to check out. She suggested episode 6 of the show called, "My Spleen" where she and Suzanne talk about episode 1×03 of Strange New Worlds, "Ghosts of Illyria."
The Vedek Assembly
Finally, if you're a Star Trek: Deep Space Nine fan, hit that like/subscribe button on The Vedek Assembly. Brandi and co-host Nick Collinson along with some occasional guests are taking a look back at Deep Space Nine. They're covering individual episodes, character breakdowns, and other topics within Deep Space Nine. Arguably one of the best-written Star Trek series ever created, Deep Space Nine has had a bit of a renaissance lately, and I for one, am here for it! Brandi's handpicked episode for this show is episode 19, called "It Takes a Lot to Make Me This Angry," looking at episode 2×15, "Paradise."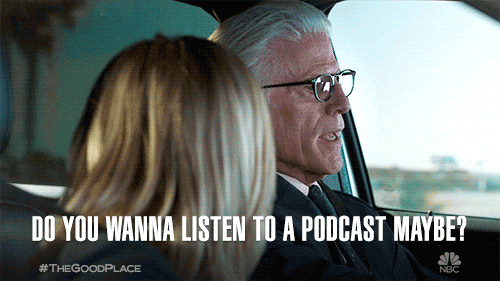 Final Thoughts
Finally, I would be remiss if I didn't give a passing mention to my own Star Trek podcast, We Are Starfleet. I was recently invited to join the team at We Are Starfleet as one of four rotating hosts covering all things new Star Trek. However, I was a listener long before I was invited to be a host. My personal favorite episode released so far? Give a listen to this one where I got to guest host alongside my friend and former Star Trek professor, Dr. Amy H. Sturgis to discuss the first half of Star Trek: Discovery season 4.
Do you have a favorite Star Trek podcast that I should check out? Leave me a comment and let's talk Trek.
This will be the last piece in my "Things to Do During the Star Trek Hiatus" series. Why? BECAUSE STAR TREK: PICARD IS BACK NEXT WEEK! Take a look at my mini-trailer breakdown, and if you need more Star Trek in your life while you wait, take a look back at my pieces on TREKtalks2, Star Trek comics, key episodes, and shows that aren't Star Trek.
Stay tuned here to Fangirlish for all my weekly Star Trek coverage and more.
Star Trek: Picard will premiere on February 16, 2023, on Paramount+.