Roswell, New Mexico's "I Saw the Sign" saw Liz meeting the "murderer" of her sister on the streets of her home, more Maria DeLuca than I've seen the entire season, and the first of hopefully many scenes between Maria and Michael. And no matter where you fall on the shipper scale of this show, you've got to admit that every single character on this show has chemistry to the moon and back with each other!
1. Liz laying it all out for Isobel.
Roswell, New Mexico surprised us with this Liz and Isobel interaction. Any other show would've taken a whole season until these two women crossed paths. But not Roswell, New Mexico! Liz laid it all out for Isobel and basically told her she's EXTRA lucky that her dad could be deported, because if not Liz would've taken this to the cops. More surprisingly is Isobel's reaction. She didn't deny or try to make Liz feel like she was doing something wrong by being angry. Isobel knows what she did and she's ready to face the consequences.
2. This Maria scene and the conversation that came after.
Roswell, New Mexico has been severely lacking in the Maria DeLuca department. As one of our favorites from the original show, it's been kind of jarring that Maria hasn't been around more. And this isn't because we want her to end with Michael. We want Maria DeLuca because we love her relationship with Liz and the woman she is. Also because Heather Hemmens is a STAR! We love her inner light, her humor, and the strength that just pours out of her.
3. Alex calling Liz out on being a bad friend.
Liz has been so self involved, with reason, that she hasn't given Maria a second of her time. Alex called her out because it was needed and he recognized that Maria was too nice to say something because she's a lean mean machine that wants to handle everything herself. But right now, she can't and Alex has stepped up to shine a light on Maria to help her.
4. Isobel chilling in her bed and looking like a total goober.
This is an absolute mood. Seriously, there are so many instances in our day to day lives that this gif is necessary. Anxiety hitting you hard? Boom, Isobel gif to the rescue! School haunting your dreams and you just want to hide away from the world? Boom, Isobel gif to the rescue! Can't stand your siblings because they're a pain in the ass? Boom, Isobel gif to the rescue!
5. Liz calling out Max for crossing the line.
We thought that Liz and Max were going to hide away from each other for a couple episodes while they figured everything out. After all, TV has taught us that avoidance is key if you want to drag out a storyline for episodes on end. Not on Roswell, New Mexico! Liz saw Max doing something that was crossing the line and she called him out on it. AND IT WAS BRILLIANT! Just because shit is going on between them doesn't mean that she's gonna avoid him and not be present from this town or the things that happen in it.
6. DeLuca and kids get together at the pub.
Until this episode we really didn't get how close these 3 friends and Maria's mom really were. If anything it's been made to seem via flashbacks that Liz and Max were BFF's and Maria and Alex were just people that Liz knew from school. Hanging out like this, taking the time and making the effort to bond, has given us perspective of the bond just waiting there to be forged and brought to life. Please give us more!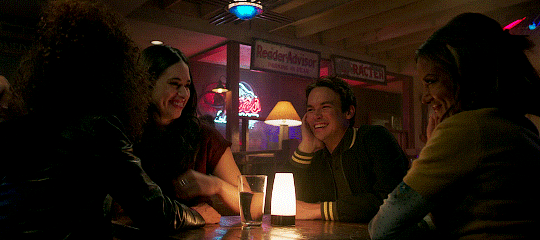 7. This Maria and Michael scene.
THIS SCENE. Dear Lord. We loved it. And yes, our shipper hearts might be like, "Woah" because this was the OG ship from Roswell. But it's more than that. Crying and letting yourself be open like this…it's not something that comes easy. But here we have Maria breaking down and Michael's first reaction is to pull her close, hold her hand, and say nothing because that's what she needs. That's friendship, companionship, and human decency even though one is an alien.
On the shipping front, I want it all. Michael and Alex work. But I think Michael and Maria might work too. And Alex already knows Maria and loves her…who's to say that THEY CAN'T ALL BE TOGETHER!? I'm down for an OT3 if that's what Roswell, New Mexico wants to give me. After all, there are couples like this, queer couples especially. I've seen them, I know them, and it's about time they get represented in the content they consume.
8. Isobel turning herself over for the protection of Roswell, New Mexico.
We'll be the first ones to admit we underestimated Isobel Evans. She chose this. Isobel could've dodged her past for plenty of episodes and driven herself to an edge she wouldn't be able to come back from. But she didn't. She accepted the fact that there is something really wrong with her and admitted herself to a place where she can get help and protect the rest of Roswell, New Mexico. That's bravery at its finest.
Roswell, New Mexico airs Tuesdays at 9/8c on The CW.