It's been about a month and a half since its release, so with that much time to mull it over, it's time that the crew at Fangirlish stopped to share our thoughts and feels about the latest season of Stranger Things. Did your predictions come true? Some of mine did. Check out what our writing staff had to say about our favorite flashback show. 
Joining me for this roundtable are McKenzie, Grace, Jasmine, Lyra, Julie, and Annie.
1. Tell us about your initial reaction to Stranger Things 3. Use a gif!  
Ashley:
McKenzie: 
Grace:
Jasmine: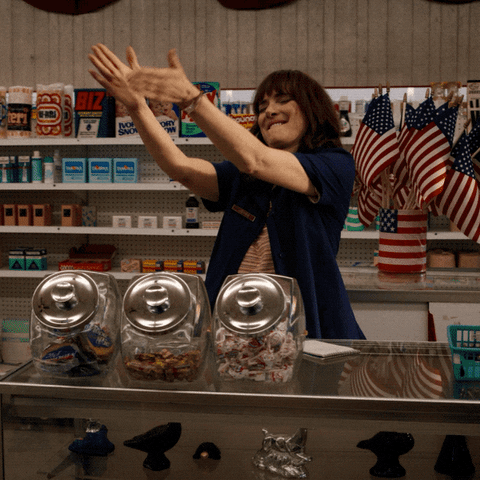 Lyra: 
Julie: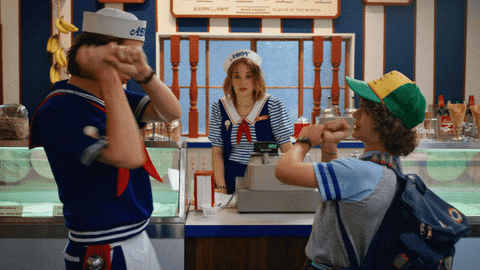 Annie: 
---
2. Stranger Things 3 was full of twists and turns and shocking moments. Which moment surprised you the most and why?
Ashley: I was not expecting Billy's death at all. I REALLY wasn't expecting to tear up over it either. Billy is the embodiment of every jerk I've ever met and so the fact that I was able to feel compassion for him and to even feel sad that he died is a testament to the quality of writing and Dacre Montgomery's performance. 
McKenzie: Hopper. The season always has to end on a cliffhanger and the insinuation that he is dead tore me to pieces.  Watching Eleven have to read his letter and everyone else's reactions tore me apart. You can't just kill off such a main influential character, Duffer Brothers. I won't allow it. Also, watching Dustin and Suzie sing to get Planck's Constant was so unexpected. She is real folks, Suzie was indeed real. 
Grace: Hopper's death really shocked me as well. It was like a sucker punch to the gut, especially after watching the aftermath of his death play out. (That letter had me sobbing). I knew someone would probably not make it out alive at the end of season 3 but I was really hoping it wasn't Hopper because I am a huge fan of his father/daughter relationship with Eleven. I hate how Eleven had to go through the loss of Hopper but it did make sense and has set us up for what I'm sure will be a great season 4. 
Jasmine: Well, if it hadn't been spoiled for me by me seeing something on social media, I would have said Hopper's death. So for that reason, I'm going with Eleven losing her powers. I did not expect that to happen at all. Seeing her helpless at the end when she is usually the one who saves the day was tough.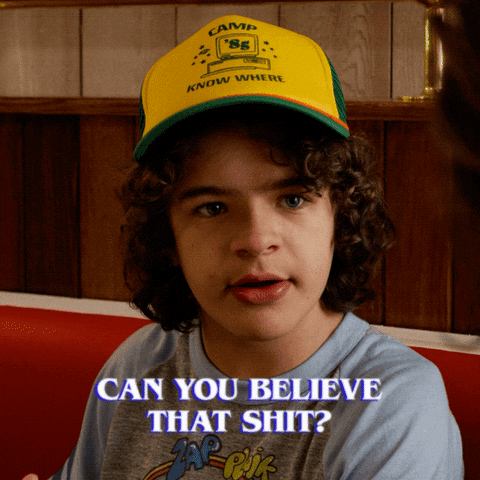 Lyra: Robin confessing to Steve that she is a lesbian will always be a stand out moment from season 3 of Stranger Things. It changed absolutely nothing for them. They still care for each other, are the other's ride or die, and I hope it continues into season 4 of this epic Netflix show. Because this scene, this gloriously fantastic scene, showed that being queer doesn't make you any different from everyone else. You're still human, you're still the person your loved ones or friends have known and loved for days, weeks, or years. You're still you and I see that in Robin's confession and in the way Steve reacted when he found out. Normalcy. That's what it is.
Julie: Hopper was a big surprise, and I actually wasn't spoiled this time. But I was also surprised by Joyce and the kids moving away at the end. I know that she mentioned wanting to do it earlier in the season, but it still made me sad–losing Hopper and now the gang is separated. I'm really excited to see what happens next season to bring them all back together. 
Annie: Robin's coming out truly shocked me, and in the best way. While Hopper's death carried incredible weight and was crazy emotional, Robin and Steve's conversation on that bathroom floor will always be synonymous with season 3 in my mind. Like Lyra said, they're each other's ride or die forever and having a queer character integrated so seamlessly into our core group of characters was so validating. Steve was my favorite character after season 2 and this season just cemented that for me. I couldn't have wanted more from his reaction.
---
3. We got a few new characters and some recurring characters with larger roles this season. Who's your favorite and why? 
Ashley: Love, love, love Robin and Erica. Erica had me cracking up last season, so I was really excited to see her join in the madness of the regular ST crew. I love Robin's sense of humor and her friendship with Steve. Steve needed someone to be a real friend to him, someone who will take him down a notch when he needs it, but will be supportive as well. We needed more ladies in the group and I'm excited to see how her role will grow and change in the next season.
McKenzie: Hands down Erica and Robin. Those two and they dynamic with Steve and Dustin provide me with so much amusement and laughter.  They bring a needed lightness to the show. Scoop Troop forever!
Grace: The Scoop Troop was a big highlight of season 3 that was so much fun to watch. Such a great comedic group to put together. It was nice to have some comedic relief throughout the season as a lot of it was also very dark. 
Jasmine: I agree with you ladies. Erica and Robin provided so much comic relief and I enjoyed watching Erica and Dustin interact more. When he told her she's actually a nerd too, I loved it! 
Lyra: I just loved having more Erica time in season 3 of Stranger Things. She was an unexpected highlight of the season because she grew and didn't just stand still in "sassy younger sister" territory. Erica changed, saw what her brother was willing to do for his friends, and came out a changed person herself.
Julie: I loved Robin so much. Her mockery of Steve gave me life in the first few episodes. And she seamlessly became a part of the core group. I loved her coming out scene. And though the mall is not technically a character, those places have a life of their own, so I'm going to say that I loved the mall too. 
Annie: Robin for sure! She's hilarious, makes fun of Steve, and I gotta rep a fellow band, theatre, and language nerd. Her dynamic with Steve and then with the entire Scoop Troop was really well done, as if she'd been there all along.
---
4. Relationships of all kinds were put to the test this season. Who are you rooting for? How do you see these relationships playing out next season?
Ashley: I'm so excited to see the growth in Max & Eleven's friendship. I'm also excited to see the familial relationships between Hopper & Eleven and Joyce, her boys, and now Eleven. I adore seeing positive female friendships in my stories, so I was so excited to see them becoming friends. I love that Max & Eleven just grew together as instant besties and when Billy died, Eleven was the one to pull Max in for a big hug. Melted my heart. 
As for Hopper & Eleven, I can't imagine that they would strip Eleven of every parent she's ever had. I loved watching their dynamic and watching Hopper soften and grow as a parent, but also as a human. 
Joyce is always Mom of the Year, doing anything and everything she can to protect her kids. I love that there was no question of who would be taking in Eleven with Hopper gone. I'm excited to see how Eleven will respond to having a mother figure in her life, one who is able to be there physically and emotionally. I don't think we've seen the last of her Eleven's biological mother; there will be some kind of resolution for that story before the end, but I'm excited to see Joyce get to parent a daughter alongside her sons. 
McKenzie: Steve/Robin and Dustin/Suzie. We just got to see so little in terms of their actual relationship that I want more. I want Dustin to rub Suzie in all his friends faces because they didn't believe him. I want to see more of Robin making fun of Steve. I just want more.  
Grace: Eleven and Hopper's father/daughter relationship is probably my favorite relationship on this show. So as you can imagine, I am really hoping that Hopper is that American in that Russia cell because I want a happy ending for them both. Besides those two, I'm pretty much a fan of all the relationships on the show (Eleven/Mike, Nancy/Jonathan, Steve/Robin, Max/Eleven etc.). I can't wait to see how all those relationships will evolve next season, considering most of pairings are separated by distance (or death). 
Jasmine: I too wouldn't mind seeing Dustin bring Suzie around. The fact that his own friends didn't believe he could get a girlfriend sucked. They have all known each other for so long and they know Dustin, so why would he lie about that?
Lyra: Personally, I'm rooting for more father/daughter scenes between El and Hopper. We didn't get enough of them and I know that their relationship has continued blossoming between season 2 and 3. Now I just want to see more of it and cry over all the family feels. But Hopper is dead, you say! NOPE. I don't believe that shit for a second! Gimme my family feels and give them to me now!
Julie: I loved how they portrayed the dynamic between the four boys this season. They captured what it is like when you have childhood friends, but you start liking other things and drifting in different directions as you get older. I just was shouting at the TV for someone to play Dungeons & Dragons with poor Will in the first few episodes. He's a trauma survivor, so he has a little bit of arrested development compared to his friends. Dustin coming home from summer camp and being sad that everyone had other things going on in their lives hit me in the feels, but in the end, they still had each other's backs. It was actually quite lovely how they played it all out. 
Annie: I completely agree with everyone; rather than be repetitive, I'll say I'm definitely rooting for the party overall. There was a lot of natural division this season between the girls and boys, and even Will, Mike, Lucas, and Dustin. I really hope that despite the new distance that they'll be able to reaffirm their close relationship (ideally without having to almost die together). 
---
5. What is your favorite line or scene from this season? Share a gif! 
Ashley: 
McKenzie: 
Grace: 
Jasmine:
Annie: 
Lyra: 
Julie: ---
6. Everyone loves a throwback. Share your favorite nostalgic moment from this season.
Ashley: I think one of the most fun things for me in watching Stranger Things is watching how they use visual cues, both subtle and not so subtle, to give that little something extra. I loved the hybrid of Invasion of the Body Snatchers and John Carpenter's The Thing for the monster this season. I also really liked the tiny nod to Kevin Bacon in Footloose with Jonathan's working man get-up–a button-up shirt and loose tie. The one thing I noticed that I don't think anyone else did is one of the scenes at the carnival, there's a little boy dressed exactly like Wil Wheaton in The Last Starfighter. It's such a minuscule detail, but it's that kind of thing that makes the show so much fun for me. 
McKenzie: Watching Eleven and Max bonding for the first time and going shopping.  Watching them parade around in their 80's outfits with music is iconic to me.  They are so cute when they are taking pictures together as well. 
Grace: Totally agree with Jasmine! Dustin and Suzie singing came out of nowhere but it was so great. 
Jasmine: Dustin and Suzie singing the theme from The Neverending Story! I always loved that movie growing up. That was such a cute scene.
Lyra: The montage scene between El and Max when they went clothes shopping. It felt like we were discovering things about El at the same time she was discovering it for herself. It was character development and all that jazz that I'm absolutely here for!
Julie: This was probably my favorite season for nostalgic throwbacks. First, because so much of it took place at the mall. Having worked in the mall (in the 2000s), I know that they are such strange little worlds of their own. And in the 80s, it truly was where everyone hung out. I had a huge grin on my face through the entire shopping montage. The Neverending Story part was also huge for me because I was that kid who would memorize songs from movies and bond with people who could sing them with me. Who am I kidding? I still do that. 
Annie: I'm with McKenzie and Lyra. The shopping scene was great not only for some amazing 80s fashion, but to show the development of Max and El's friendship which really helped El discover herself as a person independent of Mike or Hopper. Loved it. Female friendships forever!
---
7. That finale though—is Hopper really gone? What are your predictions for next season?
Ashley: Hopper is so not dead. 1). I demand receipts. We didn't see a body, even an exploded one, so no, he ain't dead. 2). He is definitely "The American" referenced in that stinger scene. I've read some speculation that it's Dr. Brenner, but I disagree. We saw him get attacked and seemingly eaten by the demogorgon in season one. Papa's definitely dead as far as I'm concerned. 
My predictions are that Hopper will get rescued, the demogorgon will get out (I screamed in excitement when the OG monster appeared), and we will FINALLY get some JOPPER! I'm also excited to see the dynamics between the new members of the gang with the regulars. As a movie nerd, I'm also excited to see the shenanigans Steve & Robin will get into at the video store. 
McKenzie: Hopper is not gone. You can't just kill him. No, he is the American that the Russians have locked up. Even if that isn't him there is no way he is dead. There was that ladder that he could have escaped down as well. Mark my words, he will be back. I won't accept anything less. 
Grace: No way. I may just be in denial, but I refuse to believe that Hopper is really gone. He is such a vital character and I find it hard to believe that his story is over. They also wouldn't give us that Russia scene at the end if not to point us in the direction that Hopper is, in fact, alive. 
Jasmine: Nope. Hop is not dead. That ending was too open. Not only that but in the final scene that takes place in Russia, one of them made reference to an American they have locked up. Strong Possibility that American is Hopper. 
Lyra: In the words of Bishop Bullwinkle, "Hell to Da Naw, Naw!" There's no way that Hopper is dead. First of all, I didn't see a body. No body. No death. And yes, I know that most bodies were blown away. Point still stands. Second of all, they put way too much focus on the door Joyce escaped through. It was a couple seconds but enough for me to be left wondering if his ass fell and was dragged out by the Russians. Which leads me to my third point: Hopper being in Russia. The evil assholes made a point of calling him "the American." When they were looking to feel someone to the demogorgon they said no to feeding it "the American." Coincidence? I THINK NOT!
Julie: Look, I'm the person who saw Jaime Lannister's body on Game of Thrones and is still convinced he was faking and is now living happily on Tarth. So, of course I believe Hopper is alive. I think it was pretty evident in that ending scene. I'm really excited about what is going to happen in the next season. I think they left it in a way that tells us that everything is going to be different. Something big is going to have to bring everyone back to Hawkins. Or will it even take place there? My pitch: The whole gang goes on a field trip to Hawkins' sister city in Russia. 
Annie: To be succinct, he's definitely not dead. I imagine that he either escapes from Russia along with the Demogorgon, or that the Scoops Ahoy gang somehow get wind of him being trapped there and everyone sets off to rescue him – either of which would lead to the ultimate El/Hopper and Jopper reunions that would make me cry. 
---
Bonus: What is your Scoops Ahoy! pick-up line?
Ashley: 
McKenzie: One scoop of me, plus one scoop of you, equals a big bowl of cute.
Grace: 
Jasmine: Pretty sure this isn't a pick-up line but I love Steve so it counts to me.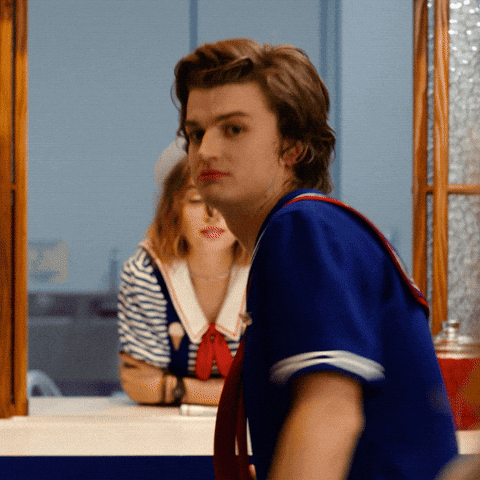 Lyra: When it comes to building our own sundae, I say we hold the cherry, and each other.
Annie: What's that thing Steve says? "Let's set sail upon this ocean of flavor together?" I almost spat out my drink the first time I watched that. So good. 
Agree? Disagree? Share your thoughts and feels on Stranger Things 3 in the comments!
Stranger Things 3 is streaming on Netflix.